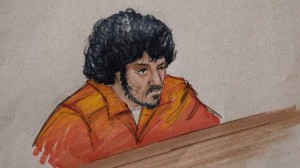 The Chicago Tribune's Annie Sweeney is going with the defense attorney's spin after his client, young Adel Daoud, tried to carry out the sixth pillar of Islam in downtown Chicago.
Unfortunately for Daoud and fortunately for the innocents that he wanted to murder in the bar that he wanted to blow up, his car bomb was a dummy, thoughtfully provided by the FBI agents who had him under surveillance.
You might say his terrorist attack… bombed.
Now the lawyer is saying, no fair: his terrorist had too much assistance from the FBI. And he was just a sweet, innocent, socially awkward teenager (look at his picture. This is not the picture the lawyer is handing out).
Daoud is a graduate of a segregated Islamic school in the Chicago area. According to the mouthpiece, terrorist defense lawyer Thomas Durkin, Daoud's regular imam told him to refrain from violence (at least for the time being), and his father and other mentors tried to talk him back from the precipice of radicalism. Whether he was radicalized in the school (which has dummied uo) or on the internet is still an open question, but his online quest for jihad buddies brought him to the attention of the FBI, who made sure he had plenty of them, and they were wired for sound. While the FBI was egging him on, apparently his dad was urging him to relax.
Daoud didn't, but Durkin is suggesting an entrapment defense. There's only one problem with that: it doesn't work. Sweeney interviewed a Northwestern law professor, and he didn't give much hope for the entrapment defense:
[I]f there was evidence that Daoud was "predisposed" to any kind of terrorist act, it is not entrapment for undercover operatives to have approached him, said Ronald Allen, a law professor at Northwestern University.

It is difficult to articulate what predisposition means, Allen said.

"That's the central problem with entrapment generally," he said. "… If you wait until they commit the crime, you might wind up with a lot of people dead."
Which does seem to have been the outcome that was on Daoud's mind:
Much of the criminal complaint against Daoud lays out how he spent months online and in email exchanges trying to encourage at least six others to join him in supporting violent jihad.
The more you read, the less the attorney's spin seems like it should have been the lede of the story.
Online and in email exchanges with undercover FBI operatives, Daoud talked of wanting to engage in terrorism here and abroad. He allegedly drew up a list of 29 targets for an undercover agent, including bars, malls and military recruiting centers before settling on the downtown location.

"I wanted something that's … massive; I want something that's gonna make it in the news like tonight," he was alleged to say in one recorded conversation.

Later, Daoud provided the name of the targeted bar and conducted surveillance on it, snapping photographs of the scene, authorities said. The FBI placed a phony bomb in the back of a Jeep parked in a lot near the bar. Just before 8 p.m. Friday, Daoud allegedly parked the Jeep in front of the bar, walked to an alley about a block away and tried to detonate the device by pressing a triggering mechanism.

In his earlier emails, Daoud wrote about how he was ignoring warnings from two different sheiks at his mosque to stop his talk of violence, according to prosecutors.

"Lol I will be the opposite," the teen allegedly wrote in one exchange about his meetings with one sheik

via Hillside teenager faces court hearing for alleged attempted terrorist attack – chicagotribune.com.
LOL you will be convicted and sentenced to a long stretch in prison. How's that for the lulz?
The one you wind up feeling sorry for is the kid's father, who seems to have been islamic without being islamist, and who even attended one of the imam meetings trying to dissuade young Adel from terrorism.
Updates
The Trib has been following up the case.
In an editorial, they note with alarm that dozens of scores of other Moslems he tried to recruit appear to have made no effort to turn him in. Those figures included many who tried to dissuade him, including his father and two sheikhs (imams). Hopefully the case will reveal that some of those would-be recruits were actually patriots who helped the FBI stop Daoud.
He was young but had a specific idea he had articulated over and over on the Internet: to wage violent jihad against American citizens, authorities say.

And when it came time to carry it out, Adel Daoud stood in an alley and pulled a trigger on what he believed was a 1,000-pound car bomb outside a Chicago bar, the charges allege.
No doubt more revelations are to come. But you haven't heard about this case, if you don't live in Chicago, have you? Any reason it hasn't made the national news?