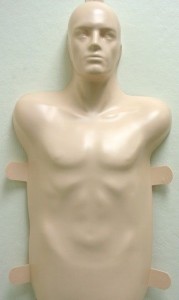 If we hadn't seen it with our own eyes,  elsewhere, in the past, we might have thought that Jason Hanson was making things up. We were checking USA Carry preparatory to a road trip ("where do we need to case the gun and trust to blind luck?" is answered by their reciprocity maps) and we saw this article of his:
And the other day while I was inspecting one of the ranges the gentleman who was showing me around said, "You don't use targets that show real people do you?" I explained to him that I use several different targets throughout my courses and some of them are indeed human-like.

He then got a frown on his face and said, "we do mainly hunter education here and we don't like to encourage people to shoot other people so we don't want human-like targets on the range."

When he said that, I almost laughed out loud thinking he was deadpanning some comedy routine, but when I realized he was serious I simply said "okay" and left.
Now, we don't know Hanson, whether he can instruct his way out of a paper bag, or whether his bio is accurate, or anything. (We're not calling any of that into question, just underlining the fact that we do not know him from Adam and have never seen his byline before). But we see two diferent problems here. One is the obvious one: he ran into a Fudd or a nest of Fudds that are not on board with armed self-defense. The second is less obvious, and we want to raise it here: human-shaped targets are not as necessary as people think. At some stages of instruction they're actually counterproductive.
Before we continue, let's address one particular point with some vigor:
I do realize there are a lot of ranges and even states that don't allow human-like targets. (I don't know if this true, but I was once told that the state of Massachusetts did not allow human targets.)
We were apalled to see speculation like this on a site that is all about providing accurate gun law information. It shakes my confidence in the accuracy of the site as a whole… reminds me of the forum where someone,wondering about a detail of carry law in his state, was advised to ask around at gun shops. Hayzoose Marimba. That's a great way to get a firm, strongly-expressed opinion… which is as likely to be correct as a toss of a six-sided die. To know the law you have several options: 1, ask a lawyer in that state and that area of practice, and pay his bill (if you didn't pay for it it's not legal advice you can count on); 2, ask a certified and current CCW instructor (this has pros and cons vis-a-vis the lawyer. Good CCW instructors are up on state laws and, just as important, on how the local gendarmes interpret the law, but not all CCW instructors are good like that), and 3, read the law yourself (this is the least desirable method, because black-letter law is laden with term-of-art land mines and case-law-interpretation-reversals compared to common-sense English).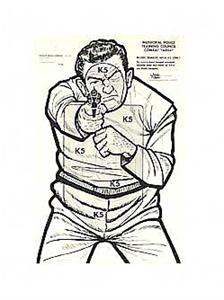 For the record, Massachusetts does ban human-representation targets, in narrow circumstances. A licensed club or range "shall not permit shooting at targets that depict human figures, human effigies, human silhouettes or any human images thereof, except by public safety personnel performing in line with their official duties." Most clubs and ranges don't hold that form of license. Of course, most police don't know the law and operate on the principle that "you may beat the rap but you can't beat the ride."
And yes, we asked a lawyer, and he pointed us to the exact verbiage in the Massachusetts General Laws, and indicated that there's no case law on this (meaning no one appears to have ever been charged and resisted. He advised us not to violate the law and become the first). In his opinion the intent of the law was to "chill" an entrepreneur who was making targets with the faces of various Massachusetts politicians on them, as well as the ever popular image of a 1960s starlet much disliked by Vietnam veterans.  As a matter of Massachusetts law, the targets aren't illegal and shooting as many paper Kennedys as you like is legal (if gauche), unless you're at a range that has a range handgun license.
Now, if you can shoot at realistic targets, should you? They have some pros: they can be fun (take that!) and they can help people adjust to the idea that in a defensive shooting, it's humans they'll be shooting at, not bullseyes or bowling pins. But they have some cons, apart from their generally higher costs.
The theory behind realistic human targets is based in part on false information
Realistic human targets are used in training, in part, because of a seminal operational research report that was later published commercially as Men Against Fire. In it, historian S.L.A. Marshall reported the counterintuitive finding that most infantrymen in combat did not fire their weapons.
The problem is, Marshall not only never closed the gap between his dishnosis and prescribed remedy, he didin't even gather the data that he claimed to. It emerged after his death that there was no systematic set of combat-interview data supporting his thesis. There were fewer interviews than he claimed, and they didn't produce the results he wrote about. In other words, his principal finding, that men did not fire in combat, and his conclusion, that they could not bring themselves to shoot at human beings, and so needed to be socialized and accustomed to that by shooting at human-like targets, were and are unsupported. Logical, perhaps, but no evidence backs up the logic.
You can learn to shoot effectively at bull's-eye targets
Some people don't think you can learn to fire in combat effectively by practicing bull's-eye marksmanship. Others differ. Firmly in the bullseye camp are the United States Marines, who teach marksmanship on known-distance ranges with round-bull's-eye targets. Last time we checked, no one wanted to stand in front of a bunch of Marines and taunt them about their marksmanship.
You don't necesarily learn better on human-shaped targets
The military and police generally teach a center-of-mass shot, but count any hit on the paper or on the silhouette as a hit. In an actual firefight, only disabling rounds count, and the area is much narrower and smaller than a classic GI E-type silhouette. (In this, the classic FBI target with its higher-scoring vital area is superior). But it's hard to aim for the center of a silhouette unless you've had a lot of practice. In particular, shooters at the same level of experience have a lot more vertical dispersion on silhouettes than they do on a round bull's-eye.
Seriously, to see how badly people shoot on silhouette targets, all you need to do is go back to Hanson's article and look at the target he uses as an illustration. We don't know who's been shooting at that target, but he should be jolly glad it wasn't shooting back.