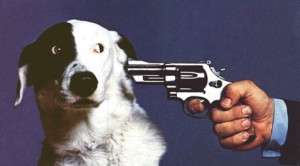 Dogs are wonderful, but their skill at risk management leaves much to be desired. If you don't handle that responsibility for the animal, it can go pear-shaped for both of you.
Patricia Connors, 66, was pronounced dead at the scene after being struck on the M4 near Cardiff by a Ford Transit at around 6.15pm on Friday, officers said.

The great-grandmother, from Cardiff, was trying to rescue her dog on the busy road when both were hit and killed by a Ford Transit Van.

Her family released a statement saying they were "heartbroken" over her death.
We're major league critter lovers around here — this is being typed with a lapful of warm Small Dog MkII — but 'tis a far, far, better thing to grieve for your dog than be grieved by the beast. (Even if the dog usually has the superior character, and even though in this case Mrs. Connors's sacrifice did not succeed in saving the life of her presumed Best Friend).
The statement said: "The family of Patricia Joyce Connors are heartbroken trying to come to terms with a tragic accident that has taken a loving Mum, Grandmother and great-grandmother."

South Wales Police believe she followed her dog after it ran into the road. The force appealed for witnesses to come forward.
via Dog walker killed after chasing her pet on to motorway.
In Wales, of course, where guns (handguns, at least) are outlawed.