This brief story suggests that the French Gendarmerie's national CT organization, the GIGN, is replacing their HK 416s with CZ 806 Bren 2s… that's possible.
Except that the article is quite explicit that they're going to a new round: the Soviet 1943G 7.62 x 39 mm intermediate round. This guy: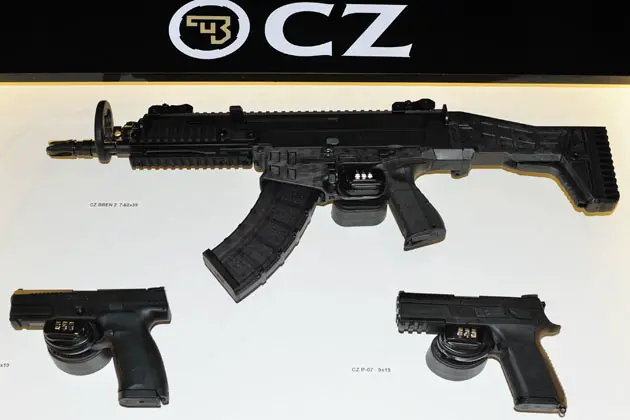 The French National Gendarmerie Intervention Group (GIGN) has ordered a new standard issue weapon.

It has selected the Bren 2 assault rifle from Czech company CZ. The company told Shephard at the SOFINS exhibition that the GIGN has selected the 7.62 x 39 mm version of the rifle and placed an initial order for 68 units earlier in 2017.

Additional procurements are slated to take place in the near future with the aim of replacing the majority of the H&K 416s currently in service.
Supposedly, the caliber decision was made early on, before the rifle decision, and in fact, long before CZ entered the competition.
The decision to adopt the Bren 2 was the result of a process that began in 2015 after the Paris attacks in January that year. Faced with terrorists equipped with bullet-proof vests, French gendarmerie and police intervention units found that 9 mm weapons had little efficiency in such situations and that 5.56 mm ammo lacked the necessary stopping power.

The CZ spokesperson said that the GIGN identified a need for a new weapon able to fire a heavier bullet. The 7.62 x 51 mm calibre had the suitable characteristics but the weapons for this calibre were considered too heavy and bulky for efficient close-quarter combat.

Thus, GIGN decided to evaluate assault rifles chambered in the 7.62 x 39 mm calibre instead and undertook trials throughout 2015 with a variety of weapons.
The CZ 806 Bren 2 does have a French connection already. It was developed from the CZ 805 Bren with a view to the French rifle competition, but it was not ready in time. The French adopted the 416; the Czechs adopted the Bren 2 in place of the earlier Bren, and the rifle has had some export success.
But the 7.62 x 39 mm round decision rang so false to us that we initially assumed that this article was an April Fool's Day joke. It can't have been, though: it was published 30 March.
Not to mention, the 7.62 x 39 mm model is … well, look at it. It was spawned in the cauldrons of the five Lee Sisters: Ug, Home, Ghast, Beast, and Gnar.
Anyway, you can Read The Whole Thing™, and form your own opinion. So far we've found no support for this at CZ, on French government sites, or, in fact anywhere. Can anyone confirm or deny this story?