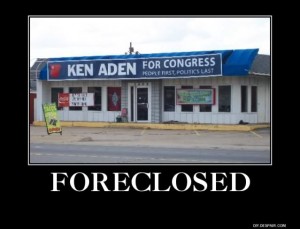 We've previously covered phony Special Forces soldier (but real infantry soldier!) Ken Aden, who stood by his lies even as they crumbled around him. Aden might have succeeded woofing his SF $#!+ to anyone who would listen, if he hadn't invited media scrutiny with a variety of stunts leading up to his shooting star of a campaign for Arkansas' 3rd Congressional District.
The Arkansas Democrat-Gazette reports on Aden's departure from the race. Good use of alliteration in the hed, we approve. Aden, we don't approve. Boy's got some growing up to do.
We didn't even get to an Assclown of the Ides this month, and it's a pity, as in Aden we had a pearl of a candidate. And he wasn't the only one! He never is. These guys are like the weeds in your lawn.
Hat Tip:  Congressional Candidate Claiming to be SF. – Page 10 – SOCNET: The Special Operations Community Network.
The bottom line is this: lie about your military service, we will catch you. If we catch you, you will wish you hadn't lied. That is all.