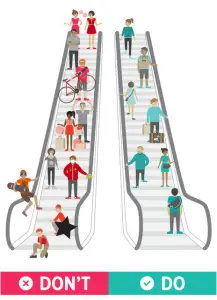 This is actually better than our last few escalator mishaps: nobody's dead yet. If you recall, we had a Shanghai citizen get sliced and diced mortally after being sucked into the mechanism of one, an Escalator of Doom at the British store Debenhams that killed one and wounded one (the article has a helpful roundup of gruesome escalator deaths), and a woman in New Jersey toppling off of one after a night of imbibery.
Now, we're back to China again, specifically Hong Kong, where the hong escalator suddenly started going kong, reversing itself and dumping people all over the place. One shopper is seriously hurt, and a couple of mechanics are sampling the amenities of Hong Kong's fabled jails after allegedly having tried to cover up their part in the screwup.
Two mechanics have been arrested for possibly tampering with evidence after a mall escalator abruptly reversed direction, launching confused shoppers to the ground below.

The 150-foot-long escalator at Hong Kong's Langham Place had been carrying passengers upwards when the sudden change in direction occurred, CNN reports.

Among the 18 injuries, one man received a head injury and is in serious condition.

Video taken by security cameras as well as fellow shoppers captured the instant horror that occurred at the bottom of the shifting steel staircase Saturday afternoon as those caught on the escalator screamed and braced themselves.

Some more helpful members of the crowd below rushed over to try and catch people as they rocketed off the escalator.

Authorities say the mechanics have been charged with obstruction of justice for allegedly tampering with the machine after the accident.
via 18 injured as 150-foot-long Hong Kong mall escalator reverses – NY Daily News.
What should you do if this happens to you? Be ready to get dumped in a pile of people. Keep your feet and knees together, knees slightly bent, and ready to execute a dynamite PLF. Stay clear of the mechanism at the end, and when you're back on your feet, take immediate action to help your fellows, most of whom will not have reacted in time to avoid a nasty spill.
If the escalator keeps spewing people, keep pulling them away so that others don't land on them or trip over them — and stay out of the line of fire yourself.