The flat that Oneal Ron Morris was fixing was not flat tires on a car, but flat tushes on trannies. No, not transmissions, guys who wanted to be women. Morris, who was not only President of the Butt Club For Men, but also a client, can be seen in the 2013 mugshot, left.
Is that supposed to be a woman, or some new … species… entirely? It's like the medical condition known as steatopygia, common to some African bloodlines, only dialed up to 11.
But looking weird wasn't the only result of getting the Fake-Doctor-Morris-Tush-Exploder treatment. As you can imagine, the guys who make silicon tire sealer like Fix-A-Flat never thought of submitting it to the FDA as a medical device, and as it turns out, this method and mode of deforming yourself can be no-kidding-graveyard-dead fatal.
A Miami-area transgender woman who allegedly injected women's behinds with substances including tire sealant and cement has been sentenced for killing a patient.

Oneal Morris, who has become known as the "toxic tush doctor," received 10 years in prison on Monday after pleading no contest to manslaughter and practicing medicine without a license.
In case you're wondering why we make doctors, nurses, and pharmacists leap through the flaming hoops of licensure, Dr. Morris is Exhibit A. Which is hardly fair to real doctors, nurses and pharmacists.
Morris, 36, was previously sentenced to a year in prison under 2013 charges in Miami-Dade County, though Monday's sentence in neighboring Broward County was much stricter.

The new case involves one of the fake doctor's victims named Shatarka Nuby, a 31-year-old who received injections from Morris to make her behind bigger starting in 2007.

Texas woman in botched butt injection used super glue: prosecutor
Nuby died in prison in 2012, and a medical examiner said that it stemmed from a "massive systemic silicone migration" from injections into her buttocks and hips.

The victim's aunt told police that she was there on multiple occasions when the fake medical professional injected her niece, and that she told her the silicone was from Home Depot.

Morris, who allegedly injected tire sealant Fix-a-Flat and cement into women's bottoms along with silicone, allegedly sealed the injections with super glue.

She said in court Monday that she would never use an unknown substance, including the sealant or cement, to inject someone, and added that Nuby was her friend, according to WSVN.
via Miami 'toxic tush' injector sentenced for death of patient – NY Daily News.
With friends like that… who needs (silicone) enemas?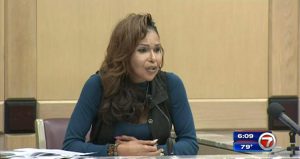 Morris was dressed more conservatively than in the old mugshot, but still very weird looking, on this trip to court (left). Some public defender earned his or her pay on this one.
Morris, and his (or her, he would insist) inflated posterior are going to be going to a male prison, at least until some hunk of the Fix-a-Flat comes loose and strokes him out. Until then, he should be popular with other inmates.