This week's Tour d'Horizon goes to eleven! But no, you can't touch it. Don't point at it. We'll let you know when you've looked at it long enough.
It's a bit telegraphic and just-the-links-ma'am this week, but then, it's 24 hours late, so there is that.
Guns
I don't wanna work, I just wanna bang on my gun all day.
Beauty!
Get a load of this Remington revolver.
It's an Uberti-made Cimarron. It was bought from Bud's online, no special order; the model is the 1875 Outlaw in .45 Long Colt. That gorgeous case hardening is the way it came. Source of the pic? This thread at Arfcom, where the photographer has a full set, and other users post some other eye-catching Cimarrons.
There's Always that 5% That Doesn't Get the Word
We just learned the Bill Ritchie of EDM Arms, maker of accurate extreme long range rifles , passed away 5 November 16 and his company closed immediately thereafter. He used to celebrate his customers' making the 'Mile Club' with their M96 Windrunners or other EDM rifles. The website remains live for now.
OK, at $650 We're Out
We wanted an AR-24, a relatively uncommon Armalite-badged Filipino CZ clone, pretty badly. Badly enough to bid $650 for a minty one.
We got outbid. What in the name of Niffelheim?
Well, we hope the new owner is happy with his AR-24. We set a hard ceiling of $650 and stuck to it. The only problem is that people with beater AR-24s will now think they're worth $650.
CMP Garands — Down to the Bottom of the Barrel?
Pretty amazing, but the US Government's supply of M1 Garnd rifles seems to be bottoming out. All that's left on the CMP website are a few very late (6 million serial) Service Grade M1s ($1200), a quantity of new-parts Specials with badly pitted receivers ($830), and some grades of snipers ($$$ many) without scopes or mounts. There's only three M1s on the CMP auction site (usually where they dispose of odd lots or rarities).
What's the alternative? Pick one up on the superheated collector market, or buy a new replica built on a vintage GI receiver… which sells for $2-3k.
Gun Stocks update
Anyway you want it: we have the table, our analysis, and the popular chart.
Gun Stocks since the Election
Week Ending
RGR
SWHC
AOBC
VSTO
11/8/16 (pre-election)
64.40
28.45
38.94
11/18/16
53.20
24.13
40.02
11/25/16
52.50
23.82
41.05
12/2/16
50.25
21.10
39.66
12/9/16
51.90
21.07
38.62
12/16/16
53.45
21.59
36.81
12/23/16
54.05
22.11
38.03
12/30/16
52.70
21.08
36.90
1/6/17
54.15
21.00
38.08
1/13/17
51.35
20.60
28.70
1/20/17
50.65
20.13
27.78
1/27/17
51.90
20.58
28.33
2/3/17
50.05
20.12
26.18
2/10/17
50.15
21.08
21.58
2/17/17
49.70
19.22
20.89
2/24/17
49.85
19.45
20.72
3/3/17
48.75
18.83
20.47
3/10/17
52.00
19.51
20.72
3/17/17
53.55
19.45
20.89
Ruger's up a little more this week, but still nowhere near its  and Smith (AOBC) and Vista (VSTO) are essentially flat.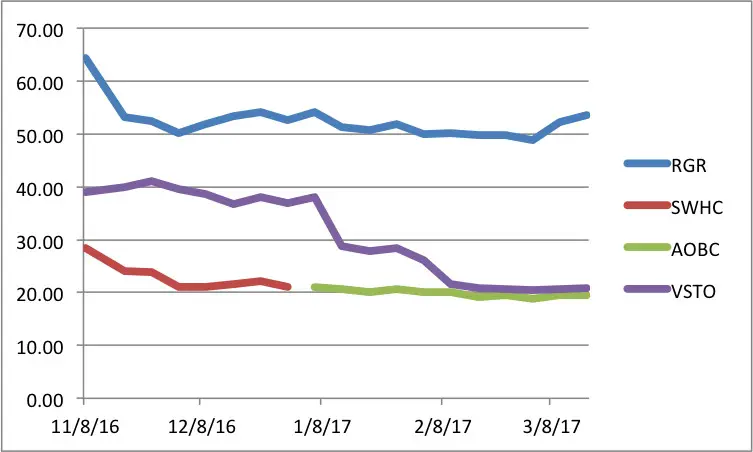 Olin Corporation (OLN) continues its value growth. We think that next week we'll roll everything into one table and one graph, including Olin back to the election. (We obviously altready have the data, to make this graph).
Disclaimer: Your Humble Blogger holds RGR, bought at about 56.40 on 9 Nov 16. It bottomed in the 40s later that day before rebounding a little by close, but it is taking its sweet time recovering.
Shorts
Gun Poly-Ticks
Kansas Wants Pre-Emption Test Case Guy Freed
Kansas, like many states, has a firearms law that explicitly exempts in-state made and -sold firearms that never leave the state from Federal regulation, having, as they do, no nexus with interstate commerce. The law was always arguable if not outright questionable, but many pro-gun legislatures have laid them down as a marker of their pro-gun bona fides. These laws have been the target of anti-gun elements in the DOJ and in the last Administration, and one of the Kansans who acted in accordance with the state law was made an example of. His case is now on appeal, and the state Attorney General has asked US AG Jeff Sessions not to defend the case on the appellate level. Failing that, he wants Sessions's support for a Presidential pardon for the unlucky Kansan. Sessions has given an noncommittal answer, promising only to consider the AG's plea. (GOA Article) (KS AG's letters to Sessions).
Shorts
Usage and Employment
 The hardware takes you only half way.
Florida SD/Murder Case Ruling Analyzed
Andrew Branca takes apart a ruling in a "stand your ground" hearing in Florida. The judge's errors are many and obvious (well, to Andrew; not to a nonlawyer, or a lawyer who isn't well-versed in the law of self defense). But we think the shoot is, at best, highly questionable. Lesson for everyone: something like 10% of Florida is legally packing, so don't start none with cranky old men in the Sunshine State. Being right and dead is pretty much the same as being wrong and dead, from the decedent's point of view. And being right and shooting somebody and being wrong and shooting somebody are pretty much the same thing from the legal-crucifixion point of view, where the process itself is the punishment. (Of course, the court can go either way, and the guy who says he was defending himself is either going to prison for life or walking free. You don't want to get in that position, right or wrong: random things happen in court).
The press has misreported this as a shooting over texting during the previews, which is a dishonest construction, but then, it's the press so what do you expect? And what's wrong with shooting some loudmouth for texting in a theater, anyway?
What's Your Limit?
What's the point at which you'd die fighting rather than comply with orders from an armed assailant? We have a post percolating where we'll be talking about that at some length. Like every other aspect of self-defense, it seems, this is best addressed by making a plan in advance, and executing it with full force, should that day come.
Cops 'n' Crims
Cops bein' cops, crims bein' crims. The endless Tom and Jerry show of crime and (sometimes instantaneous) punishment.
The Perils of Kathleen: Long Tail
Very little activity this week. But it seems that nothing will ever knock former Attorney General of Pennsylvania, and convicted felon, Kathleen Kane, out of the news.
Item 20 Mar: Merger Kane Opposed between PA health care firms going forward. Her opposition was probably a shakedown attempt, rendered moot by her legal problems.
Item 15 Mar: Kane Still in Court on a civil suit by victims of her relatiation during her disastrous career as AG. She won dismissal in state courts; now her victims have gone to the Feds in a long-shot attempt to win justice.
Really borderline news, this week.
Unconventional (and current) Warfare
What goes on in the battlezones of the world — and preparation of the future battlefields. (nothing this week)
Veterans' Issues
Is it time to o disband this thing yet, and letting all its bloatoverhead seek its own level in the Dreaded Private Sector™?  Just shorts this week, or we'd never get the post up…. (nothing this week)
Head
text.
Shorts
Is it time to disband this thing yet?
Health & Fitness
Nothing new. 
Lord Love a Duck!
The weird and wonderful (or creepy) that we didn't otherwise get to. (nothing this week)