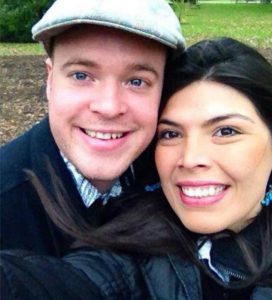 Pictures show Richard Bull always grinning, usually gripping his wife or dog, and often enough a beer. But he was a tough cat, known for being willing and able to play every position on a rugby side; and he liked his fun.
How does a guy like that get killed by a fragile, tiny smartphone? Turns out, the phone had some help — from mains AC current.
 Bull, 32, was discovered by his wife and had such severe burns to his chest, arm and hand she thought he had been attacked.

He is thought to have used an extension cord running into the bathroom from the hallway then rested the phone on his chest.

When it touched the water it electrocuted him, killing him, at his home in Ealing, West London.

Coroner Dr Sean Cummings, who recorded a verdict of accidental death, said: 'These seem like innocuous devices but can be as dangerous as a hairdryer in a bathroom.
via Man died while charging his iPhone and using it in the bath in Ealing | Metro News.
What Britain, where guns are largely outlawed already, needs is some good common sense phone control safety measures. Not that it will do Bull any good.
Alternatively, we could explore the concept that the deodand is not to blame for the deed. But that's crazy talk.