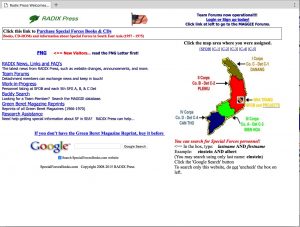 Steve Sherman's Radix Press is a narrow publisher indeed: most of what it publishes is lists and databases, but they all relate to Special Forces in Vietnam (where Steve himself served). Along with many Who's Who books (for instance, Who's Who in MAC-V SOG, known to SF vets and wannabe busters as "the yellow book"), he also publishes data on CDs, a set of reprints of Special Forces Vietnam's in-house magazine, The Green Beret, which was published and printed on Okinawa and flown to Vietnam from 1966-1970, and a website full of SF Vietnam information.
Discussions in the comments recently brought this site up to mind; we may even have used it as a W4 before, but if so, it's about due again.
The name of the website is memorable enough: SpecialForcesBooks.com. Along with the listing-type stuff, which is admittedly most interesting to other SF vets and specialized historians, there are books of after-action reports. Many of these documents can't be found online or in libraries.
Steve's lists of who's who in each camp are largely on the site in the Work in Progress pages. Even the Army doesn't have these listings; when SOCOM historians want to talk to the guys at a particular A-Camp, they check with Steve. His data is not 100% accurate, but it is based on copies of orders that he has seen with his own eyes, so it's as good as data gets.
The website has some downsides. It's hard to navigate, and looks like something from the 1990s, because it is from the 1990s (and even includes some time-capsule early HTML faux pas, such as scrolling text).
But one thing you can do very easily: search for Vietnam SF soldiers by name. You can find some of their specific assignments (because these are based on official orders, and SF guys had better than average luck and skill at getting orders changed, or getting more congenial orders issued, there's a few percent error rate). Here we search for the late Sergeant Major Reg Manning:
And we see his Vietnam rank, specialty, and assignments. Easy! (And if you follow the links, you may see his assignment dates).