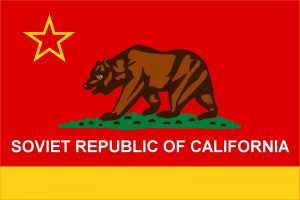 We're referring (and this is unlikely to shock you) to the People's Republic of California, and specifically to the Senate of that failing State.
Legislative éminence grise Tom Hayden, perhaps best known to the general public as the former Mrs. Jane Fonda, expired in October (or, as practitioners of one of the few faiths still alive in San Francisco put it, "Satan called him home.") And naturally his peers — we use the term advisedly — in the Senate have spent from then till now engaged in hosannas to the pulchritude and luminosity of the former violent radical turned typical grifting, grasping, greedy politician.
State Senator Janet Nguyen, who on her election was (and as far as we know, still is) the first ethnic Vietnamese state senator in any American state, was not having any of that, and she prepared a powerful statement. Here are the highlights:
I and the children of the former South Vietnam soldiers will never forget the support of former Senator Tom Hayden for the Communist government of Vietnam and the oppression by the Communist Government of Vietnam for the people of Vietnam.

After 40 years, the efforts by people like him have hurt the people of Vietnam and have worked to stop the Vietnamese refugees from coming to the United States, a free country. We will always continue to fight for freedom and human rights for the people of Vietnam.

Members, I recognize today in memory of the million of Vietnamese and the hundreds of thousands of Vietnamese refugees who died seeking freedom and democracy. … I would like to offer another historical perspective.

… I want to share what Senator Hayden meant to me and to the over 500,000 Vietnamese Americans who call California their home, as well as to the over 1 million Vietnamese Americans across the United States.

As you may be aware, Tom Hayden chose to work directly with the Communist North Vietnamese Government to oppose the efforts of United States forces in South Vietnam.

Mr. Hayden sided with a communist government that enslaved and/or killed millions of Vietnamese, including members of my own family. Mr. Hayden's actions are viewed by many as harmful to democratic values and hateful towards those who sought the very freedoms on which this nation is founded.

…. In contrast to the great many people who fought to defend freedom and democracy, Mr. Hayden supported a Communist agenda ….
In sum: bad cess to him. Naturally, his friends and allies would not let Nguyen make that statement, but you can read it here (she got away with the introduction, in Vietnamese, before Kevin de Leon called the Senate Bouncers to give her the bum's rush).
Hayden is especially beloved in institutional and academic Californistan — the environment that produced his modern cognate, Sulayman al-Faris, aka Abu Sulayman al-Irlandi, aka John Walker Lindh — for his "opposition to the Vietnam war." This opposition included gathering information for the People's Republic of Vietnam and harassing American families of prisoners of war. He first came to the public's attention of one of the organizers of the Alinskyite attack by hippies armed with sticks, bricks and molotov cocktails on the police at the Democratic Party Convention in Chicago in 1968. Hayden himself, a physical coward, was far from the "cannon fodder" he sent in, for his objective was to provoke the police into "overreaction."
The media, safe behind the cops, and in on Hayden's plan, produced thousands of these images, making it look like the Chicago PD made an unprovoked attack on "protesters," and that's how they reported it. (It wasn't a complete loss. A lot of deserving skulls got cracked, and a beginning news fabricator named Dan Rather got punched in his glass jaw. What's the frequency, Kenneth?)
Hayden went on to win a mistrial as one of the Chicago Eight clown show defendants, and continued to serve the interests of Communism and foreign powers for the rest of his miserable life.
After trying to make a statement about the late Tom Hayden and his opposition to the Vietnam War, Sen. Janet Nguyen (R-Garden Grove) was removed from the floor of the state Senate on Thursday, a tense scene that ended in a slew of angry accusations…

Nguyen, who was brought to the United States as a Vietnamese refugee when she was a child, said she wanted to offer "a different historical perspective" on what Hayden and his opposition to the war had meant to her and other refugees.

Hayden, the former state legislator who died last October, was remembered in a Senate ceremony Tuesday. ….

"I'm very sad because the very people who elected me to represent them and be their voice on the Senate floor, I wasn't allowed to speak on their behalf," Nguyen said later in an interview with The Times. "I was told I cannot speak on the issue at all," she said.
The LA Times, being the LA Times, can't even describe the sanguinary efforts of Hayden honestly. (Apart from all he did directly in Chicago and Vietnam, he also was a founder of the SDS, the "overt" political branch of the murderous Weather Underground terrorist movement).
Hayden was an outspoken critic of the Vietnam War and made celebrated trips to North Vietnam and Cambodia, offering to help broker a peaceful end.
via A state senator is removed from the chamber for her comments about Tom Hayden and Vietnam – LA Times.
"Broker a peaceful end," that is probably the most dishonest phrase ever written, and it took two LA Times hacks, John Myers and Melanie Mason, to generate a lie that big. (That's like saying the Wannsee Conference met to "broker a peaceful end" to the "Jewish Question." It's always peaceful if you just get on the boxcars yourself, which was always Hayden's goal for the free people of Vietnam).
Let's reconsider what Hayden actually did during his period of Vietnam "protest."
On visits to Vietnam, he not only performed propaganda for his Communist masters, but worked to help Communist organs recruit propaganda mouthpieces and spies among disaffected, tortured prisoners:

Tom Hayden's anti-war efforts included recruitment efforts of military personnel, and propaganda from release of American POWs. Whether or not Hayden and Fonda were in bed together on this one (literally and figuratively) is not clear.
His efforts (among other traitors') were an inspiration to Vo Nguyen Giap, the military leader of North Vietnam, and extended the war, leading to over 50,000 more Americans killed. (Same page as last quote).
General Giap and the NVA viewed the Tet 1968 offensive as a failure, they were on their knees and had prepared to negotiate a surrender.

At that time, there were fewer than 10,000 U.S. casualties, the Vietnam War was about to end, as the NVA was prepared to accept their defeat.

Then, they heard Walter Cronkite (former CBS News anchor and correspondent) on TV proclaiming the success of the Tet 1968 offensive by the communist NVA. They were completely and totally amazed at hearing that the US Embassy had been overrun. In reality, The NVA had not gained access to the Embassy–there were some VC who had been killed on the grassy lawn, but they hadn't gained access. Further reports indicated the riots and protesting on the streets of America.

According to Giap, these distorted reports were inspirational to the NVA. They changed their plans from a negotiated surrender and decided instead, they only needed to persevere….

Today, there are 58,229 names on the Vietnam Wall Memorial.
We know where we stand on this. We stand with State Senator Nguyen. Her powerful statement is available on her State Senate web page, at least for now. Who knows how long that will stand, before the Cult of Hayden burns it down?