Army Times did a survey on uniforms recently, and either did it in cooperation with, or at least discussed the results with, the Sergeant Major of the Army.  Traditionally, the SMA is a very influential voice on uniforms, although it's always the Chief of Staff — top general — whose decision is final. Several messages came through loud and clear, and they're quite interesting, especially to old fossils who mostly wore other uniforms than the ones the boys and girls are rocking in 2017. (We've got bottle green service station attendant fatigues and Okinawa-made tiger stripes hanging up in a closet, not to mention other uniform styles of the sixties through the nineties. Perhaps some day we'll actually fit into those ancient uniforms, maybe for burial).
Our take on the survey results:
Wow, the troops really despise the black beret.
The blue Army Service Unifom which replaced the dressier Army Blue uniform and the standard green service uniform worn (in a couple of variations) since 1957 is not quite as loathed, but there is no love for it.
There's heavy nostalgia for great-granddad's service uniforms of World War II, especially the tan khakis and the officers' "pinks and greens" (tan trou and shirt with an OD jacket).
There seems to be a big difference between what men and women want in terms of uniforms, and there's a schism between what young women and career female sergeants major want.
The Black Beret
SMA  Dailey has made it pretty clear that the beret, which is now worn as little as possible (due, naturally, to everybody hating it) is not going away. Having to be the adult in the room, he asks the reasonable question: if we get rid of it, what next? The previous hats worn with the service uniform were both hated, too: the bus driver's saucer hat, and the overseas cap, known to all in the service by a female-anatomically explicit pejorative. (Women had different hats, which they hated, too). But the troops are quite clear in wanting to return to the status quo ante of berets being worn only by SF, Rangers, and Airborne soldiers. (This survey result is the same whether you survey those guys that would keep the berets — although a significant minority of them would gladly toss them, too — and the guys that would lose them under a reversion to pre-Shinseki rules).
No one seems to discuss one reason that the specialist forces prize their berets: the berets bear considerable unit personalization. Paratroopers wear the flash of their brigade or even battalion; Rangers have a flash that is their own (and the Ranger training establishment a different one); every Special Forces Group has its own flash with its own significance. For example, after a period in which the red and gold of the Free Vietnam flag was banished, 5th Special Forces Group recently reclaimed those colors on its black flash. Initially, when the black beret was inflicted on the Army as a whole, and the Rangers given a tan beret as a consolation prize, there was some talk that regular Army units would be permitted to develop their own flashes to accommodate their own unit pride, but this was quickly crib-smothered on cost and uniformity grounds, and every soldier wears the same blue flash with white stars. (There is a small pin-on crest, the Distinctive Unit Insignia, that is worn with every beret, but it's often of a large unit rather than a natural nexus of unit pride. For example, all SF soldiers in all groups wear the same SF crest over their unit's distinctive flash).
If you're going to make every soldier in the army wear the same hat, it should be a sharp-looking hat. This may mean different hats for men and women, which the men and women are cool with but the womyn and social justice warriors are not.
The field uniform hat, which basically is the old 1951 vintage field cap (and which the Rangers kept alive during the grim baseball-cap years), seems popular enough. It's better than any of the WWII field hats, as long as there's also a boonie hat for field use, too.
The Service Uniform and the WWII Tradition
The Army started down an unhappy path in 1957 when they began to phase out World War II era uniforms in favor of a new green uniform modeled in part on the open-collar version of the Wehrmacht uniform, and in part on the uniform issued to metropolitan bus drivers at the time. This Army Green uniform soldiered on for about 50 years (with some slight changes of hue and material) until its recent replacement, supplemented by a blue uniform for semiformal occasions, a variety of officers-only full formal rigs, and a service undress "class B" uniform that was a shortsleeved khaki nod to WWII until 1981 or so, and thereafter just the pants and shirt of the Class A greens.
Unkind commenters noted that the green uniform was picked in 1957 because it was better at hiding out of shape middle-aged generals' and NCOs' rotund physical condition, than the pinks and greens or Ike jackets of wartime. Kinder commenters noted that it was more like the suits won by businessmen; that was one of the official justifications for the change, at the time.
The green bus driver uniform was replaced by a similar sack suit, only in blue, so it's more of a doorman suit, or perhaps a 1920s Officer-Paddy-McGillicuddy-of-the-NYPD suit. For daily service wear, it lost the soaring NCO stripes and other flourishes of the formal Army Blue uniform, which harkened back to the Civil War and Indian Wars.
Anybody who's watched period documentaries or war movies set in the unpleasantness of 1941-45 has noted how much better looking those uniforms are that today's formless, characterless bags. (Although it's hard to untangle that from how much better looking the Hollywood stars playing soldiers are, than actual soldiers — except that we really were a stunningly handsome bunch in the 10th Special Forces Group, who could have been matinee idols if we hadn't felt the call to service).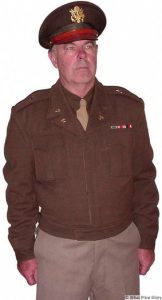 The old uniforms are approved both on tradition and on style grounds — on fit troops, they look great. We note the Marines cleverly played into this by still wearing their WWII vintage service uniform. And their troops are consistently the sharpest looking. Coincidence?
While some of the other changes are definitely not going to happen, we can definitely see SMA Dailey bringing in a recommendation for a return to WWII styles, perhaps pinks and greens (for all ranks this time) or Ike jackets (probably as an option). And for Pete's sake, put patches and tabs back on the shoulders, and officers' branch insignia in the collar area, of all uniforms. Rank in the center of the chest was created in order to have a place to pin rank on Gore-tex jackets without losing the waterproofing, but what started as an unwillingly-forced Least Bad Option has spread like ebola. You want your soldiers looking at each other's face and head area for rank cues, not center of mass. And you want to know if the captain who corners you in the TOC is the battle captain (guy running things for the commander) or some inconsequential dweeb from MI or the Quartermaster Corps.
Women Trouble?
While male soldiers are all in favor of such changes, women are ambivalent. This is especially true of long-service NCOs, who are more likely than one-termers to be — how shall we put this delicately? — sexual minorities, and to enjoy dressing up just like men, in male or unisex clothing. (They're the ones who go off duty in plaid flannel shirts and Herman Survivors. In August. At McDill). And during World War II, the relatively small percentage of women in the service generally hated their uniforms, which were designed in great haste, and which they considered crude and frumpy. The Marines and Navy have struggled to keep their women happy with their uniforms, and whoever's going to tackle this problem for the Army had best get a lot of input, including from current soldiers and from people who lived through the controversies over in the sea services.
We don't know what the perfect women's uniform would look like, but it would have to:
Please the women who wear it, unlike the frumpy WWII version;
Clearly be the same service as the stuff the guys wear;
Be of sufficiently practical style it can be worn every day by office workers and not put them at a disadvantage relative to women in other services and civilian co-workers.
Be of sufficiently classic style so as not to look dated by 2022. Or 2077.
Be clearly female in design; flatter the wide range of shapes that comprise our fit female soldiers. (Fat people looking fat in it is not a reason to reject a uniform. Sorry 'bout that, Chief. It's a reason to reject the fat people. Trigglypuff, this means you).
How do you get to that end state? Why not hold a design competition, and invite the nation's (or world's) fashion designers to take a shot at it? Make a panel of judges, mostly women soldiers who will have to wear the things, mostly young women, but include some of the guys who will have to look at it for their whole career, a design professional or two, and a couple of reps from the veteran, purple heart and gold star family community. That's the optimizing approach (and it gets the design community invested in their country. And you could get a highly rated reality show out of it).
If that's too much work, start with the Marine women's uniform, listen to Marine ladies' objections and complaints, get a survey of the good-bad-and-ugly of WWII Army uniforms, and remodel them appropriately, in Army colors. That's the satisficing approach (and you could execute it in six months. Find an ambitious woman officer who's not afraid to look her best, and give her a free hand).
What to Do After The Change
So what do you do after you change uniforms, the gentlemen's and the ladies' alike, this time? The Army has, to the great mirth of our Marine peers, been through lots of hasty and ill-considered uniform changes. So don't execute this one hastily or half-assed. And once it's done, commit to it. Freeze it, in terms of design language, for fifty years. Sure, you'll want to take advantage of material breakthroughs but don't change the look for a half-century. By then, soldiers wearing these new uniforms will have added incredible new tales to Army lore, and brilliant new streamers to the Army colors.
By then, no one will want to change it. It will be the classic Army uniform.