Here's something that some of you have seen a lot of, and others have never seen: a Firearms Retention Authorization, AE Form 11, 11 JUN 69. What it is, is a "weapons card" for privately owned weapons stored in a unit arms room.
Why store weapons there? If you were a single soldier — and Your Humble Blogger was disconnecting from Plaintiff I at the creation of this card, in 1985 — you weren't allowed to keep your guns with you. Under US Army Europe regulations — that is what the "AE" means — promulgated by the extremely anti-gun provost marshals, you had to store them in the arms room.
Gun owners hated this: it was a lead-pipe guarantee that your guns would be poorly stored, exposed to rust-inducing environments, given the gefingerpoken by anyone who had business (or a buddy) in the Arms Room, and sometimes, as happened to me at Goodfellow Air Force Base in Texas in 1980, shot with corrosive ammunition by some armorer buddy, and then not cleaned, destroying bores.
But armorers hated this: even, indeed, especially, those armorers who were all on the up-and-up and who wouldn't abuse your firearms. They had their hands full doing stuff with the unit's real weapons, like issuing them out for half the troops to fail annual qualification. (They always passed, afterwards — on paper) and trying to get the Unique and Special Snowflakes® of MI to actually clean the things afterward… not to mention monthly inventories, change of command inventories, Technical Inspection and maintenance turn-in of weapons, managing the constant personnel turmoil as disaffected soldiers left at tour- or enlistment-end and replacements came in, and they had to do it with cramped arms rooms.
Some staff sergeant showing up with two or three dozen weapons and an SF chip on his shoulder did not please the armorer, who had to book in all the hardware, find a place to store it, and listen to the sergeant complain about how previous armorers had treated the guns.
"What do you need all this [deleted] for, anyway? Nobody wants this [deleted]." After all, each of the guns needed an entry in the book, a place to be locked up, and, on exit, one of these cards went with it to prove that the t's had been dotted and the eyes had been crossed in conformity with Army Europe writ. The Germans may have lost the war, but their Prussian rechthaberisch tendencies managed to infiltrate and undermine the Provost Marshals' Offices. Jawohl!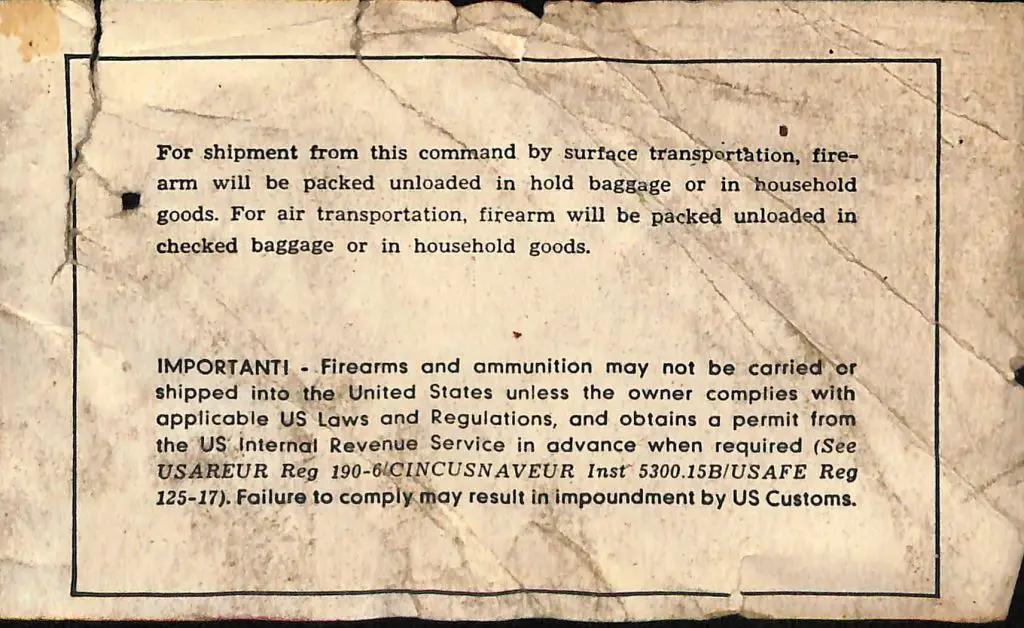 This particular example records the storage of one "PRC Rifle" serial number 7114859 in the arms room of the 501st MI Battalion in Augsburg, Germany, from 1985-87. (Why was an SF guy sentenced to that place? Because he had been an MI guy before going SF. You see, MI's personnel management was so bad that they were perennially shorthanded, and until SF Branch existed, to defend its people, no one could prevent that kind of involuntary "levy," or transfer). For most guys, the levy came to some thankless task like recruiter or drill sergeant duty. (Although most of the guys who did drill sergeant duty came to enjoy it, even while counting the days to end of tour). But this MI assignment was horrible, the leadership rotten, the work a waste of time. We did get to improve several European languages and enjoy many aspects of assignment to Germany.
At the end of the tour, each firearm being imported into the United States had to have one of these, and either proof that it came from the USA in the first place, or an approved ATF Form 6. There are entire units of Customs MPs who do nothing but inspect personnel and their stuff, and, from what we've seen, help themselves to what they can.
The card still bears the marks where it was taped to the buttstock of the firearm. (We had been advised to do that to prevent the MPs "losing" the card and helping themselves to firearms). The rifle was a Chinese Type 56 SKS, one of two in Your Humble Blogger's household goods going to and from Mitteleuropa, and at the time of acquisition something of a rarity in American hands. (Soon they would be common as grains of sand). Indeed, the initial card was drafted, "Chinese Type 56," and the armorer wanted the cards all redone as "rifle" and "pistol" to simplify his logging them in. But the rifle itself is interesting, and if it's the one we're thinking of, has a great apocryphal story. Perhaps it and its SKS brother should be featured Thing From The Vault sometime.