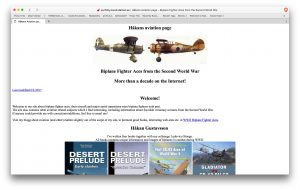 Håkan Gustavsson is a Swede with an unusual area of expertise: the peculiar subset of World War II fighter aces who flew and scored kills in biplanes. These two-winged holdovers from World War I often performed little better than their Great War forebears: they were slow, draggy, had open cockpits, were generally made from tube-and-fabric construction, and were armed with two measly rifle-caliber machine guns. They were sitting ducks for more heavily armed and much faster modern monoplanes.
Welcome to my site about biplane fighter aces, their aircraft and major aerial operations were biplane fighters took part.
The site also contains other aviation related subjects which I find interesting, including information about Swedish voluntary aviators from the Second World War.
If anyone could provide me with corrections/additions, feel free to email me!
via Håkans Aviation page – Biplane Fighter Aces from the Second World War.
We found one of the most interesting pages to be the one on Swedish volunteers in Finnish service. But in general there are more, and more interesting, biplanes and pilots involved in the war, on all sides, than we ever imagined.