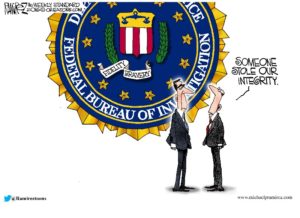 Fidelity… Bravery… and we forget what the "I" is, but it sure as hell isn't "Inventory Control."
An HK MP5 in 10mm has been lost by a southern California special agent. According to the agent, the submachine gun, the mag and ammo, and a protective vest were stolen from his or her car (the agent remains unidentified… when they screw up, FBI Special Agents are secret agents).
That was January 8th, in Lafayette. Or maybe it was January 9th, in Concord. Wait, it was the 8th or the 9th, in Concord, Lafayette or maybe Orinda. But, whatever, it's missing now. 
The Bureau snuck the press release out at the witching hour of all Washington embarrassments, Friday night, so there have been only brief stories in the San Francisco Chronicle (warning, autoplay video) at about 11 PM Friday, and Fox News even later, on Saturday.
Meanwhile, if you're a SoCal WeaponsMan reader, and happen to stumble across the missing MP5-10, the Bureau requests you to call them at (415) 553-7400 or online at http://tips.fbi.gov. They certainly don't want you to, say, take a picture of it for the media, and call the media after calling it in to your local Law Enforcement, who can get the pleasure of making whichever SA or manager snubbed them last, beg for its return.
Heard at the range: "Ah, he probably got tired of not having 10mm ammo and tossed it in San Diego Bay so they'd give him one in a caliber they could give him ammo for."
The news stories linked above both reference a California law meant to address the epidemic of police carelessness with firearms, but CA has no authority over Federal LE. And, after all, they are the Only Ones dependable enough to be trusted with the careless storage of such terrible firepower. Because the FBI agent has always been a model of integrity.
If the agent was a local cop, a soldier, or God help him a citizen, he'd be getting the third degree right now. But he won't. Because the FBI agent has always been a model of integrity, his word stands without question.