It looks a lot like the M67 grenade, fielded during the Vietnam War to replace the M26, which in turn replaced the Mk2 of World War II. But in fact, the ET-MP (Enhanced Tactical Multi Purpose) grenade is a whole new thing. The differences from the M67 tell the story. It's a little larger than a baseball-sized M67; it has a different fuze that lets right- and left-handed soldiers throw it the same way; and it is a selectable grenade that can be used as a concussion grenade (called "offensive" grenades in some armies) or a fragmentation ("defensive") grenade. The user simply rotates a selector to the letter "F" (Fragmentation) or "C" (Concussion).
"Soldiers will not need to carry as many types of hand grenades," Jessica Perciballi, project Officer the Enhanced Tactical Multi-Purpose hand grenade at the U.S. Army Armament Research, Development and Engineering Center, or ARDEC, said in a recent Army press release.

"They are currently carrying one M67 grenade that provides lethal fragmentation effects. With the new multi-purpose grenade, they can carry one ET-MP grenade and have the ability to choose either fragmentation or concussive effects desired for the situation."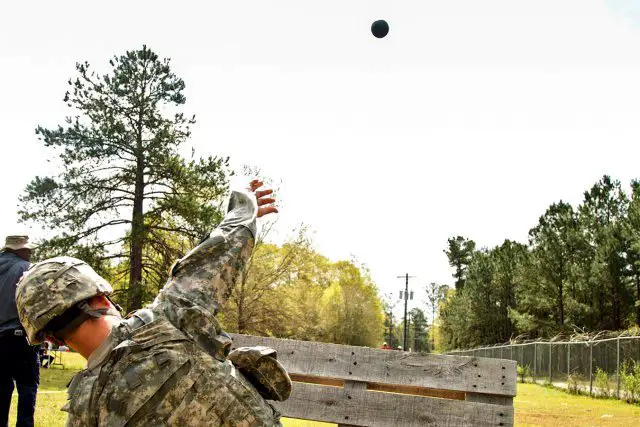 It's weird to see a grenade fly without the spoon flying off, that's for sure.
The effort marks the first time in 40 years the Army has set out to give soldiers a new lethal hand grenade. Warfighters lost the capability of using an alternate lethal grenade when the MK3A2 concussion grenade was taken out of service in 1975 because of an asbestos hazard, leaving the M67 fragmentation grenade.

Another feature is that the grenades are designed for ambidextrous use, meaning that they can be thrown with either hand. Current grenades require a different arming procedure for left-handed users.

The request for a multi-purpose grenade came from the warfighter in 2010, according to Matthew Hall, Grenades Tech Base Development lead. Research began almost immediately. The science and technology funding to move forward with a project came in fiscal year 2013.

"We received direct input from the Army and Marine Corps early on, which was critical in ensuring the new arming and fuzing design was user-friendly," Hall said.

"With these upgrades in the ET-MP, not only is the fuze timing completely electronic, but the detonation train is also out-of-line," Hall added. "Detonation time can now be narrowed down into milliseconds, and until armed, the hand grenade will not be able to detonate."
via U.S. Army Working on a Dual-Mission Hand Grenade – Kit Up!.
The electronic fuze means it safely can do without the grenade "spoon" that was a feature of prior American grenades. The spoon worked as a grenade "grip safety" once the grenade's pin was pulled, only allowing a hammer to fire a primer and start a chemical time delay burning when the grenade was thrown. That was why the M67 and its predecessors were designed for right-handed throwers, and awkward for lefties. (In SF, left-handed guys would often just straighten, remove, and reverse the grenade pin, which was all kinds of forbidden, but worked just fine).
The size of the grenade was determined partly by what they had to fit into it, but also by having real, junior soldiers handle dummy grenades, 3D printed in proposed form factors.
Likewise, the test troops, deliberately selected to be average and inexperienced soldiers from a cross-section of specialties, tried many different arming control designs, and provided their input before engineers selected the final one.
In addition to its human interface improvements and frag/concussion duality, engineers have also improved the stability and shock resistance of the grenades, allowing them to be stored and shipped more easily.