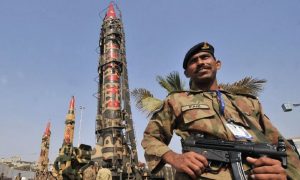 While we're talking about Pakistan lately, there's an interesting article at The Diplomat about the history of Indian analysis of the Pakistani nuke program. As we seldom get insights into Indian intelligence, it's worth reading in depth. A taste:
India, for instance, has taken a keen interest in Pakistan's pursuit of a nuclear device going back to the 1970s and even earlier. Based on newly declassified Indian documentation I was able to access, what follows is an account of what Indian external intelligence knew about Pakistan's intentions between the 1970s leading up to the 1990s – the decade that would end with both countries coming out as the world's sixth and seventh declared nuclear powers.

For Indian intelligence in the 1970s, the focus in Pakistan was about its reprocessing capacity and centrifuges. This shifted in the 1980s to focus on the capability to produce an explosive device, and, finally, in the 1990s, focused on the nascent Pakistani missile program routed through China, which was eventually outsourced by China to North Korea.

Soon after the 1998 tests by both countries, Indian intelligence was looking at supply chains for Pakistan's Shaheen-II ballistic missile, almost four years ahead of its first test in 2004.There was already specific knowledge available with India on Shaheen-I, including on the hardware that was involved in steering the missile. Additionally, New Delhi was not entirely convinced that Pakistan would not use choose to use non-nuclear chemical warheads for its missiles
The author of the post, Vivek Prahladan, has a book-length exploration of these declassified Indian documents coming out. In his post, he also reveals discussions he had with Indian government officials that hinted at the degree to which India had eyes on the Pakistani weapons program. Further, it's interesting to see how US officialdom at the highest levels (President Reagan and advisor Thomas Eagleburger) dismissed Indian concerns.
And then there's the whole "Abdul Qadeer Khan ran a rogue operation" cover story, which most of the world pretends to believe.