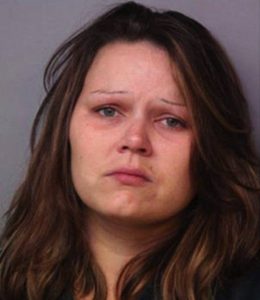 It's the child-abuse equivalent of Oscar Season out there, folks. Here's another entry in the Mom Of The Year™ stakes, one Erin Piche-Pitts; she didn't whack the kid with a gun, which is good because she's a prohibited person on several grounds, and if she'd killed the kid that way she might be in trouble.  And yes, she looks unhappy in the mugshot because she's just killed her baby. Indeed, she just did that for the second time; she killed another one the same exact negligent way seven years ago. Via CBS News:
A central Florida woman has been arrested following the second "co-sleeping" death of a newborn within seven years.

Erin Piche-Pitts, 25, was warned by numerous agencies about the dangers of sleeping in the same bed with an infant following the 2009 smothering death of her 13-day-old baby girl, reports CBS affiliate WTSP. That death was ruled accidental.
Why are people with hyphenated names (unless both sides of the family have a long tradition of postnominal letters, like KCMG, OBE, DSO and all that) such monumental losers? It's almost as if the name expands as the character contracts, or vice-versa.
Piche-Pitts reportedly gave birth to another child, a boy, on Sept. 18. She was warned again by a primary care physician about the dangers of sleeping with the infant during the infant's Sept. 21 exam, the station reports. Police said the mother had also completed a "Healthy Start" training program and was provided "counseling and information" about how to properly put an infant to sleep on their back.
Amazing. "Parenting classes" by "trained professionals," applied to a negligent mother, produced… a negligent mother.
Despite the warnings, police say on Piche-Pitts fell asleep in her bed with the boy in the crook of her arm Oct. 6 at her Polk County home. She awoke about two and a half hours later to find the infant unresponsive under her, according to the Polk County Sheriff's Office.

The child was later pronounced dead at a hospital.

Piche-Pitts is charged with aggravated manslaughter of a child due to negligence in the boy's death. Deputies determined that after the repeated warnings, the boy's death was "through her own culpable negligence," reports the Orlando Sentinel.
What could make a mom fall asleep on top of her baby
Deputies say Piche-Pitts has a criminal history which includes charges for burglary, possession of methamphetamines, battery and domestic violence.
via Erin Piche-Pitts, Florida mom, charged after second infant's "co-sleeping" death – CBS News.