Antigun sentiment was once even stronger in Congress, and it  In 1934, a handgun ban was part of the original draft of the National Firearms Act in Congress, but was dropped by proponents to secure passage of a narrower law restricting only machine guns and short-barreled long guns.
By the early 1970s, the ban was back, and was probably at its all time apogee, historically speaking. Anti-gun extremists in both parties supported handgun-ban and ban-enabling registration amendments to a gun-control bill introduced by the extremely anti-gun Senator from Indiana, Birch Bayh (father of the recently defeated candidate for an Indiana seat in the Senate, Evan Bayh, who shares his father's distaste for guns and gun owners). Edited excerpt of a letter to the editor of Field and Stream, which had endorsed mostly Democrat Senators for re-election on environmentalist grounds. This letter (edited for brevity only) and a defensive-crouch response were published on p. 6 of the November, 1972 issue of the magazine:
Here is the way your outstanding senators voted on three of the amendments… [to] the Bayh gun-control bill:

Hart amendment to outlaw private possession of handguns: Brooke, Harris, Hart, Kennedy, Ribicoff, Tunney, Williams. … Absent but recorded for: Javits.
Kennedy amendment to require licensing-registration of all firearms: Anderson, Brooke, Case, Hart, Kennedy, Muskie, Ribicoff, Tunney, Williams… Absent but recorded for: Pell, Javits.
Stevenson amendment for licensing-registration of handguns: Brooke, Case, Cooper, Hart, Hughes, Javits, Kennedy, Mondale, Muskie, Percy, Ribicoff, Stevenson, Tunney… Absent but recorded for: Pell.

Also: the following voted against the Dominick amendment providing mandatory penalties for gun possession or use during the commission of the felony: Anderson, Cooper, Hart, Hughes, Kennedy, Mathias, Mondale, Muskie, Nelson. These men don't want to interfere with the criminal, just the law-abiding sportsman.
An editor (presumably Editor Jack Samson) responded defensively that it was "unfortunate" that the Senators who were good on the environment, as he and author Michael Frome defined "good," were not good on the gun issue, but the gun issue wasn't important, and maybe you could persuade a Kennedy, Hart or Mondale to change his mind.
Kennedy and Tunney, who later would combine in a secret effort to get Soviet Premier Yuri A. Andropov to sponsor an overthrow of Reagan for Kennedy in the 1984 election (Andropov didn't snap at the bait), were strangely less comfortable with armed Americans than with Soviet power.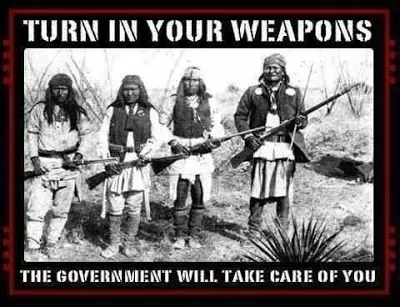 A direct look at Congressional reports available (for instance, here on Google Books) shows that gun bans frequently came up in that period, although they usually died in committee. Here's that example:
16.S. 2815 introduced November 5, 1971 by Senators Hart and Harris.

To prohibit the importation, manufacture, sale, purchase, receipt, possession, or transportation of handguns, except for or by members of the armed forces, law enforcement officials, and, as authorized by the secretary of the treasury, licensed importers, manufacturers, dealers, antique collectors, and pistol clubs. Legislation pending.
But "Nobody wants to ban guns." Horsefeathers.
In any event, S. 2815 went the way of all flesh in 1971, in this case, dying in committee. That's why the above-mentioned Senators frequently brought up the bans as riders to other bills, in other committees. All they needed was, one time, to get enough of a gun control majority to squeeze a ban through, and they could get it on to the floor. At the time, both Houses of Congress were solidly Democratic, but the Democrats were divided between anti-gun Coastals and pro-gunners from rural states, especially in the South.
They thought that if they attached a ban to an important enough bill, there may have been enough liberal coastal Democrats, liberal New England Republicans, and other Democrats vulnerable to party arm-twisting, to pass the ban. But this high-water mark of anti-gun power produced a backlash, uniting pro-gun activists and sportsmen, and earmarking nails for the political coffins of southern Democrats and those rural-state Senators and Congressmen whose real home had become Washington and whose real values were those of aspiring prospective members of the Georgetown set. In the 1970s, Idaho could produce a Frank Church, who was on a mission to destroy the military, the intelligence agencies, and gun rights; in the 21st Century, it's unlikely.
Nowadays, to sell a ban they have to narrowcast it; to sell registration they have to cloak it as something else, as anti-gun Sens. Schumer, Manchin and Toomey did in their "background checks" backdoor registration bill. (Only Manchin's and Toomey's names were on it, but Schumer's staff wrote it and he was directing Manchin and Toomey in the effort).
Field and Stream, which surely must have counted Elmer Fudd among its subscribers, came to have second thoughts about its 1972 handgun-ban advocacy (in service of a "greater cause," of course). By 1976 (May, November) the magazine's E.B. Mann was writing critically of Kennedy, Hart, Bayh and Tunney and their gun-ban projects. The 1970s were, in retrospect, the high point of the coastal liberal quest to actually ban firearms, and thereafter ban attempts were narrowly focused, using a divide-and-conquer approach (much like the divide-and-conquer approach between handgun users and hunters accepted by Field & Stream in 1972) but targeted narrowly on focus-grouped and rhetoric-tested neologisms: the handgun ban was reborn as "Saturday Night Special" restrictions, long gun bans as "Assault Weapon" or "Sniper Rifle" bans, universal pre-confiscation registration reborn as "Universal Background Checks." The new approach was predicated on the idea that you can't recognize a Nazi if you peel off his brown shirt and issue him a personable publicist, and its high-water mark was arguably the now-sunsetted 1994 gun ban.