There's a traditional understanding that weapons development moved by a sort of punctuated equilibrium through neat phases, like these for muzzleloaders: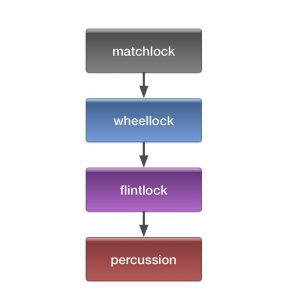 And these for cartridges: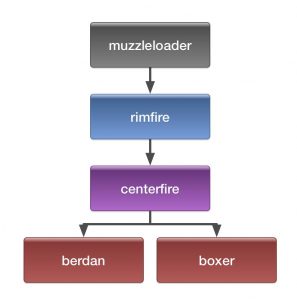 But in fact, the conversion from muzzle to breech loader was complicated by a great many factors. For one thing, until it got figured out, nobody had figured it out yet. In that little tautology is wrapped the whole conundrum of how it took about 50 to 75 years for what we now see as the obvious advantages of the centerfire, cup-primed, rimless cartridge to become the modern world standard for service arms, and to drive the earlier systems out of "professional" use, such as big-game hunting, long-range target shooting, military service, and armed self-defense. (Most police service counts in our books as armed self-defense. No officer expects to spend his day shooting people, and most of them retire without ever having done more than cover a suspect with a sidearm).
Impediments to working out "best practices" included the state of metallurgy and manufacturing at the time, the delays caused by patents and patent squabbles, and ultimately, not only the natural ignorance of what those theoretical best practices might turn out to be in practice, but unclarity on and lack of vision of the potential that cartridge firearms would bring forward. (Probably not one in a hundred early cartridge developers imagined autoloading or machine guns).
Most people informed about firearms know that rimfire rounds were developed originally by Flobert and preceded centerfire cartridges by a wide margin. But most people don't know how similar early centerfire and rimfire cartridges were, or how many other oddball efforts came and went during the years in which those ignition systems fought it out — or why centerfire finally won.
Most people can't name the first successful centerfire (non-revolver) repeating rifle in the United States, but when they're told the name, it's a name they know as an important gun: the Winchester 1873. (Earlier Winchesters, like the Henrys from which they evolved, were rimfires). The initial '73, in what Winchester called the "Winchester .44 Model 1873 cartridge" that later became known as the .44 WCF or .44-40, was a centerfire gun but it didn't use either Boxer or Berdan primers. It used a now-forgotten system, the Milbank primer.
The Milbank cartridge had a sheet-brass base soldered to a brass tube; at its center was a primer pocket. The primer, when unfired, had the appearance of a firing pin dent in it already. These rounds were not reliable and Winchester changed to the Boxer system, and the rest is history.
Isaac Milbank's patent is 93,546 dated 10 Aug 69; Boxer's is 91,818 dated 29 Jun 69 (but based on his English patent of 13 October 66), and Berdan's was 82,587, dated 29 Sep 68.
The US Army adopted the Benet primer, an internal primer (and there were other different types of internal primers), for use in the trapdoor Springfield rifles and carbines. Externally, these cartridges have a smooth back, like rimfires. The annular crimp is a give-away.
The cartridges found in cavalry positions at the Battle of the Little Big Horn site were Benet-primed.
As long as centerfire cartridges were flimsy constructions like this, centerfire was not deploying all its arsenal against rimfire. It would be the drawn brass, thick-head cartridge that would make apparent the superiority of centerfire over rimfire, other things being equal.
The armies of Europe were moving ahead, but to single-shot rifles. Intermediate ignition systems like pinfire and needle-fire were prominent in European ordnance circles.
Other oddities like cord and wire extraction were used in some early breechloaders. In these peculiar rounds, there was no rim, but instead, as the name suggests, a cord or wire was provided for pulling the cartridge back out after firing it. The flop-ear or rabbit-ear cartridge used a piece of sheet metal as the extraction hand-hold.
The oddest, though, might have been the annular-fire cartridge. It was an egg-shaped cartridge, rounded at both ends (the front, the bullet, and the back, the rear of the case, fit into a machined chamber). The primer was in a protrusion at the cartridge's widest point. The Crispin cartridge (shown) was an annular-fire cartridge with a flat back to its casing.
This protrusion made extraction relatively simple. In effect, it was a rimfire cartridge with the rim around the middle — something only worthwhile as a patent end-around.
Ammunition historians tend to lump these early cartridges in together as "metallic primitives," cousins to the non-metallic "primitives," cartridges used with muzzleloaders. But while they're "primitive" today, the rapid fire spray of patents in the 1850s through the 1880s show that they were the high-tech of the era.
Sources
Hoyem, George A. The History and Development of Small Arms Ammunition. Four Volumes. Seattle, WA, 1983-1999.
International Armament Association, Inc. A Cartridge Collector's Glossary, n.d.. Retrieved from: http://cartridgecollectors.org/?page=glossary