When nationalism breaks out, it's always a threat to deracinated, intermarried and interbred cultural and economic elites. Many of them define themselves not as members of a nation but as members of a transnational movement. While some may get their back up at the idea of "transnational movements," what is academic science? What is the top echelon of art? These activities are so hungry for real talent — and always have been — that international borders and ethnic differences fade to insignificance.
But borders aren't, really, insignificant. And if you're part this and part that and all focused on your international peers in your borderless, globally-oriented peer group, an oubreak of nationalism means you might have to make an uncomfortable choice. That's what the Brothers Sym faced: three incredibly talented European brothers. Igo (born Julius) was an actor; Ernest was a chemist; and Arthur was a musician and composer. And they had the bad luck to live in tragic Poland during the middle years of the 20th Century.
A Matter of Mixed Birth
The three brothers were sons of Anton Sym, a Galician Pole, and the former Julia Sepp, an Austrian. As boys, they lived in both Austria and Poland, and were comfortable in both lands' languages, but grew to adulthood in the latter nation. Each was marked by a precocious talent: Igo was marked for the stage, Ernest for science, and Arthur for music. (As a result of Igo's high-profile life, he's the only on we could find images of). At least two of them (Igo and Arthur) served in the interwar Polish Army, Igo as an infantry officer and Arthur as a bandmaster. In their educated, cosmopolitan circles there was nothing unusual about their ancestry; a man was judged by the content of his character, not the purity of his pedigree.
A Man Must Make a Decision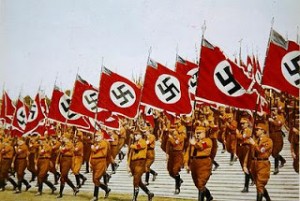 With the German annexation of Austria, and the subsequent Greater German Reich invasion of Poland, ancestry suddenly did matter. Now each brother had to decide which of the threads of his ancestry would call to him. Igo, the actor, became German; the other two chose their Polish identity, with Arthur, who had been a bandmaster in the Polish Army, keeping a low profile, and Ernest choosing to put his chemistry talent at the disposal of the Armija Krajova , or Home Army: the celebrated Resistance. He ran an underground lab making explosives, incendiary mixtures, chemical agents — he is thought to have been the genius behind the itching powder AK agents lovingly salted in every Wehrmacht uniform produced in occupied Poland — and even, his Polish-language Wikipedia page asserts, bacterial toxins. The Germans wanted to find their mystery chemist and close his lab, but they had undermined themselves: due to German racial policy, which saw Poles (and all Slavs) as Untermenschen, they had closed the universities — and lost track of the professors.
Three Talented Brothers, Three Tragedies
Igo Sym, the best known of the brothers, got himself labeled Volksdeutsche (ethnically German) and accepted as a German by the occupation authorities. He served his Nazi masters primarily in his one great skill, as an actor; he was the lead in the movie Heimkehr ("Homecoming"), in which oppressed ethnic Germans, downtrodden by Poles, were saved at the last minute by the invasion of 1939. That annoyed patriotic Poles, but sometime in 1938 or 1939, the Gestapo recruited or impressed Igo as a spy. And he was horrible at it; the first time he betrayed an acquaintance, actress Hanka Ordonówna, the AK knew of it right away. They sent a three-man team from their underground organization to plug the leak in Polish unity. (Silencing the voice of an effective propagandist was a a bonus). None of the assassins knew Sym, although they must have seen movies with him, before the war — he had been one of the biggest stars in Poland. Still, the AK worried that they might inadvertently hit the wrong guy. They worked out a classically Polish, which is to say clever, way to be sure.
Like most urban Poles, Igo lived in an apartment. The two assassins, who moved against him on 7 March 1941, had thin cover — they were officials from a utility. The third man acted as a lookout and provided cover. The assassins knocked on Igo's door, and stated their business. There was a question about a utility bill.
They asked him his name. (This was the precaution to prevent a mistaken murder).  "Igo Sym," the man replied, marking himself for death. He was shot right there, in his doorway, with a 9mm Radom VIS service pistol.
The assassins followed their exit plan, and made good their escape.
The Germans did not catch them. Instead, they threatened to shoot hostages, demanding that the Poles turn the assassins in. The hostages seem to have come from among the Polish intelligentsia held in notorious Pawiak prison, rather than the more usual Nazi practice of łapanka, as the Poles named street roundups of random Poles for labor or as hostages.
The Polish public didn't turn in the assassins. Nazi nabob Hans Frank ordered the hostages prepared for doom. He reiterated his offer. "Nice friends and family members you got there. Wouldn't want anything to happen to 'em when my ultimatum runs out." The murder would be carried out under the supervision of SS-Gruppenführer Paul Moder, a fascinating character himself, who would soon fall from grace and be ordered to the Russian Front, where Russian gunfire killed him in February 1942 at the beginning of the Demjansk encirclement. (He deserves a post of his own, but there's a link in the Sources for German readers for now).
The Polish response: more dumb insolence. Frank and Moder had 21 hostages shot on 11 March 1941. His men rounded up more usual suspects for deportation to distant concentration camps, but there were no more shootings over this particular incident.
But meanwhile, Igo Sym was dead, felled by a single shot at contact range.
Ernest Sym emerged from the war like so many men, a hero who wanted nothing but to return to his prewar profession, and pretend that nothing had happened. But his new teaching position in the University of Gdansk (formerly Danzig) was fraught with unsought politics. Scientists who did not accept the pseudo-science of the Soviet fraud Trofim Lysenko were in eclipse, and scientists who, like biochemist Ernest Sym, were especially suspect. But before the secret police could get him, he died in a car crash in 1950. (Or maybe, that's how the secret police got him).
His prewar work on enzymes wasn't picked up by other scientists until nearly fifty years after his death — and was belatedly hailed as pioneering. It might have won him a chemistry Nobel, had it only been noticed at the time. He did leave a gift of posterity to his nation and his university — his son went on to become a professor of physics at Gdansk.
And what of Arthur Sym, who identified as a Pole? Without Ernest's resistance record he was just another ethnic German, not wanted in postwar Poland. He migrated to Austria, where "don't talk about the war," was almost the national motto — indeed, it would have been, if the phrase itself hadn't been "talking about the war." Arthur lived out his life as a minor composer of classical works, and passed away in 1973, the last of the talented brothers whose lives were altered forever by the tides of world war.
In a century of peace, what renown and honors might have fallen on the Syms? But it was their poor fortune to be born of mixed parentage, in Poland, into the 20th Century, in the exact time in European history that a man with the blood of two nations in his veins might run into problems over it.