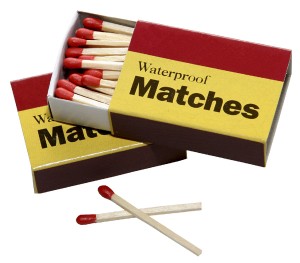 Four events. Four stories. 9 kids; 7 of them are dead. One outcome: parents in jail after kids left home alone started fires, or couldn't get away when fires started for some reason other than firebug/experimenting kids.
Why can kids start fires? Where do they get the matches, lighters and ideas?
Well, what's the over-under on all of these parents being smokers? Some of them maybe even of tobacco!
Item 24 Feb 16: Stripper's 2-year-old, Left Alone, Dies in Fire
And mom Leila Aquino was arrested and charged with endangering the welfare of a child and reckless endangerment. Mom first said she hired a babysitter, and then admitted that her babysitter was the TV. And yes, the soi-disant "child welfare authorities" had been to the home over neglect before.
Item 11 Jul 16: Mom Goes to Prison for Death of Four Kids Left Alone
She still denies it, but… well, she used a form of guilty plea.
Hope Hawkins, the mother of two girls and two boys, ages 10 months to 4 years, had entered an Alford Plea in October before Judge Paul Burch in Darlington County.

Also known as an Alford Guilty Plea, the declaration allows a defendant to enter a guilty plea without admitting to committing a crime.

After her four children perished in the 2013 fire, Hawkins, then 21, was charged with multiple counts, including involuntary manslaughter.

Authorities claimed that Hawkins had left the four young children home alone when fire swept through the family's mobile home.
Her relatives demanded that people "stop judging her." The judge declined to take that advice.
Item 16 Sep 16: Mom Arrested after 2-year-old Twins Found Dead
Investigators can't tell why the fire started. Or, for that matter, where Mom was. They do know where she wasn't.
Heather Ace, 25, was away from her Batavia home on May 20, a fire broke out inside or near her twin boys' first floor bedroom, officials said.

That blaze proved lethal, as Michael and Micah Gard died of smoke inhalation, authorities said. Their bodies were found inside their room.

The cause of the fire has yet to be determined.

"Usually we are pretty adept at isolating the cause and then using that to further whatever investigation it may turn out to be," Chief Deputy Jerome Brewster told WIVB-TV. "Sometimes it's accidental, sometimes it's criminal, sometimes we don't know. And this particular case was a we don't know."

Ace's landlord reportedly had plans to evict Ace before the fire erupted, telling the television station he did not like the amount of "traffic coming and going" from the home.
Lifestyles of the Poor and Wretched, Nº 32767.
Item 12 Nov 16: Florida parents jailed after kids burn down home.
Florida. Although one wonders what the nationality status of the parents may be. The story:
The boys, 6 and 8, reportedly told police that they were playing with a lighter and lit a cup on fire before putting it in a drawer inside their bedroom.

The fire then spread.

Police said a neighbor was driving past their home around 3 p.m. when she spotted smoke coming from the roof.

The woman pulled over and tried to get the boys out of the house, police said.

"She motioned for the children to come to her, but they went back inside," Osceola County sheriff's spokeswoman Twis Lizasuain said. "She ran into the residence and brought them outside."

Jonathan Lopez-Banos, 30, and Rosmarie Medina-Arroyo, 36, were reportedly at work during the incident and are now facing child-neglect charges.
For the kids, it's out of the fire, and straight into Hell: the Florida Department of Children and Families has seized them, now.