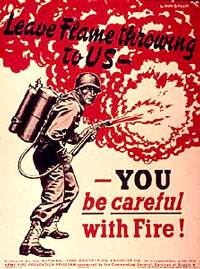 OK, the guy didn't kill anybody, but he's a suspect in dozens of fires that have burned tens of thousands of acres. And accused arsonist Johnny Mullins, 21, did it to draw "likes" to his Facebook page. 
Man, that's a hard way to promote yourself on social media. He won't be making FB updates, where he's going. To wit, Crowbar Motel.
"It's really too bad because he's not a bad kid — he's just misguided," said James Stephens, the police chief in Jenkins, Kentucky, where Johnny Mullins, 21, was arrested this week on a second-degree arson charge.
If Johnny's "not a bad kid," can you imagine the kind of yout' that Chief Stephens's unfortunate deputies have to deal with on a daily basis? It's only blind luck that the only dead are plants and wildlife.
"He likes to do Facebook videos and have people follow him on his 'weather forecast,' so that's pretty much why he did what he did," the chief said. "He enjoyed the attention he got from the Facebook stuff."

"He didn't realize how much danger he was putting other people in," Stephens added.
What? Can you start a fire without thinking you're doing something dangerous? On what planet?
A teenager in Harlan County, Kentucky also was arrested for arson this week, and in Tennessee, authorities said Friday that Andrew Scott Lewis was charged with setting fires and vandalism causing more than $250,000 in damage and threatening homes outside Chattanooga.
What is it with kids in Kentucky? Read The Whole Thing™. Another kid was busted for arson there, but is not named because he's a juvenile. A third arsonist, 19-year-old Andrew Scott Lewis of Harlan County, Tennessee, was also arrested in connection with a series of fires near Chattanooga, but his motivation is unknown. How the dozens of unsolved arsons break down between Mullins, Lewis, the kid, and possible unknown parties is also unknown.
Didn't their mommas tell them that "Playing with fire" has its own whole category in the National Registry of Bad Ideas®?