The National World War II Museum is the top attraction in New Orleans, a city that is not lacking in attractions. (We could learn a lot from the long-gone original French and creole inhabitants, who judged men by the content of their character rather than the color of their skin).
How did a WWII Museum wind up in New Orleans? It started as the National D-Day Museum, and that was because one of the key devices of the war was, as was its inventor, a New Orleans native. That invention was the LCVP, Landing Craft Vehicles and Personnel, aka the Higgins Boat(.pdf), after its inventor, Andrew Jackson Higgins, who went from running a boatyard that made work boats and yachts to running seven boatyards turning out LCVPs and PT Boats for the Navy. (New Orleans also had three more shipyards during the war, building Liberty ships).
Irony for you? Of the many thousands of LCVPs made, only a dozen or so survive, with only a couple in original and seaworthy condition. So the Museum itself displays a replica that was built by locals, including some former Higgins workers, to the original plans! On the other hand, PT 305, which is under restoration at the Museum, is an actual Higgins PT boat, one of 199. The Higgins boats were equivalent to the more common Elco boats in performance, but the Elcos looked faster. The Museum lets you watch restorations in progress (from the other side of the glass), but don't count on anything particular happening during your visit.
The D-Day invasion depended on the Higgins boats, but then, so did every other amphibious operation in all theaters of war. So it seemed sensible to expand the Museum to cover the whole war. Go big or go home, right?
And, in fact, you can spend a day in the Museum and learn a basically straightforward overview of the war, a valuable replacement for the nonsense produced by the race/sex/class obsessed history departments of modern universities. One of the high points of the Museum is a fifty-minute documentary telling the story of America's WWII, produced and narrated by Hollywood's Everyman, Tom Hanks. (It's called Beyond all Boundaries).
Another is frequent stations with short interview snippets from actual veterans. (These are vivid enough to make you long for access to the whole interview. Unfortunately, everything in the Museum seems to be optimized for the minimal attention spans of 2016).
But really, you guys want to know about the guns, right? The Museum does have displays of representative firearms of the war, some common and some rare. We didn't see much explanation of which weapon was used when, let alone each one's characteristics, pros and cons. But the actual guns are there to see, usually behind glass.
Here are two Japanese aerial weapons. The upper gun may look at a glance like an aerial Browning, but it's no such thing. It's a Japanese copy of a post-WWI-vintage Vickers aerial gun. Inside, it's got the Maxim toggle lock.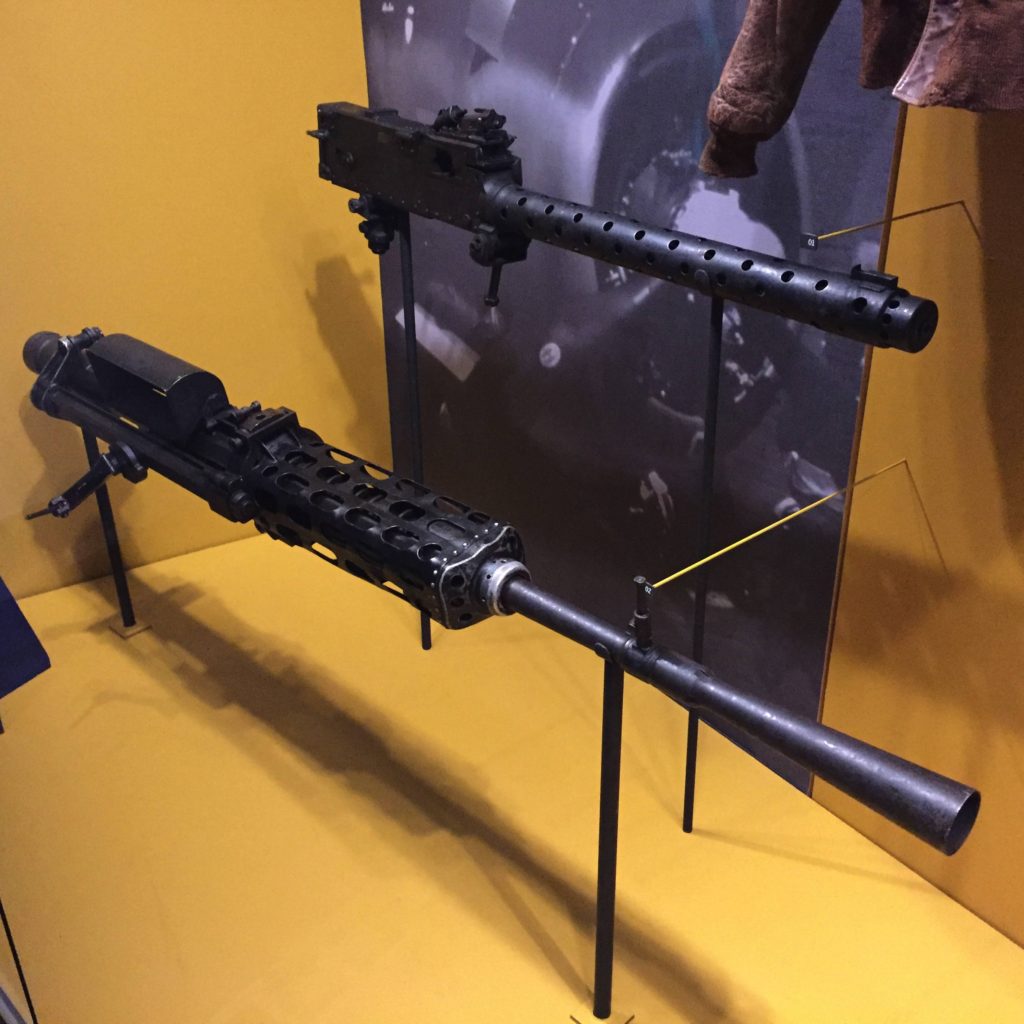 The fat guy in front is a 20mm Type 99 Mk I aerial cannon, a Japanese design based entirely on Oerlikon principles. It is usually seen as a flexible gun, but this one appears to be configured for fixed, forward-firing installation. It operated by blowback with advanced primer ignition (therefore, requiring a rebated cartridge). It had a low cyclic rate of fire, for an aerial gun (510 RPM) and was fed by a 60-round drum magazine.
And there are naval weapons. Here's a torpedo in the restoration hall, although there was no information on it handy.
There are plenty of support and crew-served weapons, aircraft, and military vehicles. Among the historic cannon represented are a German 8.8 cm Flak 38 (the dreaded "88"), and this American 75 mm pack howitzer. This gun was a lightweight version of the standard US weapon derived from the World War I "French 75." This display, with the actual artifact in front of a blown-up period photo of how it was used, was pretty typical.
A number of these guns are still in use as saluting cannon on American bases, and Lord knows how many may still be in the arsenals of small countries.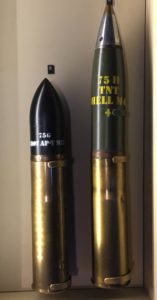 The 75 fired several different projectiles, depending on the target. On the left, the M72 Armor Piercing Tracer (AP-T) round, a solid-shot kinetic penetrator that was only effective against thinly armored vehicles at close ranges.
On the right, the more usual 75 mm M48 HE round. The M48 weighed 18 pounds, of which about 10% — 1.75 pounds — was explosive filling.
The reason for using a smaller howitzer, rather than the 105, came down to one thing — the portability of the gun, and the ammunition. Every 105 HE round weighed around 35 pounds, for example. In a pinch, the 75 could be moved short distances by its human crew.
One remarkable feature is a submarine interactive called The Final Mission, which reproduces (in a compressed fashion) the last actions of USS Tang, America's most successful submarine, which was a record-setter even before its fifth and final war patrol. In an intense night surface action, Tang sunk five Japanese ships — and sunk itself.
Who is the museum not for? It's probably not the very best thing for anyone who's already extremely well-informed about World War II — you'll still enjoy yourself, but you won't learn much from a presentation that of necessity hits the high notes. It will also be disappointing for anyone hoping for much about the war prior to 7 December 41. (Was it over when the Germans bombed Pearl Harbor? Hell, no). Seriously, the war had been going for over two years in Europe, and over four in China, when the US got involved.
The Museum has a decent website, enlivened by something you seldom see, an entertaining and educational 404 page.
One last note — as the most popular attraction in a tourist-rich city, the Museum is usually packed. This is especially true when foul weather drives tourists out of the city's usual walking environs (and off the open top deck of tour buses).
Update
Per the comments and email from Our Traveling Reporter, the restoration of PT 305 is nearly finished and the boat was transported, with great ceremony, to Lake Ponchartrain this week. We'll try to have video for you soon. It's way more beautiful than it could have been as a working motor torpedo or motor gun boat (many of the PTs in the Med dispensed with torpedoes, for lack of worthwhile enemy targets). Congratulations to all at the Museum, especially in the restoration shop.