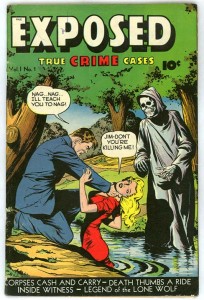 Welcome to New York F'n City, where guns are actually outlawed. And yet, malefactors manage to factor their mal anyway. Who'd have thought it?
And the victim in this case, a woman shorn by heartless lawmakers of any practical ability to defend herself effectively against a stronger man,  defended her life with the best improvised weapon that fell to hand. Ineffectively. The New York Post:
The fight early Saturday inside the Bedford Technology store on Bedford Avenue near Church Avenue ended in the girlfriend' s apparent strangulation — and was caught in all its savagery on store surveillance video, sources told The Post.

A co-worker found Deneisha Smith, 27, of Flatbush, dead inside the store and alerted cops, who ID'd the boyfriend using the chilling footage, sources said.

"It's a vicious attack lasting over 10 minutes," one source told The Post. "And the woman fought for her life," at one point cutting her attacker in the neck with a piece of broken glass.

When cops knocked on the boyfriend's door a few blocks away, he was home — with his wife and four kids, one source said.

The boyfriend, whom police did not immediately identify, tried to cut himself in the chest as cops moved to arrest him — possibly to cover up his earlier injury.
Obviously Romeo here needs a whole new Zip Code. But New York also needs a new way of looking at self-defense. You'd think it would embarrass Manhattan sophistos that their self defense law and policies give innocent victims like the late Deneisha Smith no chance at life.