We've been losing a lot of people (for us), and other SOF units have been hit hard as well. Multiple deaths in SF are rare, and with such a small group, every death stings. The absolute lack of regard or respect from the E-Ring for the actual guys being sent to these actions stings additionally. Here's two of 'em, from 10th Group: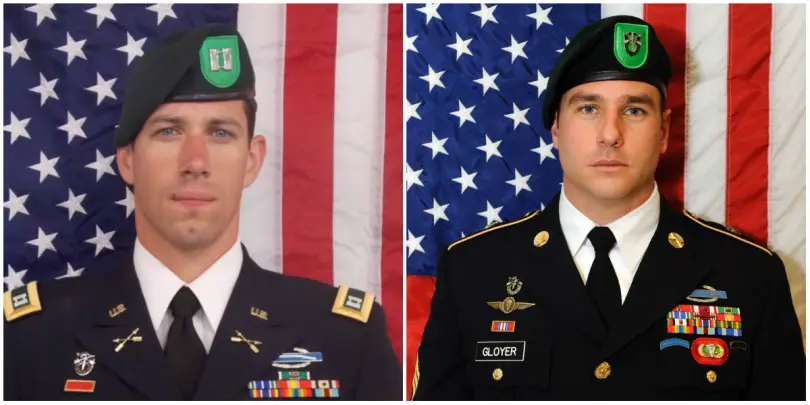 Capt. Andrew D. Byers, 30, of Rolesville, N.C., and Sgt. 1st Class Ryan A. Gloyer, 34, of Greenville, Penn., died of wounds sustained while fighting enemy forces in Kunduz, Afghanistan, the Army says.

Byers and Gloyer — Green Berets — were assigned to Company B, 2nd Battalion, 10th Special Forces Group (Airborne) at the Mountain Post. Both were posthumously awarded the Bronze Star Medal and the Purple Heart Medal, according to a Fort Carson spokeswoman.
Here's a little more on Byers, originally from upstate New York. Young, upcoming guy. His father says:
My son was the commander of a Special Forces HALO team and this was his third deployment. He was scheduled to return in early December. Special Forces was his dream. He was a good kid and grew to be a great man."
He's survived by a twin sister in New York and a wife and family in North Carolina.
Konduz was 100% pacified by December, 2001. We didn't have a guy get shot at there for a good ten years. Now it's Game On; along with Byers and Gloyer, four other Yanks were wounded, and dozens of Afghans killed and wounded alongside them. They were hit hard as soon as they disembarked from utility helicopters and fell to small arms fire.
There was another guy, a medic, who fell in a green-on-blue recently.
One frustrating thing about this is the complete absence of this war in the priorities of those who, for personal aggrandizement or greed, make themselves "leaders." Secretary of Defense Ashton Carter doesn't care, although he would if the guys wanted breast implants rather than air support. He's focused on social engineering and always has been. The President doesn't care — he's more concerned about the cares of criminals sent to prison for actual crimes.
The candidates for President don't care. One of them wants the wars to stop, and the other, who has a couple of wars that practically have her own name on them, is well known for her contempt for those who fight them: when one dies, "what difference does it make?" It doesn't put money in her family's pocket. so it's of no consequence.
Inserted Update
We knew there was another casualty we wanted to mention. SSG David Whitcher died in a training mishap in open water at the SF Combat Diver Course in Key West. After 5 years in the NH National Guard, Whitcher went active duty in 2013 and volunteered for SF in 2015. He graduated from SFQC this year, and was assigned to C/2/7th SFG(A) at Eglin AFB before transferring to the SCUBA school unit, C/2/1st Special Warfare Training Group.
The school commander, MG James Linder, called Whitcher's death, "a sobering reminder of the dangerous training our soldiers undertake to prepare themselves for the rigors of Special Forces." Fair enough, General. We extend our condolences to his family, friends, and teammates in this unhappy time. Let us celebrate his life.
/end of Update.
Meanwhile, SF's history got hit hard at home. Drew Brooks in The Fayetteville Observer:
Filing cabinets sit open with fans trained on the papers inside.

Books have been piled up to be sorted and salvaged at a future date.

They sit atop display cases, filled with patches, berets and artifacts from wars from Vietnam to Iraq and Afghanistan.

Cliff Newman walks through it all, occasionally pausing to thumb through a book or peak at debris stored in plastic bags.

"We're still kind of in a state of shock," he said.

Newman, executive director of the Special Forces Association, said the nonprofit was hit particularly hard by the floodwaters that came with Hurricane Matthew last month.

The 52-year-old association's compound off Doc Bennett Road – which includes picnic areas, a memorial garden and office space – was covered in nearly five feet of water at the flooding's peak.

Nearby Rockfish Creek, located down a steep embankment from the roughly 20-acre compound, rose 40 feet to flood all but a small chapel and rows of memorial stones, Newman said.

"It was like a big lake," he said. "It just surged right in here and flowed back out again."
They have calculated the surge at 46 feet. The creek is way below the location of the Association compound. But with the floods, a bend in the creek bottled up the flow just enough to trash a half-century plus of history.
There is no flood insurance. (Who gets flood insurance when the normal water line is fifty feet lower?) but basic insurance will cover one building that engineers are calling destroyed, and repairs to another that was damaged. Even today, power, computer networking, and water to the site have not been fully restored. It's a colossal mess.
SFA has since gotten some professional help with some aspects of the recovery. After several years of database pruning and maintenance, the Association's data was in good shape, but there was no off-site back-up; the hard drives are supposed to be passed to a specialized recovery firm.
Saddam's Revenge?
"It's a little stale," Newman said, commenting on the musty smell of the once-flooded building.

Parts of the walls are missing. Each room is stacked with piles of debris, some of which will be salvaged. Some is too destroyed to keep.

Ruined electronics are stacked amid piles of plastic bags, destroyed magazines – archives of the association's quarterly Drop magazine – and documents which dated to the 1960s.

In another room, a bust of former Iraqi dictator Saddam Hussein, one arm outstretched, gazes at the damage.

Awards and mementos from many a Special Forces career are disheveled amid the still-drying display cases. Photos and posters, some decades old and tracing the history of Special Forces, are stacked on top of them.

There are flags, uniforms and traditional clothing from around the world.

"Some of this is salvageable and some isn't," Newman said. "Some of this is irreplaceable. It's history."
Well, so is Saddam. And the Association will rebuild.