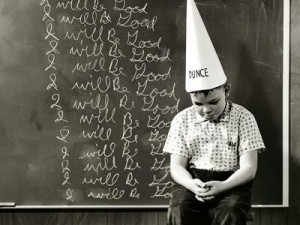 Recently, frequent commenter JAFO reminded us on Gab of the disaster that was MacNamara's 100,000. This was a 1960s attempt to use the Armed Forces for social engineering by deliberately admitting 100,000 volunteers a year who did not meet minimum standards for volunteers or the draft. What kind of standards? Today, the standards the services' recruiters struggle to meet are fitness standards, given the latest Rotund Generation, and medical standards, given the universalization of psychoactive drugs. (And yes, social engineers decry those standards, but that's a whole other issue). But fifty years ago, with a much larger military and an active draft, the people who wanted in but could not get in were disqualified, mostly, by low IQ.
They were too dumb to grunt. Process that. 
First, some background. Army mental standards are not especially high, although they vary from job to job. They divide the population into bins based on standard deviation from the mean. The bottom bin (Category V) and the next-to-bottom (Cat IV-B) are not ever supposed to be admitted. In 1966, the harsh term used for these people was mentally retarded. For the IV-Bs, perhaps, educable mentally retarded. Since then, we've had so many iterations of euphemisms, with each one in turn flaming out as the truth of it burns through, that we're not really sure what the buzzword du jour is. It doesn't alter the fact that these recruits could not do much meaningful military work in the far lower-tech Army and Marines of 1966, and they'd been even less useful now.
The next group up, Cat IV A, are admitted when the personnel wallahs are desperate for warm bodies. During the Vietnam War, for example, and during the Hollow Army of the mid and late 1970s. These are the ones the compassionate educator termed, fifty years ago in 1966, borderline retarded. 
Warm body desperation is a pathology all its own, given the highly incentivized recruiting realm, where carrots and sticks are both wielded with abandon by Recruiting Command. There are frequent test-cheating and recruiting corruption scandals as it is, most of which somehow involve tests being pencil-whipped or ringers being substituted at test time so that Slow Joe can become GI Joe. So some of these people scrape through or are smuggled through, all human-devised barriers being, ultimately, porous to incentivized human ingenuity.
IQ is highly correlated with a lot of things in life, from earning potential to impulsivity to educational attainment to crime. In fact, most psychometricians know, although few would write it down and nail it to the cathedral door, that a great deal of interracial disparities in outcomes of all kinds are downstream of interracial disparities in IQ.
Most people tend to sort themselves into groups of people of similar IQ. A Great Assortation has taken place since World War II. We mate with similarly smart spouses; we move to neighborhoods full of people much like ourselves; we work in offices full of people with similar levels of intelligence and education. Only people in public-facing jobs see the full range of human diversity in intellectual ability. Thus, because our personal heuristic field is rationally bounded by the people we know, and the people we know are not representative but are from a restricted range of a wider distribution, we're likely to misjudge where "average" is and just how far it is to rock bottom.
We'll get back to that, but first let's talk about the history of The Dumbing Down.
MacNamara's 100,000
In the mid 1960s, Robert S. Macnamara (the S. was, suitably, for "Strange" — we are not making that up), decided that the Army and Marines could cure some of the problems of underperforming civilian youth by giving 100,000 dummies a year an opportunity to excel in uniform. The project was successful at recruiting or drafting 385,000 people with IQs as low as 62 (!) into what Salon calls "McNamara's Morons." As you might expect, these pitiful privates did not excel in the military, and were disproportionately represented among courts martial and NJP'd troops.
FMI on Mac's Morons, this weird site suggests it was a white man's plot to exterminate black men, but it's worth checking out the period (1968) New York Times story embedded therein, about the outcomes for the substandard soldiers. This dictionary entry from the Vietnam Project at Texas Tech gives a concise and neutral explanation. This Master's Thesis from the University of Utah[.pdf] illustrates what happens when a modern, poorly educated but credentialed social justice warrior examines this through the usual SJW prisms of racism and marxist jargon.
The Colin Powell Commission and SF
In 1993, the first Clinton Administration wanted to start small in social engineering and work their way up. One of the first things the social engineers wanted to arrange in the military is ,not to put too fine a point on it, more minorities in Special Forces. Why this was necessary was so obvious to them that they couldn't explain it rationally. All they could do, if you asked "why?", was to label you racist and shriek at you — even though you were not the one trying to structure things racially. If pressed by some "racist," they had slogans — you know the type. "Diversity is Our Vibrancy."
Now, SF was at the time at least 40% minority, but these were the wrong minorities. SF had a lot of Hispanics. Lots of Mexicans, Puerto Ricans, Central Americans, Tex-Mex border guys. We also had some other minority groups at higher-than-national average counts, including Asians, American Indians, Pacific Islanders, and Jews — when these four groups were extremely underrepresented in Big Green as a whole.
These "minorities" were invisible to the Clintonistas, who counted them all as "white." (Fair cop, as far as the Jews and most of the Spanish-speakers, some of whom barely had a functional command of English, were concerned). "Minority" meant "black," another one of those metastasizing euphemisms. (Remember, this was 1993; today, they're "African Americans." Do try to keep up, Winston Smith).
The only "minority" anybody in the Clinton Pentagon could  think of was Colin Powell, who had become a media hero for being the spokesman during the Gulf War. So they found General Powell and set him at the head of a commission looking into the desperate straits of Diversity is Our Vibrancy in Army Special Operations, especially SF.
During Powell's career, which stretched from the sixties to the nineties, the percentage of blacks in the Army and in the combat arms had declined. One explanation (for the diversicrats, the only explanation) was deep-seated institutional racism. Which is why Powell was terminal at Lieutenant Colonel… oh, wait. Another explanation gave America a little more credit: in 1966, a bright black kid really did face a tough future, and one way forward that had a concrete set of rules and that did its imperfect best to treat all citizens alike was the armed services. It was a great pathway to the middle class for people who didn't have another. But by 1996, their sons (and daughters) had other pathways. Colleges wanted them, employers wanted them, and the Armed Services were just one more option, not the standout option they'd been to Dad or Uncle Mike.
But Powell, at his core an honest man, didn't come up with a bullshit report, but rather, with two possible structural changes in SF recruiting standards that might meet the quotas-not-quotas envisioned by the politicians.
Two things were keeping "minorities" out of SF, Powell said: the swim test, and the GT Score or IQ cutoff. An SF volunteer has to swim the length of a pool and back (although at least once they passed a guy for walking the whole thing on the bottom and periodically sounding for air like a marine mammal, because he was such a will-not-quit dude), and an SF guy has to be about one standard deviation above mean IQ. (Technically, GT 110, with GT 100 normed to the mean).
Now, for reasons known but to God (but that we're going to offer informed speculation about here), blacks come to the Army less likely to be able to swim, statistically speaking, and they have a harder time learning to swim. Army diversicrats (a vast and extremely pampered group these days) have a bunch of nonsense about inner city kids, victims of racism, no swimming opportunities, yadda yadda. In the NCO corps, this same idea was more pungently expressed that "some kids played in the swimming pool, some kids played in the fire hydrant," and there might be some truth in it.
But in our experience, a bigger swimming problem for black SF recruits was biology. Ceteris paribus, young black men have considerably less body fat than their white or Asian cohort. This translates quite directly into less buoyancy, making learning to swim both more difficult and more frightening than it is to your training teammates.
The swim test could probably be dispensed with, although it is very, very useful to be a strong swimmer in many surprising military situations. But SF guys work in teams; the water lovers self-select onto scuba or maritime operations teams, and on any other team, one weak swimmer or two is just something the team sergeant keeps a mental note of — one hopes the guy has other, strengths (as anyone who makes it through SF training tends to do). Nobody liked it but they saluted and carried on.
The IQ test was different. There is no place for a dumb SF guy, and the average team house probably has a higher average IQ than the liberal arts faculty at a state university. The guy you thought was your team's village idiot was at least one standard deviation at least above the general run of humanity.
Moreover, the diversicrats knew the toxic effect of just lowering the GT Score — the military test's IQ equivalent — for the desired minorities, would serve to flag members of that minority as "probably dumb," and engender rather than diminish discrimination, unfairly, especially against the guys who were already capable of meeting the extant standard. (Mind you, there was no evidence for discrimination, just uneven volunteer rates and pass rates by race). So they did something that the guys hated even more — they lowered the IQ gate for everybody. This meant a rivulet of borderline black recruits amidst a Niagara of borderline whites.
And we waited, out in the team rooms and company HQs, for the deluge of idiots (actually, average-IQ men) to the teams. But it didn't happen. What happened was this: completing SF training, too, had always been highly correlated with IQ or GT Score.  So more dumb (really, average) guys entered the training pipeline, but almost all of them flunked out, or dropped out. The Army just wasted a ton of money encouraging good but not-SF-material guys to try out. Even more unfortunately, the experience soured some of them on the Army overall, depriving who knows how many conventional companies of competent commanders, and platoons of solid sergeants, down the line?
After some years, and the departure of the Clinton suits (although they left behind plenty of sporulating diversicrats in the civil service ranks) the GT score gate was put back up, at least partially. We don't think about the racial make-up of the SF Regiment today, but it's probably about where it was in 1993, 60% white, 40% minority, maybe 5-8% of those minority guys being black. But they all met a known standard, and that's solid gold in a profession where intramural trust is paramount.
They're now saying that recruiters have to be able to recruit troops with criminal records. You know, for Diversity. Because Diversity is Our Vibrancy.
No.
The Department of Justice Today and Police
And now, we have the Department of Justice arguing in a position paper on Advancing Diversity in Police Hiring (press release and .pdf) that we need to turn the cops into a modern equivalent of MacNamara's Morons, plus we need to stop doing background checks on candidates because Diverse Vibrancy candidates are more likely to be felons and/or gang members. Therefore, being a felon or gang member, says DOJ, should not be a DQ.
Gee… even MacNamara just hired retards, not retarded felons.