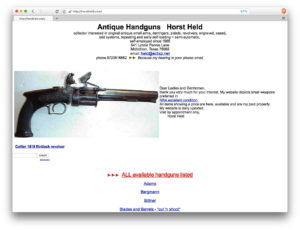 Why would we make a single dealer the Wednesday Weapons Website of the Week? Well, Horst Held is not just any dealer. Not when you take into consideration the historic significance and quality of the collector pieces Horst is selling. Even if some of them are priced in the nosebleed range, his collection is broad enough, deep enough, historic enough, and packed enough with odd curiosities — like the flintlock revolver currently on the front page — to be an education in itself.
We first came across his site while trying to decode the mysteries of the repeating pistols of Weipert (Vejprty), Bohemia. For example, he has two Gustav Bittners in stock. Given the prices he has placed on them, all we can do is look, but he has characteristically included numerous photographs of these peculiar and historic "missing links" between the first single-shot and double-barrel cartridge pistols, and the true semi-automatic service pistol which came along in a few years and rendered the repeaters, operated lever-action (usually by action of the trigger guard), obsolete.
He also has a page on those strange hybrid weapons that incorporate a pistol or revolver and some kind of knife or sword blade, with an awful lot of examples, not including the rare Elgin Sword Pistol. The Elgin may be rare in absolute terms, but it's common compared to his examples, like this Dumonthier revolver with a folding bayonet!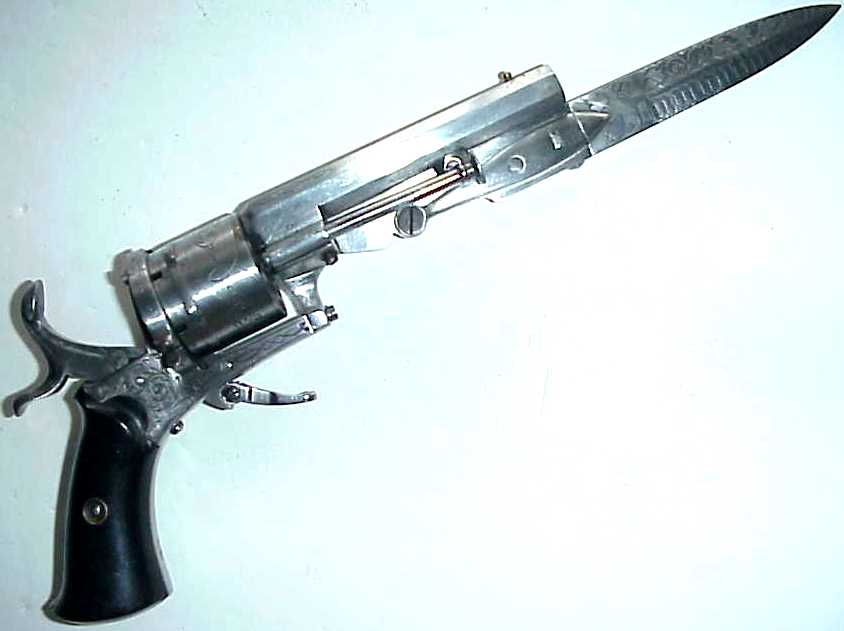 And then there's a Dreyse needle-fire — but it's not the celebrated Prussian rifle of 1870, but a double-action needle-fire revolver.
But there's far more here than just that. If you can look at this site and not learn anything, we'll be very surprised — "By the heathen gods that made ye, you're a better man than I am, Gunga Din."
And if you look at the site, you'll almost certainly be entertained. You may not want to spend thousands on exotic antiques, but you'll marvel at the ingenuity that went into some of these artistic creations, even as you wonder at the thought processes of the designer who thought it might be practical.