Here's a Soviet Marksmanship Card that appears to be from the Second World War era (Great Patriotic War to the Russians). Because it is posted on LiveJournal, which is anti-gun, you must click past an "over 18 warning" to follow the link (it is on an interesting Russian blog); that feature breaks Google Translate, so you have to read Russian to read the blog (or the post).
That's not as disabling as it might be, because you have to read Russian to read the card. That's a pity, especially for Mosin-Nagant fans, because the card is densely packed with information on how to use this rifle. We don't know how widely these were disseminated to Soviet troops (or what was on the back of them — there must have been something?), but a lot of thought and ballistic knowledge went into the card's creation. The soldier who mastered this card, and better yet memorized much of its contents, would truly be a master of his Mosin-Nagant rifle or carbine.
The card contains 16 numbered items, some of which are tabled together.  Item 1 is a simple ruler along the top edge of the card, which is how we know for sure this was meant as a pocket card and not as a wall poster.
For example, this diagram, which is part of Item 9 on range estimation, comes after a list telling you what you are likely to see near and at distance. It lets you use the rear sight notch as a range finder, given average size Nazis. (The caption says "rifle-rangefinder"). Did you know your 91/30 could do that?

The targets appear to have British helmets, which is not unusual in interwar Soviet manuals, but this document "feels like" it was produced towards the end of the World War, probably in 1945.
Most rifles can be used this way. For instance, the front sight blade of an M16A1 or A2 is the width of a man's chest (or an E-type silhouette target) at exactly 175 meters. If the manufacturer of your iron-sighted rifle did not provide such a table for you, you can make your own with known distances (or a laser rangefinder) and a man-sized silhouette.
Next let's estimate lead on running-man targets, and windage in a stiff wind (4 m/sec), at common combat ranges. Soviet marksmanship trainers were quite ambitious, inculcating confidence in the accuracy of the service rifle to 800 meters.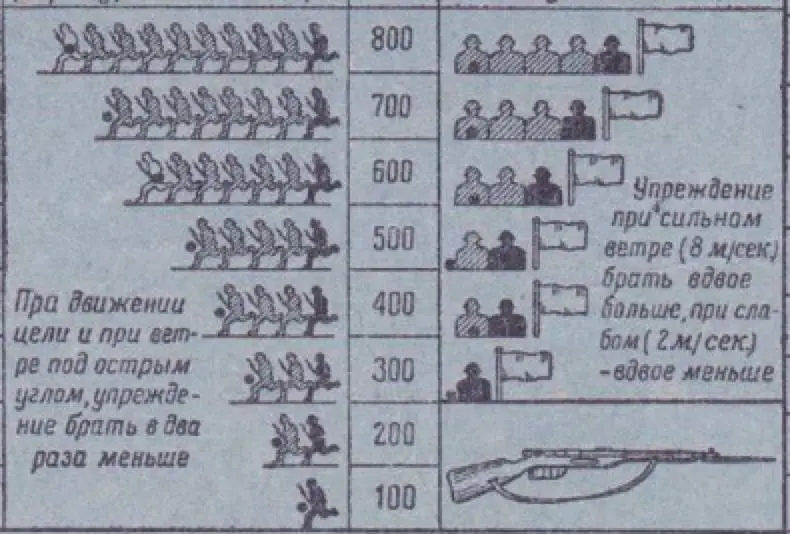 These calculations are based, of course, in the time of flight of the bullet, and if you noted, we snipped out only part of the table, which comprises Items 2-6 of the card (the image above is the graphic part, minus explanatory text, of Items 4-6. Expanding the image to include the legends and Items 2 and 3 on the left we see that Item 2 is the actual time of flight, in seconds and hundredths of seconds. The open numbers are for the rifle, and the circled numbers for the (presumably, M1944) carbine, which is a convention honored throughout the card.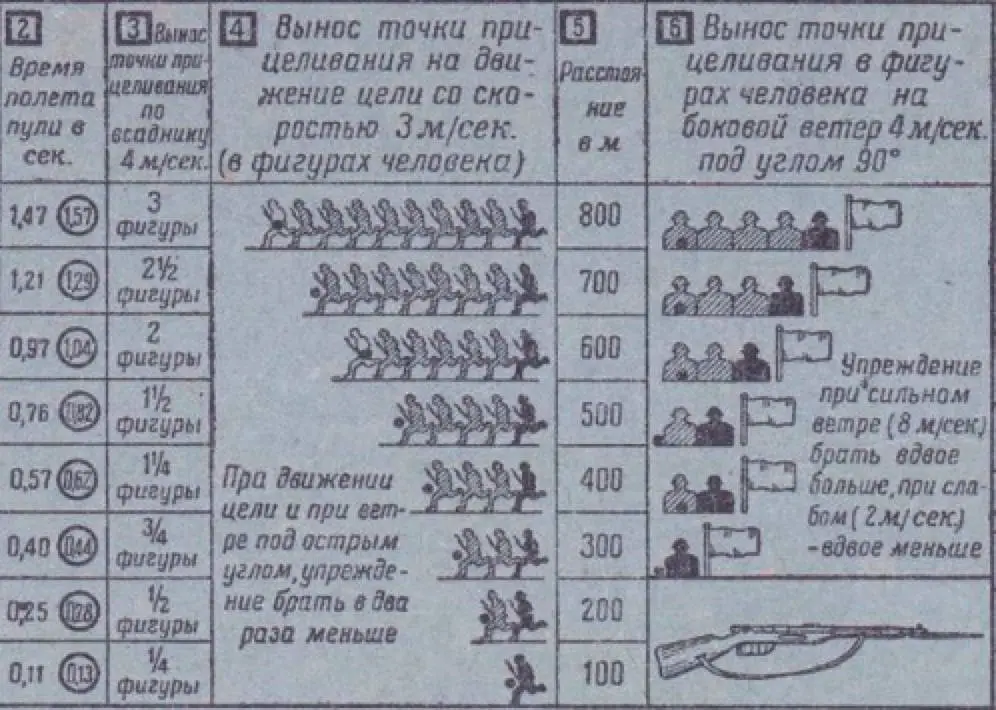 Item 3 is windage in a 4 m/sec wind, measured in body-widths (figury); part 4 lead on a 3m/sec running man, and part 6 an illustration of what they mean by the windage in Part 3, assuming a 90º crosswind. The text block there tells you to double the windage in double the wind, and halve it in half. (Hey, it's a card for Army privates, least common denominator).
Item 10 is a penetration table, running from Steel Plate (6mm) to Soft Wood (85 cm) in no particular order. Some items on this list would not be much use to Mosin users in Cuba or Vietnam, like Snow (3.5 meters), but were certainly important to anyone fighting for the soil of Russia itself.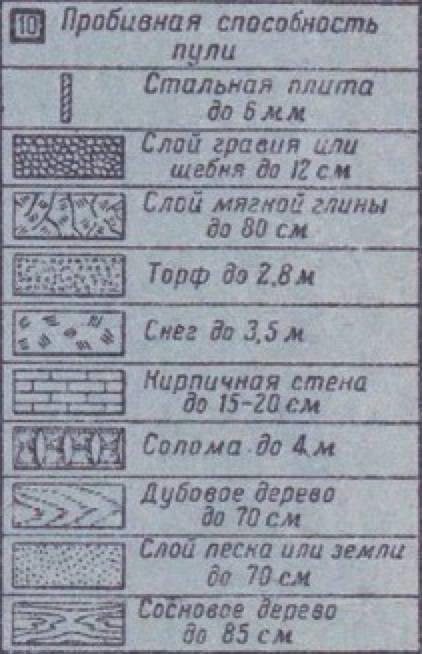 While the Mosin rifle is long obsolete (even Russian honor guards usually carry the successor SKS), modern 7.62 x 54 mm ammunition is remarkably similar in ballistics to this wartime load; only the quality control has changed (it's better now). It will still take about 1.47 seconds for your round to go 800 meters, and the amount you'll need to adjust for wind or lead a running target still complies with Newton's Laws in the same exact way.
Just because something is old, doesn't mean the men who invented and applied it were primitive. As this illustrates, they probably have a lot to teach us!