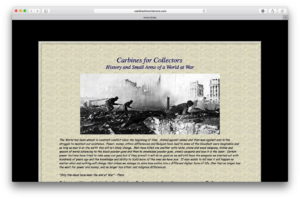 Carbines for Collectors is a website that has outrun its own name. Originally, it had pages on some of the key bolt-action carbines of the 20th Century, but over time it has evolved to contain a great deal of information on many weapons and the historical periods and events that they helped shape.
One of the reasons that this site may have been overlooked is that there are relatively few embedded pictures. Instead, the pages are mostly text, and the pictures are mostly linked. This does mean it loads lightning fast, and you don't have to load pictures you don't care about. But if you're a visual learner, clicking back and forth might be frustrating for you.
Despite the dense, high-quality content, it is a very simple collection of pages menued off the index page. Navigation is a snap, and if you want to learn the ins and outs of, say the rifles of the Spanish Civil War (an extremely complex period) or a specific rifle like the Mexican Modelo 1936 (left) then this is for you.
It isn't only about rifles; there's some good pistol content, too, and it isn't just for collectors, because there's plenty of meat for history buffs. It also has excellent pages that try to explain the small arms history of specific countries.
There are good essays on, for instance, the small arms of Bolivia (below)…
…or of many other nations, and even some small crew-served weapons like the Japanese 50mm "knee mortar" grenade launcher.
RK Smith, Dan Reynolds, and Cliff Carlisle are credited with this site, but at least some specific pages are written by well-known authorities — we noted that Ruy Aballe was responsible for the pages on Spanish pistols.
All in all, Carbines for Collectors is a good site for anyone interested in the military weapons of the world, especially those of the mid-20th Century.