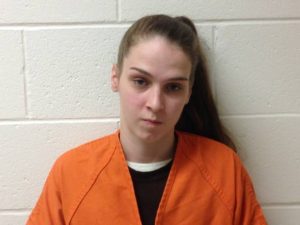 It's a high so sublime they feel like it's worth dying for. And they do, in large numbers when you aggregate them, but generally, in one squalid apartment or filthy alley at a time. In the former mill town of Rochester, New Hampshire, a couple of addicts acted out this well-worn morality play this fall.
On the afternoon of Sept. 15, police were sent to an Osborne Street residence for a reported drug overdose. They found a 23-year-old man, who was not identified in a news release, deceased. His death appeared to be the result of drug use.

An autopsy was performed by the Office of the Chief Medical Examiner on Sept. 16, but the cause of death was pending toxicology reports. Test results determined he had died as a result of acute fentanyl intoxication.

Police continued to investigate the death and ultimately charged [Nina] Batista, 22, with allegedly supplying the victim with the drugs.
via Rochester woman charged with giving fentanyl to man who died from OD | New Hampshire.
The technical charge is "dispensing a controlled drug with death resulting," a Class A felony.
While Nina Batista looks more like she's 14 than 22, she's a career drug dealer who is out on bail for selling drugs. Her boyfriend is in jail for selling drugs. If she's not going to have the decency to OD herself, she needs a sentence where she can die in jail.
According to an affidavit, Nina Batista, 22, admitted she sold heroin and cocaine to Zackariah Glidden before his death Sept. 15. Glidden was found unresponsive at an Osborne Street residence at around 1 p.m. that day.

A detective who responded to the scene spoke with Glidden's stepfather, Kenneth Moors, who said he picked Glidden up from work in Portsmouth around midnight and they drove straight home. He reported seeing Glidden on his skateboard in the NAPA Auto Parks parking lot at about 3 a.m.

As police investigated, they found Glidden was having a conversation with someone named "Dusty" on his cellphone before he overdosed on fentanyl. They believe over the course of three days there were three drug related transactions between Glidden and the person using a phone belonging to "Dusty."

Batista is engaged to a man named Dustin Howland. Police concluded Batista was using the phone because Howland has been in jail since July.

On Sept. 19, Rochester police made contact with Batista in the parking lot of Arthur's Market. Detectives made casual conversation with her, and she confirmed she was living at 40 Hancock St., which is directly across the street from NAPA Auto Parts.

On Oct. 3, detectives asked if they could meet with Batista. Detectives seized the phone and she agreed to give them a statement. During that conversation, Batista admitted to selling about 60 grams of heroin a week.

After receiving a toxicology report for Glidden Oct. 20, police took Batista into custody the following day and charged her with dispensing a controlled drug, death resulting.
The charge carries the potential of life in prison. She should be offered the alternative, of taking her 60 grams of heroin all at once. It's a win for civilization either way.
(In New Hampshire, there are about 12-15 murders a year, mostly among the drug dealer community. And there are hundreds and hundreds of overdose deaths).