This week's Tour d'Horizon is upon us. In which we clear up the spindle and make ready to haul up to one of our old commo men's houses, to solve the problems of the world over good food, good guns, good dogs, and, when the guns are stowed, good liquor in front of a fire.
He asked for something for his man-cave. "What do you want?" we asked.
"Do you still have the helicopter seat?" We do. The right, aircraft commander's seat, complete with composite armor, from a Vietnam-era UH-1B attack helicopter. It's his now, but since it's 250 pounds or so and upstairs, and it's raining and we don't feel like driving the truck on up, instead of a comfortable car, we'll deliver it some other time. So we'll write it, and its story, up in these pages before it goes. It's a good and truly SF story, with much destruction, and a little pleasure.
We have something in most of the categories this week, maybe even in all of 'em.
Guns
I don't wanna work, I just wanna bang on my gun all day.
A Classic Bess
If you love an old flintlock musket as we do, follow the link to John Slough of London, where this remarkably high-condition Sea Service Brown Bess is for sale, for £8,500.
This musket was made by W. Brazier in 1715, the barrel is clearly marked with William Brazier's mark and government proof marks.  William Brazier was contracted by the Board of Ordnance to make sea service muskets which he did between 1714 and 1715.
300 years old, this beauty. And she might have spent over a century of that in service to the Crown. Oh, what tales this musket might tell! Did she fire at Frenchmen? (And were they King Louis's, or Napoleon's?) Rebellious Americans? Pirates? Slavers?
Do check all the images, which embiggen as this one does. And yes, this is the very same John Slough who once made a very high-end CZ-inspired target and service pistol, the Spitfire, back in the mists of time when Her Majesty's Government would rather trust Britons with a pistol, than replace them with itinerant Middle Easterners.
Low-Cost Low-Tech (Drill Press) AR Lower
Here's a very interesting Imgur photo essay on doing a lower with a low-cost jig and a tabletop drill press.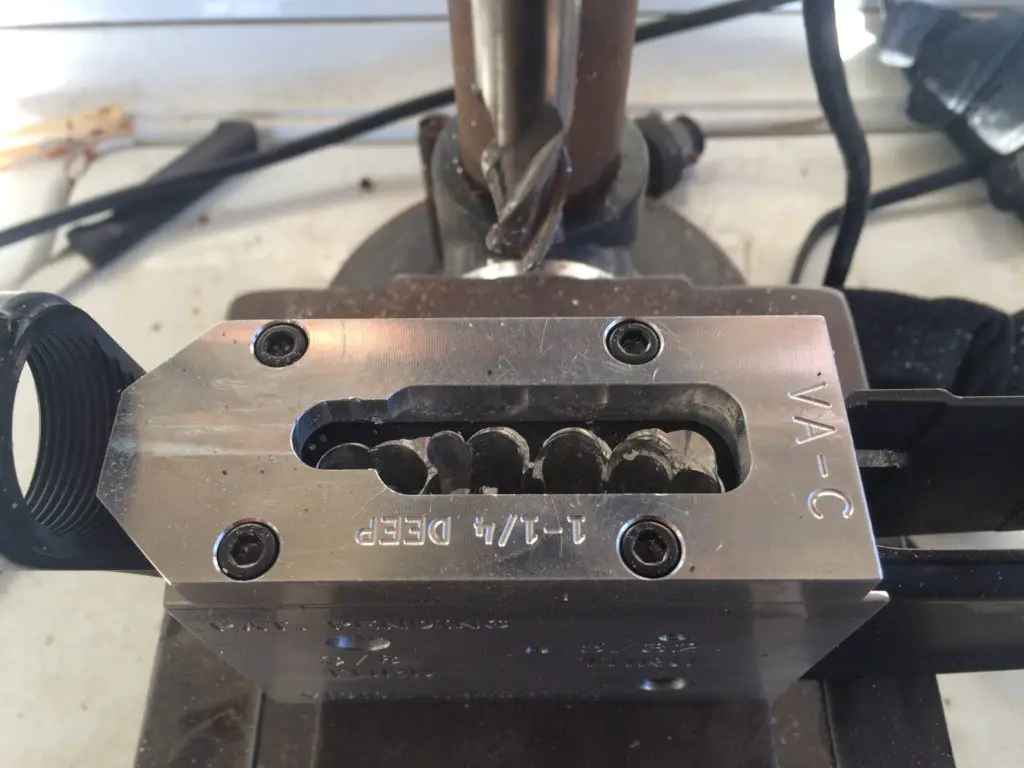 It's most interesting because he makes (and points out) some mistakes, and still makes a usable firearm in the end.
Atlas Laser Targets
The ATLAS Dry Fire Laser Training Target is extremely interesting for dry-laser-fire training. Most of the examples they offer are military…
But some are not. A target like this has many uses.
Has any of you tried them?
Usage and Employment
The hardware takes you only half way. The wetware in your brain housing group is what makes your weapons work. 
Brought a Machete to a Gunfight
Spoiler Alert: he didn't win.
The man did not follow police orders to put down the machete, Zak said. Around 9:28 a.m., a call of "shots fired" was aired over the police scanner and officers reported the suspect was down in a stairwell inside the center.

A Boulder officer and a CU officer fired shots at the man, according to Boulder police Chief Greg Testa.

Testa said he did not know how many shots the officers fired.
We can answer that question: enough.
Cops 'n' Crims
Cops bein' cops, crims bein' crims. The endless Tom and Jerry show of crime and (sometimes instantaneous) punishment.
When the Cop was a Crim, DEA Again
We heard these were DEA Special Agents, but a look at the press release tells us they were task force officers. Well, before they were indicted and fired over a drug-trafficking conspiracy.
Karl Emmett Newman, 49, of Kentwood, Louisiana, and Johnny Jacob Domingue, 27, of Maurepas, Louisiana, were indicted by a federal grand jury in the U.S. District Court for the Eastern District of Louisiana on Oct. 7, 2016.  … Newman was originally charged on May 13, 2016, in a now-unsealed indictment, and was arrested on that date.  Domingue was arrested on a now-unsealed criminal complaint on May 12, 2016.

In addition to serving as DEA task force officers, Newman and Domingue previously served as deputies with the Tangipahoa Parish, Louisiana, Sheriff's Office.
Domingue is only charged with falsifying records, which is bad enough, but Newman is charged with a pile of offenses, including "using a firearm in commission of a felony."
Yeah, what we really need is for firearms to be restricted to the po-lice.
He Got Away with It, For a While
This guy illustrates a sad fact of humanity: like the poor, the creeps are always with us.
On the day of [Holly] Grim's disappearance, [Michael] Horvath was late for work and claimed he had a flat tire. Authorities continued to question Horvath over the past three years as a person of interest.

In 2014, a blood sample found at Grim's home matched his DNA.

Then, over the past couple of weeks, authorities searched the inside and outside of Horvath's home on Woodhaven Drive in Ross Township. Tests showed that several bones belonging to Holly Grim were buried in the backyard.
So how creepy was he? Pretty creepy:
Investigators are still trying to determine a motive and testing is still being done to determine how Grim was killed.

Police say numerous tapes and DVDs relating to murder, sexual deviance, and "hunting humans" were found in Horvath's home.
Condolences to Ms Grim's family, and what a shame they're not hanging Mikey Horvath in the morning, the Color-Sergeant said. Kudos to the investigators; the secret to success in investigation as in life is this: Never give up. Never surrender!
Tranny Jailhouse Action, Part I: She's a Man, Baby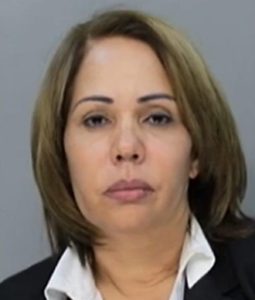 So one Flor Pichardo (right) is a middle-aged "transgendered woman" from the Dominican Republic that got bagged by cops in Miami on an old drug beef. While this person is absolutely convinced he is a female, he retains male chromosomes, and, not to put too fine a point on it, male equipment. After examination by a medical professional, off to male jail Flor went, and was… what's that word again? — twaumatized. 
Pichardo, married with three children, was placed with 40 male inmates in an open cell where she was allegedly taunted and sexually harassed. She was 50 years old at the time.
Well, you should probably stay out of jail then, or they'll taunt you a second time.
She was so in fear of going to the bathroom, which was in an open area, she "urinated on herself," her lawyer said.
Not in fear of that? Look, prison is the ultimate environment where it pays to be the Grey Man. Even if you're convinced you're not a man of any color at all. Whizzing in your orange jumpsuit will not help.
[The ambulance chaser] said his client suffers from PTSD and continues to be under psychiatric care because of the incident. They filed the lawsuit because they "want to get some answers," he said.
Funny, he didn't ask for "some answers" in the lawsuit. He asked for five million dollars. That's a lot of answers, for making one crazy person face his mental illness for less than half a day.
Tranny Jailhouse Action, Part II: She's a Dead Man, Baby
A dead Florida Man, at that. Meet Justin Lee Naber, who was so serious about wanting to be called Stacy Lorraine Naber that he hanged himself when the screws said, "No." He was suing; his initial handwritten jailhouse complaint had been adopted by the Atheist Criminal Lovers Union, for whom he pushed all the right buttons: currently trendy sexual minority, life-sentence awardee, and, not least brutal murder, which always turns the ACLU's prisoner groupies on.
Naber was sentenced to life for a violent 2013 stabbing murder, but was also a suspect in a 2005 murder in Albuquerque.
The ACLU argued that a name change would be "medical treatment" for Naber, but it turned out all he really needed was an improvised rope, the cure-all for the twaumatized jailbird.
The Bargain Freezer that Wasn't
She got a good deal on the freezer. But it wasn't empty.
"I saw toes and a foot and ankle," the woman said. She slammed the freezer shut.

It must be fake, she thought to herself, opening the lid again.

This time, she was sure it was real.

"I have a serious problem," she told the 911 dispatcher. "My neighbor sold me a deep freezer. I just opened it and there's a body in there I think."
The contents of the freezer? Apparently, the seller's mom. The neighbor kept cashing Mom's social security checks for months while keeping Mom, as it were, on ice.
The woman told the Washington Post: "My heart was in my throat." Well, that's OK, so long as it is your own heart.
Saving the Taxpayers' Money
Some people would criticize Veronique Henry for killing herself. But as the career criminal faced dual murder, robbery and conspiracy charges along with her husband Paul, she should probably be celebrated for saving the taxpayers a lot of money.
The Henrys fatally shot Foday Cheeks, 31, and Danielle Taylor, 26, before ordering two other women and two boys, aged 12 and 14 years old, to hand over their cell phones and keep their heads down, according to investigators.

The couple then asked where the drugs were stashed and searched all over the house, police said. They left without finding any, telling the witnesses they would shoot them if they moved from their spot on the floor, according to the state police.
Arrested soon after, the couple were locked up, and Veronique took her own life within 24 hours.
Sure, it's hard on the corrections officers who had to clean her cell up after she hanged herself, but it's a multilevel win for the taxpayers. Now if only her husband will follow suit….
The Perils of Kathleen: If it's not good-bye yet, it's not good
The main effort showing up in the news this week is Kane's attempt to prepare the battlefield for next week's sentencing hearing. Her objective is to stay out of jail or prison, and unfortunately, the judge seems inclined to at least listen to her. After all, lawyers and politicians may have intramural squabbles, but always reunite against the tumbrils and torches of the peasantry.
Kane's sentencing on 24 October will produce a barrage of Kane coverage. Anything short of prison is disloyalty to the people of Pennsylvania, but a walk-out-of-court seems to be what the Establishment is queueing up for one of its own.
Unconventional (and current) Warfare
What goes on in the battlezones of the world — and preparation of the future battlefields.
The South Could Have Used this 150-odd Years Ago
An archive of telegrams were saved by a Union telegraph operator, including both routine and urgent dispatches. Trouble is: they were in code. But by crowdsourcing a solution, about half of these vintage secrets have been decrypted.
The Philippines Chooses the Strong Horse
Here's a long thumbsucker by Max Boot at Foreign Policy about Philippine President Rodrigo Duterte and his response to the weakness and moral posturing of the US: a major shift to align the island nation with China and Russia. Boot says that it's all down to Duterte, a "crude populist" and his  "peculiar psychology." We suspect he has absolutely nailed the reason for the Filamerican schism, but he's focused on the wrong crude populist's peculiar psychology. Who, after all, is most responsible for America's self-abnegating and ally-undermining foreign policy? We leave it as an exercise for the reader.
Don't Call the Air Force's New Race Quotas, "Race Quotas."
The Air Force document [.pdf] is dense with unintelligible diversicrat jargon, but all told, it adds up to a diminution of merit in the promotion and assignment process, and its replacement with a racialist ethos that measures all airmen not by the content of their character, but by the color of their skin.
Racial and ethnic minorities may elect to be assigned to career fields that in the view of HQAF racists are not "diverse enough," in return for a de facto skin-color bonus. Of course, far from making race immaterial to an Air Force career, policies like this centralize it instead, ensuring that racial identification, racism, and racial conflict will grow all the time — great news, for diversicrats.
While the racialist aspects of the document have been discussed widely, there are also sex-linked mandates in there. One all but forbids the service from assigning USAF personnel married to other airmen to separate locations, which will predictably result in make-work jobs created (or qualified personnel dumped) to make room for the not-needed spouse, sticking commands with OFTPOTs. (One For The Price Of Two).
Veterans' Issues
Is it time to disband this thing yet, and letting all its bloatoverhead seek its own level in the Dreaded Private Sector™?
VA's "Satisfaction Surveys" are Bogus
The VA has been claiming for a long time that it provides superior care, based on an endless battery of customer-satisfaction surveys that are directly comparable to those used by real hospitals. But comparable? Not so fast:
Dr. Peter Almenoff, special adviser to the secretary, was asked in a recent phone interview what surveys his bosses are referencing about patient satisfaction.

He did not identify one.

When asked again how one might honestly compare veterans' hospitals with non-VA facilities, he told The Arizona Republic, "I can't answer that."
So that whole claim is bogus — made up.
Wait, it gets better:
In an October 2014 speech for the Institute of Medicine, McDonald declared: "Since 2004, the ACSI has consistently shown that veterans receiving both VA inpatient and outpatient care give VA higher satisfaction ratings than patients at private hospitals."

Just one problem: ACSI spokesman Chaat Butsunturn said the company does not do VA health-care surveys…."Though the Department of Veterans Affairs has called it an ACSI report, that is an error," he added.
They just made it up.
Is it time to disband this thing yet?
New Leadership? New Lies from an Old Liar
Bob McDonald says:
more than "90%" of the VA's medical centers have "new leadership" or "leadership teams" since he took over the troubled agency in 2014.
But USA Today says he's lying. He's just hired eight out of 140. Mostly, he's transferred embattled leaders away from places where the press might have their number, to places where their toxic leadership falls on new subordinates and veterans. And, of course, with VA's usual enormous costs and hyper-generous moving allowances.
Read The Whole Thing™, which documents this whole game of musical slugs.
Reason's Scott Shackford called it, "Reupholstering the deck chairs on a sinking ship."
The VA administration claims money is an issue. Salaries for directors are about half of what they can make in the private sector, and they blame Congress for failing to raise the salary cap.

Of course, the problem with that argument is that the VA has a history of blowing money it's given, and that has increased congressional skepticism of giving them more. The VA got $15 billion in funds but that didn't improve veterans care. And over the course of a decade the agency spent millions on artwork while care languished.

A representative for the agency also noted that the hiring process is very slow and heavily favors applicants with federal experience.
Yeah, because how can you be sure you really have a high-functioning slug if he doesn't come with the GS Seal of Approval?
Tick, tock…
One of Those Slugs…
Robert Callahan, new boss of the Wilmington (Delaware) Veterans Affairs Medical Center, formerly at the Lebanon, Pennsylvania, VA center
…chose not to notify the inspector general that a nurse at the facility was charged with diverting narcotic pain relievers morphine and oxycodone….
He was not held accountable for covering up felony theft by one of his employees (who was, also, not held accountable by VA) — instead, he was promoted. (His predecessor in Wilmington was kicked upstairs too, to Pittsburgh).
What time is it, kids?
Lord Love a Duck!
The weird and wonderful (or creepy) that we didn't otherwise get to. 
And here, too, we got nothin'. Hey, you guys wanted this posted sometime before the Sun goes nova, yes?