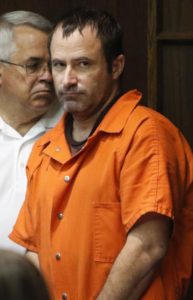 This glowering clown motored into a conga line of halted cars at a construction zone in Tennessee. He came out fine, because he was higher than the International Space Station, flying on 40 hours straight of amphetamine-fueled sleeplessness, and wearing 40 tons of 18-wheeler. The poor squishy folks in the little crunchy cars underneath were not as fortunate.
He's now held on half a million bail, and it turns out that the guy's been caught using consistently for over two years, and was still out on the streets. Make that "highways," literally.
A motor vehicle crash that killed six people on a Tennessee highway last year likely happened because a truck driver who failed to slow down in a construction zone was probably fatigued and had taken methamphetamine, federal investigators said Tuesday.

In its release of the probable cause findings for the June 2015 crash, the National Transportation Safety Board also cited a failure in the employee screening process to determine that driver Benjamin Brewer of London, Kentucky, had been fired from a previous trucking job two years earlier because of illegal drug use. A hair test administered under an unrelated court order less than three months before the crash had also turned out positive for meth.

The board also found that the Brewer had likely gone without sustained rest for 40 hours before the crash.

"The driver in this crash should not have been behind the wheel of a large truck," said NTSB Chairman Christopher A. Hart. "As long as human beings drive trucks, they must be rested and unimpaired."

Investigators said Brewer did not slow down from a speed of about 80 mph despite ample warnings that he was approaching a construction zone with a 55-mph limit on Interstate 75 near Chattanooga. There was no indication of heavy braking or that he tried to take evasive action before causing the crash, which involved seven vehicles occupied by 18 people.
via Tired truck driver high on meth caused car crash that killed six – NY Daily News.
Of course, the formality of a trial is still ahead of us, but this case makes us reconsider all the Westerns where the mob broke down the Sheriff's door to lynch some malefactor. Were the courts really the good guys in those shows, when courts like them keep returning these monsters to the street until they finally ring the mass killing bell?