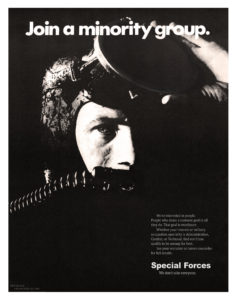 OK, so "It's Over. And Glock Won," as we posted a while back. But as we never really warmed up to the G17, we went back to a CZ.
Like we did when we filled out the first of many sheaves of volunteer paperwork, we Joined a Minority Group.
When you join a minority group, you can find yourself, well, not fitting in. You're different. People look at you funny. You might be feared, shunned, even hated. You tend to band together with people like yourself.
There's probably something about it in the Bible, or maybe the Book of Mormon (in the Book of John Moses?), that says that the bearers of the 1911 shall cleave to one another, and not suffer the bearers of the unclean European wondernine to pass among them; and the Pharisees of the K-Frame and Python listened not to the gospel of the autopistol, but gathered among themselves and called for the stoning of the autopistoleros, especially those whose frames were cast of polymer, which is unclean.
Well, there's a certain sense to that. With your only six rounds gone, aren't fist-sized stones the handiest Plan B?
The cultural Siberia to which the odd-brand pistol-packer exiles himself is not the whole problem, or even the largest part. More practically, changing pistols is a royal pain in the part where Glock operators occasionally puncture themselves. If the pistol were the be-all and end-all of your self-defense, that'd be one thing, but think of all the other parts of the self-defense handgun ecosystem:
ammunition;
spare magazines;
sights (factory sights peak at "fair," and some are horrible. And they are usually day-only. Take a look at what side of the clock defensive gun units happen on);
holsters, and magazine carriers.
Then, there's training. Some trainers will expect you to run what you brung and will work to make you better with it (here's Kyle Defoor discussing training a Beretta-using entity). Other trainers will use a training class as a platform to disparage your selection (or worse, your agency's or service's selection, as if you, a gravel-agitating bullet-launch technician, could influence it), and promote their own 99% solution.
(But we do agree with Defoor's aside — if you're going to carry the Beretta, or any safety-equipped DA/SA auto, carry it hammer down on a loaded chamber, safety off. We also agree that even better than the 92F/M9 is the decocker-only 92G).
Fortunately, most trainers can teach you something that will make your shooting better. If you're already really good, there are specific trainers that specialize in wringing the last 4% of potential out of any given platform. (So maybe it's necessary to change trainer when you change gat).
It's wonderful that those guys can make a living, but the fact is, you probably don't need that kind of specific training. You might still seek those trainers out — because they're probably pretty darn good, overall. (If you're going to do heavy maintenance on your pistol, of course, you're well advised to attend the factory or importer armorer course, if you can. But operation, many experienced trainers can help you with).
Some of those things often aren't that big a change. If your old and new guns are in the same caliber, and the new gun will feed your old ammo, there's one change you don't have to make or consider. Your mag carriers often will take any other mag in the same caliber. And sights? You'll be at the mercy of the aftermarket, and your pistol's standard or not-so-much sight dovetails.
With all that out of the way, the real thing that's a problem is a holster. These don't interchange among pistols, much. (Unless they're crappy holsters that "fit" many pistols because they don't actually fit anything). So we went to the holster maker that skinned our Glock, Raven Concealment, only to find out our CZ was not on their supported list.
D'oh.
The P-01 didn't really fit in the concealment holsters we had for the old CZ-75 Pre-B. It has a squared off "chin" with a light rail, and a larger trigger guard.
We heard that Black Storm Defense in Tennessee made a decent holster, so we went on line and ordered one each of their Signature and Pancake holsters for the P-01.
And waited.
And waited.
D'oh. This is what happens when you join a minority group, kids. We could get forty-eleven holsters for a Glock 17 within twenty miles of Hog Manor, nearly as many for a SIG, and even a few for an M9. CZ-75 P-01? Not so much.
Welcome to the minority group. But then, in the process of rounding up some stray tax paperwork in the pile of untended paper on the breakfast table, we discovered (along with a pile of unread magazines, a $355 rebate check from our health insurer, apparently for not having another myocardial infarction in the last twelve moths, and a box of hollow points) a holster we'd bought on a whim on eBay of all places, for the old CZ, months or maybe years ago.
And never taken out of the bag, because were were rockin' the Glock when it came.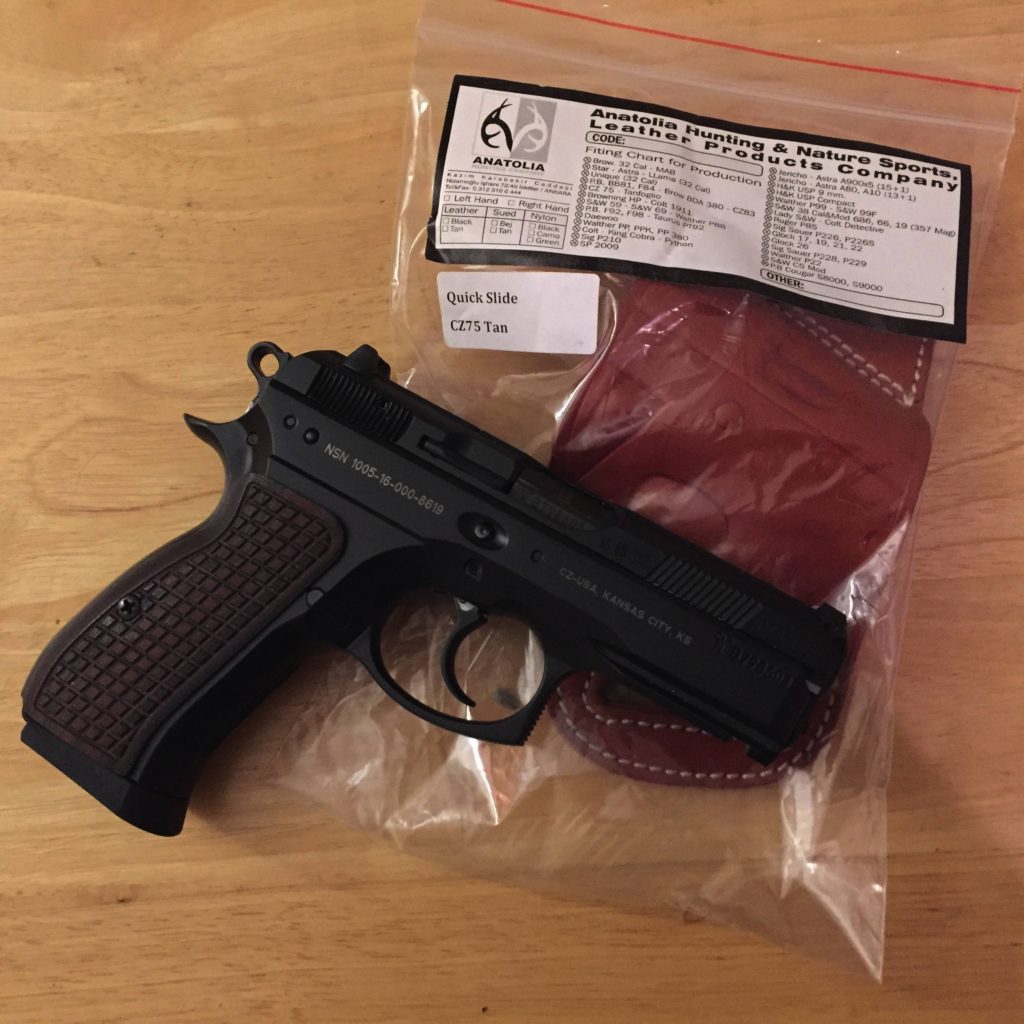 It was a very inexpensive, an "Anatolia" brand from the Turkish company Anatolia Hunting & Nature Sports, Leather Products Company, which is quite a mouthful in English, and must be a remarkable jawbreaker in its native Turkish. The holster seems well-made, it's made of solid leather and appears to be hand-stitched. Will it hold up?
And… will the P-01 fit? It just might, because the holster's a simple slide-in job, with a free muzzle. It might not care about the P-01's prognathous jaw, and it looks like it's shaped to take a protruding or squared-off trigger guard, and not just the rounded one of the Pre-B.
And it did fit.
And with delight, we started carrying the P-01, finally.
The next day, we got an email from Black Storm that our holsters had shipped. The wait wasn't even that bad (three weeks from order to ship) but we'd gotten impatient. Now the Black Storms will have to play King of the Hill with this $15 Turkish special — which starts out at the top of the hill.
That, too, is life in a pistol minority group. The delights, as well as the sickeners, come in clusters.