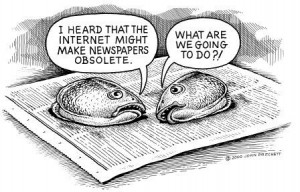 Dean Bacquet, the editor of the New York Times who was brought in from LA as part of a minor reshuffle when star Times reporter Jayson Blair was exposed as a fabulist (and his editors as complicit, if not also culpable, in his fabrications) a decade-plus ago, was recently asked why people don't trust the media, in reference to the present political campaign.
Bacquet is evidently not an introspective or even self-aware man, so he was unable to meet a direct question with a direct answer. His basic point seems to have been that there's something wrong with the public, that they're not ready to accept the received wisdom of the reporter class: and he used as his illustration, the Swift Boat Veterans for Truth campaign in 2004.
The Swift Boat story is a perfect model, actually, of what the interviewer was asking him about;
Bacquet and his Timesmen, like his predecessor Blair, are so committed to The Narrative that they're completely unaware that their Narrative is untrue, and the veterans' group that he condemned (as something any right-thinking person would abjure, naturally!) had the right of it, and Bacquet's Times (both of them, LA and New York) the wrong. Mark Hemingway in The Weekly Standard sets him straight, with this propitious overture…
Ok. Let me stop Baquet right there.
Hemingway goes on at some length to recount the truth. We were also there in 2004, in daily contact with Swift Boat Veterans for Truth leaders (later, Swift Boat Veterans and POWs for Truth) and can vouch for Hemingway's recollection. And he winds up, a bit:
And so we have the editor of the New York Times citing the Swift Vets as "just false" in the process of wondering why Americans don't trust the media in the Age of Trump. The answer is that media organizations such as the Times eroded all their credibility trying to elect previous Democratic candidates by telling readers things were definitively false when readers damn well knew that there were substantive facts they were actively choosing to ignore. In fact, "Swift Vets" is now some sort of media pejorative, even though the term is an Orwellian attempt [to] recast and simplify events so as to obscure discomfiting and politically consequential debates that New York Times editors don't want to have.

If Baquet wants to know why it's difficult to cover Trump, he should consider the actual facts of the Swift Boat Vets and whether or not the media's handling of such episodes have undermined their institutional credibility. If you have been sounding the alarm that the media are no longer credible, as some of us have been doing for a while now, then it was only a matter of time before a mountebank such as Trump came along and exploited this lack of trust. And it won't be the last, unless the media clean up their act and start acting like a press that at least makes a good faith effort not to throw an election every four years.
There's more to it, including depth on why the Vets were telling the truth and the Times lying, so do go Read The Whole Thing™.
Los Angeles Times Reporter James Rainey, who worked with Bacquet to try to counter the Swift Boat veteran truth with the Times Narrative™ of lies, is still working for the Times, in the fine tradition of journalism.
He is… we are not making this up… their media critic. Mote, beam, etc., some assembly required.
Why don't people trust you any more? Forsooth, it is a mystery, Dean.