Some of the players of the National Football League, when they're not getting paid vast sums for entertaining people with a ball game, have been letting their maturity show in a variety of protests against the United States, Police, etc. This is kind of unwise for a group of people of whom about a million hits come up for the search phrase, "NFL player arrested," the latest of whom, on a gun charge, was busted yesterday on 2 or 3 October. (But hey, cut that Philadelphia Eagle some slack. This one wasn't for a violent crime, like his last arrest three months ago).  Indeed, the NFL is such a hive of scum and villainy that there are at least, count 'em, one, two, three webpages that do nothing but track NFL busts for the public. The NFL even has a guy, a fixer, whose whole function is to spring arrested NFL thugs before they get into the news. (We recall the New York Times article, but can't find it). Wait, they have two of 'em.
But, hey, some backup quarterback for some also-ran team wants to make his, and the league's, loathing for the country and the police into a news story. Maybe he wants a job on ESPN after his team releases him. It's a free country.
Meanwhile, the NBA, which takes a close second to the NFL for arrested thug players, wants its own protest.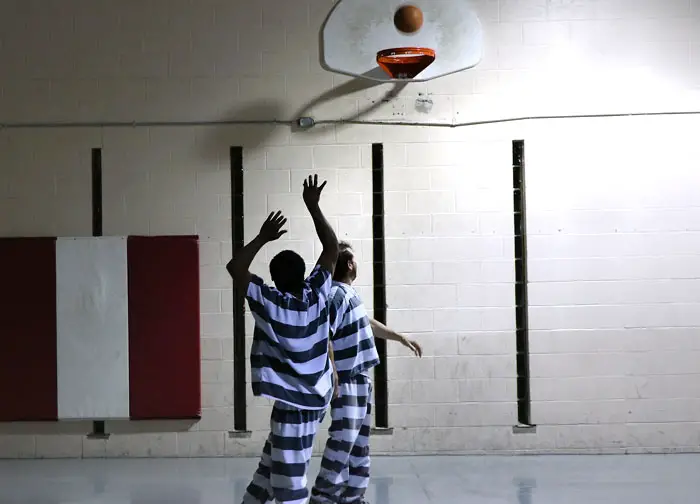 Enter a rookie at the New York Knicks, a team which has conducted pre-season training at the facilities of the US Military Academy at West Point. This leads to a dinner invitation that usually becomes a mutual admiration society between the cadets and the ball-players. But that was far too militaristic for this round-ball greenhorn:
The Knicks, who are training at West Point in preparation for the upcoming season, were invited to a team dinner with a retired Colonel and with West Point Cadets. [Joakim] Noah's rationale for not participating in the team event is best explained by Noah himself, "It's hard for me a little bit — I have a lot of respect for the kids here fighting — but it's hard for me to understand why we go to war and why kids have to kill kids all around the world. I have mixed feelings about being here. I'm very proud of this country. I love America. I don't understand kids killing kids around the world."
Gee. A stupid basketball player. Like that never happened before.
On the publicity his skipping the team dinner generated he stated, "It's not my way of saying anything — I was not comfortable." To Noah's discredit he either doesn't understand or chooses not to accept basic facts about life on planet Earth.
That's from a pretty devastating essay by John Calvin (hmmm. Not the John Calvin, obviously. A pseudonym?) at the American Spectator. Calvin calls Noah infantile, a word that probably applies to his protest role-model, second- or third-string San Francisco football quarterback Colin Kaepernick, as well. Calvin:
Noah's mentality is …. If only we didn't have a military the world would be nice to us and we wouldn't need a military. If we banned guns bad guys wouldn't have them. If we raise the minimum wage dramatically it won't impact employment. If we redistribute wealth it won't dampen creativity, innovation, or hard work. If we let in all the Syrian refugees, they will all be so grateful none of them will become terrorists or insist on Sharia law.
Someone else recently called it ,"Lennonism." (He may have been inspired by this guy's use of the term back in March). It fits. You can almost hear this ball-tossing tosser warbling "Imagine all the peo-ple… sharing all the world, yoo-hoo."
Good luck with that, kid.
To be a modern liberal is to be perpetually immature, which in itself is an annoying enough personality trait, but liberals are usually not content to just be immature, often pairing this with a certain condescending smugness, totally oblivious that their deep thoughts and well held philosophies are sophomoric and stupid when considered rationally.
We're not huge fans of Academy graduates, having found that they're either very good or very not good — none of them, thank a merciful God, is mediocre. But the meanest of them — and yeah, we have a specific individual in mind, a moral and physical coward — the very least of them has made a commitment over and above anything likely to come from some jerk who is celebrated for his mastery of a ball. Calvin gets that:
Every year about 15,000 young men and women apply to West Point. These applicants have many options to choose from, but unlike Joakim Noah they have thought seriously about the world we live in and have decided to dedicate a portion of it, at least, to serving our country. Of these 15,000 applicants, only 1,000 or so will be accepted to join that long grey line. Upon getting commissioned as officers, the West Point graduates will take an oath in which they pledge to support and defend the Constitution of the United States against all enemies, foreign and domestic. A far cry from dedicating themselves to running around the world killing kids, as Joakim Noah believes.
Now, Joakim Noah is not going to make us boycott the NBA. We were already not watching the second most boring game on television (behind tennis, and ahead of golf and soccer). That what passes for the intellectual side of the NBA is so thoroughly shallow and empty is hardly a surprise.
Who's got Joakim Noah and the Knicks in the Fantasy NBA Arrest League for this season? In that sport, we could actually play NBA teams against NFL teams. And the scoring would be more interesting!
Update
While nobody's boycotting the NBA yet, are they boycotting the NFL? Not us. We were already not-watching! But the numbers suggest that 10-20% of last year's NFL watchers are sitting this year out, and up to a third of NFL watchers told Rasmussen that the league's anti-American and anti-police ethos is their reason. (Details here; follow the links if this interests you. He also blames Thursday games for fan — and player — discontent).