Sing along with us, kids:
One of these guns is not like the others;
One of these guns just doesn't belong.
Can you guess which gun is not like the others,
Before I finish my song?
(Puzzled international readers, that's from a long-running and hell-for-saccharine TV kids' "educational" show which everybody's mother made him watch at least a few times). Now that we've had our sing-along, here's the photo. Which one doesn't belong?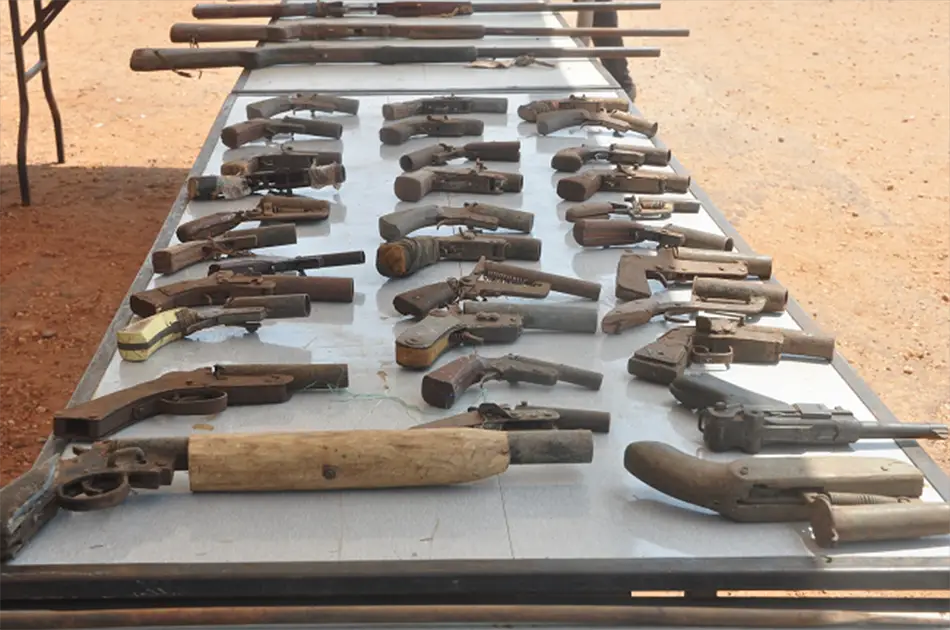 The photo ran a couple months ago in the always entertaining Impro Guns website, with this heading:
Locally produced firearms seized in Ghana
And all of the pistol-things on the table are, indeed, the sort of thing you'd expect from Ghanaian village blacksmiths — except the Luger P.08 that's the second one back on the right.
Wonder what its story is? Unfortunately, some Ghanaian copper has probably already either thrown it into a smelter, or sold it back onto the black market.
The constant panoply of odd creations that turn up on Impro Guns illustrate many things, but one of the major ones is, "What a simple machine a gun is to build," and another, "How universal the desire for firearms is," Most of these improvised guns are made where strict gun control reigns, or tries to. A great many of them are made by criminals and terrorists. Others, however, seem to be the product of hobbyists, and still others, made by or for people who simply feel a need for self-defense, a need that is never met perfectly by The State.
Indeed, in most strict gun control jurisdictions, the state makes nearly no effort to step in and defend its disarmed populace. Look at LA or Chicago, with hundreds and thousands of murders respectively, most of which go unsolved even though none of them seem to be committed by criminal masterminds. So at some point, the peaceable and formerly law-abiding person breaks out and builds himself, or has built for himself, a tool of self defense.
The criminal element, meanwhile, skips simple defensive handguns and long guns, and goes right to making suppressed automatic weapons, as the police in Australia have discovered. The Australian gun ban (semi-autos and pump and lever shotguns) has not seriously inconvenienced the criminal element, which is well armed with auto weapons on the conceptual level of the Sten or Mac-10. Criminals used to avoid these weapons because of the disparity in consequences for getting caught with one, vis-a-vis a revolver. Now, a criminal is as well hung for a sheep as a lamb, and goes direct to St. Valentine's Massacre capability.
The only consequences you can always count on are unintended consequences.
Note: we're still running late here, over 12 hours behind schedule, for which we beg your forbearance. Your Humble Blogger has been a bit under the weather, and dealing with it by drinking plenty of fluids, skipping PT (unfortunately) and spending plenty of time snoring in the recliner with Small Dog Mk II. These are wondrous and joyful activities indeed, but they don't get the blog written on schedule. Bear with us — Ed.