This anti-drone device is going viral. They've clickbaited it well by calling it the Skynet anti-drone rifle, and it can directionally jam the GPS signals a drone needs to navigate, and the wireless video downlink.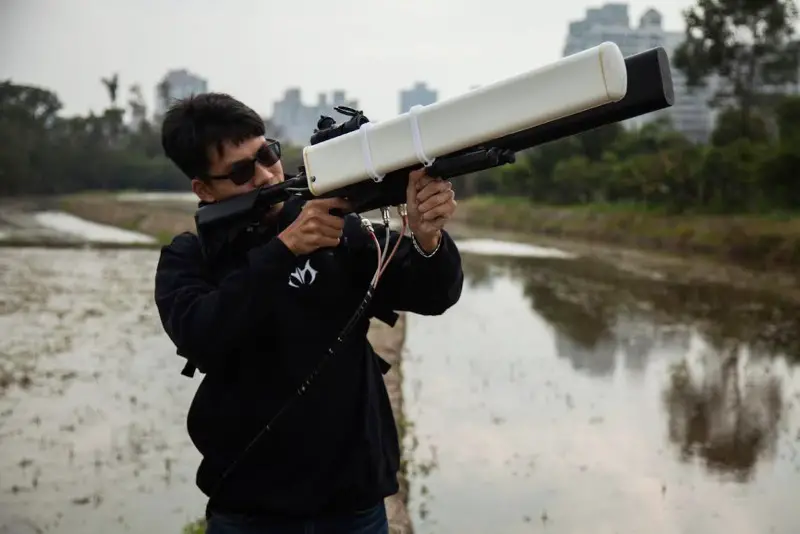 The two white and black "barrels" are directional antennae in two separate GHz ranges. The backpack is the necessary power source. Anyone who's got Electronic Warfare experience will tell you jamming is a power-intensive activity.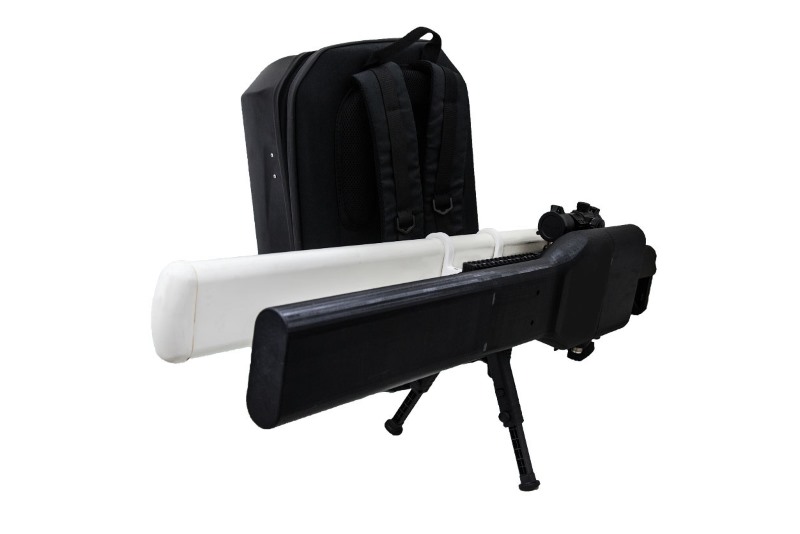 If you look at all the pictures available on the company's website, and watch the video (below), the whole thing appears to be built on a (partial? modified?) AR-15 receiver, with a standard M4 receiver extension and stock. A bit overkill for just something to hang an arduino, a transmitter, and some highly directional (< 10º) antennae on, but it kind of makes sense to give people a familiar interface, and the AR-15 is the point and click interface for the 21st Century.
Along with this video, there's a new one showing a live test. They claim a "suppression ratio" (difference between the range from the Skynet operator to the drone and the drone controller to the drone) of 8:1, which means (thinking of power squares here) that this jammer has vastly more power than the controller.
The two signal rangess it can jam are 1.450 GHz – 1.650 GHz and 2.380 GHz – 2.483 GHz, but it can only jam one at a time. Available hacks for, for example, the DJI Phantom drone (the one in the video) can take the drone control out of the target range, and could practically be developed for the video range.
There are a few other problems with it, to wit:
As a jammer, it is almost certainly illegal to use in the USA. The Federal Communications Commission takes a dim view of jamming, and has considerable technical and legal resources it deploys to punish violators.
It's only effective against some common commercial drones and is unlikely to have any impact on a more sophisticated government or military system, which is likely to use robust, high-availability communications, and have backup onboard navigation (usually inertial) that's immune to jamming or meaconing.
It requires clear line-of-sight to the drone, ergo, it's only useful as a point-defense weapon.
It requires a human operator and visibility of the target. (How would it work in the dark, against a drone deploying LLLTV? We suppose there's a Picatinny rail upon which you can mount an image intensifier or thermal sight).
It has the scent of early prototype all over it, and is a long way from a commercial product or (alternatively) a flexible R&D platform. But even experimenting with this thing brings you back around into the sights of the FCC.
Finally, this is, we think, the firm's first video, from May.
All in all, it smells to us like a gimmick. And within the range of this thing, there are other ways to take out a drone (one lady pestered by paparazzi drones seeking spy shots of a celebrity neighbor demonstrated her wingshooting skills and blew the drone to Kingdom Come. The paparazzi boarded their Range Rover — apparently invading privacy pays well — and were last seen heading back for Gawker HQ or whatever glutinous sump whence they emerged).
This is not the only anti-drone product out there. As well as other jammers, there are counter-drone drones that ram them or drop nets or cables onto their rotors. All of them are similarly immature at present, and no one knows if they represent a real market segment or just hobbyists tinkering.