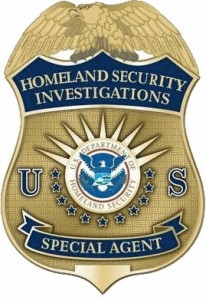 We have harped on this before, but not everybody reads WeaponsMan.com, and it happened again — a plainclothes agent (a Fed from Homeland Security Investigations (HSI), the investigations arm of ICE), joined local cops and a smorgasbord of whatever LEOs were handy in responding to a reported active shooter event at a school in Texas. And he was shot and wounded by a US Marshal. CNN (warning, loud autoplay ads):
In the confusion that followed, numerous law enforcement officers rushed to the scene and a US marshal accidentally shot a Homeland Security agent, Brewster County Sheriff Ronny Dodson said.

Dodson said the agent was in stable condition; he didn't release the condition of the wounded student. Her injuries didn't appear to be life-threatening, the sheriff said.
Thing is, by that time it wasn't an active shooter event any more. One 14-year-old girl shot and wounded another female student, then killed herself. By the time the first cop got on the scene — a deputy who'd been passing by — the shooting was over. Or it would have been over, if not for one Fed blasting another, to the embarrassment of all (and the pain of the wounded dude).
As to the girl-on-girl shooting, so far it beats law enforcement with a stick.
Dodson said the student who died moved about six months ago to Alpine, a community of 6,500 people roughly 200 miles southeast of El Paso. Dodson didn't identify her or provide a motive but said her family is cooperating.
Mean Girls was not a how-to manual, kids.
Since Columbine, when the massacre rolled on while the cops were running their procedures outside, there's a new dynamic in active shooter response: everybody goes in, balls to the wall, right down the middle. Fine and good, but consider these things:
There's little (usually, no) interagency commonality in equipment, uniforms, or — most important — training.
As an armed undercover in the middle of a law enforcement all-call, you might as well be wearing a deer suit on the first day of the rifle season.
As an individual, think about your IFF (Identification Friend or Foe). Raid jacket, at least.
If you have a regional interagency task force, do a little planning now, long before you have to deal with one of the trigger-happy crumbs. For instance, declare a single a distinctive and unmistakeable TF identifying badge or mark, and get the news around to all jurisdictions, but keep the details LE Confidential.
Sneaking through the reported active-shooter zone is a really bad idea if you're not practically lighthousing "cop!"
Remember that jumpy cops even shoot other uniformed cops. Not just cops, either. Soldiers shoot friendlies all the time, despite always wearing uniforms and pursuing all kinds of control measures.
As an individual, the safest thing to do is wait and stack up with the locals when they go in.
You will never have perfect information. Chaos and Confusion are the handmaidens of combat.
When Army elements used to work the indoor HR/CT mission hard, we had certain control measures we used, most of which are no secret. One key approach was to get and keep the hostage taker talking to the negotiators while the assault leaders planned the takedown. The first thing they did was plan a hasty takedown, which you hoped not to use, but would initiate if the hostage takers started harming hostages.
But the hasty takedown would always come from one direction, in one team, under one command. You might play multiple-entry-points or roof team / ground team in the deliberate assault, but in a hasty assault you kept everyone together. This kept you from killing hostages and each other.
The absence of unity of command in a law enforcement active-shooter all-call is just asking for trouble.