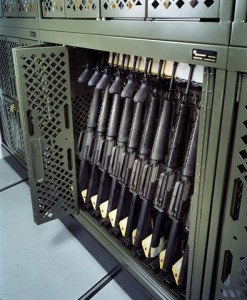 The other day, we came up short a gun for a photo shoot. Whaaa? Well, it's past time to tidy up around here. (OTR dropped by recently, and threatened to report the Manor in general, and the office in particular, to one of those TV Hoarder shows). There's a fine line between a collector and a hoarder, isn't there? We're determined to stay on the non-bat-guano-crazy side of the line and not be like the crazy cat ladies where they find mummified cat carcasses among the piles of old gun magazines and rusty toasters.
For all that we preach physical security, we'd gotten lax. The light in the main safe went out, and we didn't fix it. (Failure one). We took guns out for photo ops and they sat around the office, library or even the kitchen for days before being returned. (Failure two). We used various non-standard bags and boxes to move guns around, and didn't always remove the guns when they got more-or-less to destination (that's failure three). We had more guns than practical safe storage for them (failure four) and occasionally hosted guest guns that were commingled with our own guns (failure five). We had guns that were not logged into our database (and we're up to six, and counting).
Most of all, we were casual about putting down books or other stuff on top of guns. So we might well have a gun on a desk, then five books in three languages, then a bank statement that came in and a few press releases from manufacturers. And where was that gun again?
Now, as a private owner of firearms, you have relatively few legal regulations about how you store them, unless you live in some lawless hellhole like North Korea or Massachusetts. Manufacturers and FFLs have more regulations, and those regs can act as a guide to best practices for the private gun owner or other non-licensee who has more than one pistol and a pair of hunting guns. The ATF publishes guidance on inventory control and booking, and licensees that follow it have a lot fewer troubles with an Industry Operations Inspector's visit that licensees that think they know it all. So the ATF way can guide you.
So can the way the military keeps track of guns. Unlike the Federal criminal investigative agencies that lose scores of guns every year, the services seldom lose a firearm outside of combat; and when they do, it's usually not lost for very long. (Anyone remember the agency that lost an M4 and a couple of handguns — and never got the M4 back, or made a case against the thief or the criminals caught in possession? It wasn't the military).
Here are some suggested Best Practices, and we'd welcome discussion in the comments, based mostly not on the right way or the wrong way, but the Army Way:
Have an inventory. This seems trivial, but a shocking number of people do not. Our local police chief estimated that in only one in ten residential burglaries that had firearms taken, could the owner produce a list of the firearms by serial number for NCIC entry. This not only prevents the owner from recovering his firearm, but also prevents police from prosecuting criminals who receive the stolen firearms. Very often a stolen firearm is sold on the streets, but they may also be pawned, and ethical pawnbrokers welcome stolen firearms alerts from the cops.
Make the inventory easy to use. The more arcane and complicated it is, the more likely it will get neglected and not be 100% complete when you need to broach the subject with the police or insurers. Simplicity is your friend: Manufacturer, importer, model, year, caliber, serial number, other significant markings and a photo are optimal, but make/model, caliber, serial will do in a pinch. (The Army uses NSN, SN, and a couple-word description, plus the line number of the item on the unit's Modified Table of Organization & Equipment [MTOE] or Table of Distribution and Allowances [TDA]; that's all that's in the inventory dump).
Have enough storage. This is commonly violated by citizen gun-owners because it's more fun to buy guns than buy safes. What do you do with overflow? A Job Box bolted to a basement floor or wall and secured with good padlocks is a $300 solution, until you can get that $1000 safe.
Tag in, tag out. If the gun is out, hang a tag in its place indicating who has it or where it is (the Army does this with a Weapons Card. There are many versions: here's one as a .pdf that you can print, four to a page, duplex. In Army use they're generally laminated).
Limit "Withdrawals" The kind of limitations include requiring a need to remove, removing a limited number at a time per user, and a limited duration.
Keep Storage Locked. Check it daily, a great time is when you walk your perimeter to ensure doors and windows are closed and locked before bed.
Store Magazines and Ammo separately, but also locked. See the Job Box mentioned above.
Maintain climate control. In our normally damp, cool basement, we do this with a room dehumidifier that keeps the basement ≤45% humidity, and a rechargable dehumidifier insider each safe. Belt and suspenders humidity management.
Conduct frequent inspections. The reason for doing this should be self-evident: it's to ensure that all your other control measures are working effectively. Here you're looking for condition, primarily (rust is the secondary enemy of firearms, after national socialists) and
Looking at this list of best practices, it's clear where we came up short. In the end, the missing vz. 24 that we wanted to A-B compare to a vz. 22 turned up — the dealer that sold it to us shipped it in a Smith & Wesson revolver box, and the whole box was still out of the safe. That was a bad turn of affairs, because it was not only out of our control, but also in an packaging irresistible to burglars.