That's roughly 2 1/2 miles. Now, a few caveats are in order: the shooters had considerable equipment, they were shooting at a target larger than man-sized, and they had one hit (#3, they're pretty sure) out of four shots at that range. Still, that shot is amazing. 
Erik B at The Firearm Blog has a long report and, if you're interested in LR shooting, it's incumbent on you to Read The Whole Thing™.  A tiny taste of his 3k-plus word report (which seems to be first hand by the shooters, and is much more detailed than the write-up on their Facebook Page). They started at 100 m to establish zero:
375 Cheytac zero was done with five shots. Scope turret bottomed to zero, impact was 26.8 mrads high. Last two after windage adjustment were very close each other. This elevation was used as base for further calculations, as zero POI offset value in ballistic application. Just before shooting started, I found out that my bubble level was sitting on table back home. This was serious setback. During both zeroing and shooting, reticle and rifle must be in absolute vertical level. This was difficult, as there wasn't horizon reference visible. Velocities were compared constantly, with each and every shot.
Then to 1000 m to confirm zero. Then to 3000 m. They ran into problems with ranging binoculars (Steiner & Vextronix) "stalling out."
Shot count was 15 when we got everything finally sorted and good hit on target. Good meaning that everything matched. That particular shot MV (MV = bullet muzzle velocity) was same we used on ballistic software and actual elevation adjustment matched perfectly to QTU firing solution on same time. Also most importantly and with that particular shot, I knew shot was good. As mentioned, maintaining readiness and bubble where it should to fire in 1-2 seconds after permission from ballistician-on-duty was extremely cumbersome thing to do.
Consistent muzzle velocity is key. Their loads were within a small range, but a 1 m/sec change in muzzle velocity causes an 80 cm vertical shift in impact point — meaning 1 fps change alters that impact point almost 10″ in the same direction. So you see that firing at 4000 meters is really at the ragged edge of what's possible with field-employable sniper-type equipment, in 2016. At 4000 m:
[T]arget was fine-positioned and checked for clear line of sight, and first time I realized how long distance it actually was. It was far, ridiculously far. Very hard to even see with bare eye, but surprisingly still ok visible with 3.7x (or so) magnification. Target was ok, and we received permission to shoot.
Third, or possibly, fourth, shot was heard to connect by a forward observer.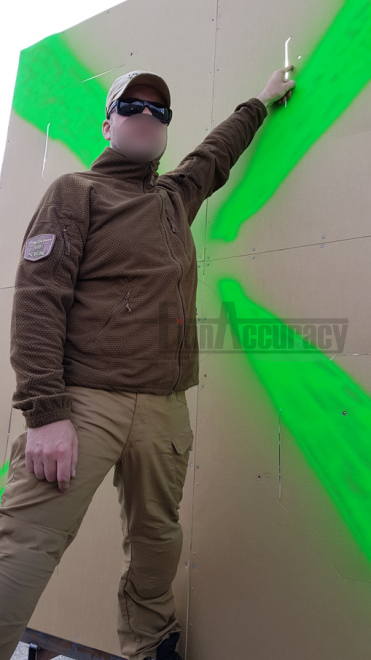 Yeah, it's not people-shooting precise (or hunting practical) yet, but the journey of a thousand miles (or 4,000 meters) begins with a single step.
The guys behind the shot are the Finnish precision-shooting shop and school, FinnAccuracy. They report on the conditions of the shot on their FB page:
Athmosperic conditions, Vaisala + Kestrel used:
– 22C / 71.6F. RH 78%. 996mbar / 29.41 inHg
– Worth mentioning also Labradar velocity radar. It worked like a charm and really eased things up during actual shooting. Precise MV knowledge is everything with such a long flight times.
– Bullet flight time to 4000m = 11.2 seconds. Gyroscopic spin drift + Coriolis effect only shift bullet approximately 8 meters / 9yds at 4km distance.
– Ballistic calculations done with Quick Target Unlimited
The reason that they think #3 was the money shot is because its MV was closest to their calculated value. #4, the other possibility, had a slightly higher MV on the radar, which they think put the round over the target. They have high confidence in the Canadian-developed LabRadar, which claims a 0.1% accuracy.
Stay tuned – we might have someting in mind for future too.
They were only half way through their planned range session when they scored the 4,005 m shot, and they have extensive manufacturer support from Sako (maker of the gun) and Lapua (whose Scenar bullets they used in .375 Chey-Tac handloads). They had previously said they have further ambitions in long range shooting, but…
It hs been a long way and we would like to do more like this- but we also have optics/accessory business to run. 
It's true that a shooter 2½ miles out is not out of the reach of an enemy's organic weaponry (mortars, artillery, tank main guns) but his signature even in the open is going to go unmarked by people in his target area. While this is a long way from being a practical sniping distance, at this time, when FinnAccuracy started off they were connecting at 2,000 m with .338 Lapua Magnum and that was a long way from being a practical sniping distance, then.