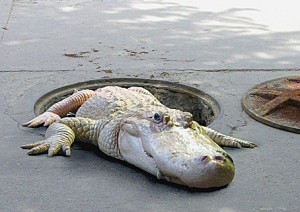 Nice lizard. Niiiiiice lizard….
CHOMP.
(How many times have we done gators, anyway, now? Four?)
They tried to reattach the lady's hand.
A Central Florida woman underwent two surgeries, hours after, officials said, an alligator nearly bit her hand off in the Everglades, in Northwest Broward.

Broward Sheriff's Fire Rescue officials said 49-year-old Kimberly Anne Sexton was bitten in the hand at Willards fish camp, a remote area west of Coral Springs, Friday evening. "She was standing on the dock, dropped a can into the water, and as she reached in to retrieve the can, that's when she was bitten by the alligator," said BSO spokesperson Mike Jachles.

Jachles said Sexton's right hand was nearly severed as she reached for an empty Mountain Dew soda can. "She sustained a severe hand injury that was almost a full amputation of the right hand," he said.

Two people accompanying Sexton at the camp, about a mile and a half west of the Sawgrass Expressway, near the Palm Beach County line, grabbed her by the legs to keep her from being pulled into the water. "That could have very well saved her life," said Jachles.

Sexton's hand was then freed.
It's unclear whether the reattachment of the hand will "take." If it's "successful," she can hope for, at best, a long and arduous recovery and therapy process. She might actually master a prosthetic faster.
Unlike many people injured or killed by gators, she doesn't seem to have been asking for trouble. Just happened to be in the gator habit, where she very nearly entered the food chain.