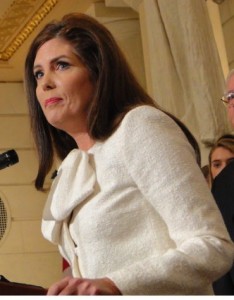 Korrupt Kathleen Kane was convicted Monday of all nine charges, including felony perjury and misdemeanor obstruction of justice. Her failure to take the stand in her defense was probably the last straw, but the fundamental problem, from her point of view, was that she was guilty, and the sort of redirection, obfuscation and tu quoque that was so effective with her allies and friends in the press had no grip in the courtroom. The jury spent a token 4½ hours deliberating before bringing back the across-the-board guilty verdict.
Now we can see why she and her mob lawyer, Mafiosi's pal Gerald Shargel, fought the motions phase of the case so long and hard — a procedural victory was her only hope. Unfortunately for Kane, she ran out of delays and had to face a jury of her peers, six men and six women from a cross-section of citizens. There's only so much even the Teflon Don's lawyer can do for you, when the facts of the case scream "Guilty! Guilty! Guilty! Off with her head!"
Kane was released in her own recognizance, after promising to surrender her passport — a routine formality — and accepting a much less routine condition from judge Wendy Demchick-Alloy, who threatened her with immediate imprisonment if Kane attempts to retaliate against any witnesses. Where could the judge have gotten an idea that such a thing was a possibility? It must have come from the facts of the case, and Kane's demeanor.
Kane may not have gotten the message. Kane coatholder and devotee Bruce Castor, now acting-jack AG, has hinted that he might charge witness Josh Morrow with perjury, in an attempt to avenge his fallen heroine.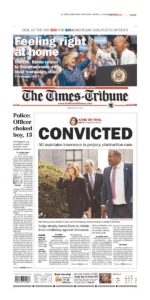 After some consideration of brazening it out still further, prompting legislators to make impeachment noises, Kane resigned on Tuesday. (In PA, removal from office is automatic on sentencing, not conviction). What remains is sentencing. She will be sentenced on 24 October 2016. While she could receive seven years on the perjury rap — the other eight charges are misdemeanors — it seems unlikely that someone so well-connected will be sentenced to prison time, especially as Shargel will continue to appeal as long as she can pay him.
A previous attempt by legislators to remove her from office after her indictment was fended off by her fellow Democrats, who are grateful to her for spiking state corruption investigations (the investigations proceeded, though, in the hands of the Feds and the City of Philadelphia) and for her anti-gun activism.
Like Virginia's similarly anti-gun Attorney General, Mark Herring, Kane singlehandedly erased most of the reciprocity agreements contracted by previous AGs, complaining that licensed handgun carriers were the cause of Pennsylvania crime. Unlike Herring, though, Kane wasn't slapped down by the legislature, and eliminating reciprocity between Pennsylvania and other states — and driving national mandatory full faith and credit recognition forward — may stand as her one achievement.
As Attorney General, she redirected resources away from violent crime, and towards her two bêtes noirs: the state's gun owners, and child abusers. Because of her inability to distinguish between actual, exploitative and vile obscenity, and mildly off-color cartoons and email memes, she was a complete failure on the kiddie-diddler front. (It was her predecessors who put Jerry Sandusky away, as Kane cast aspersions from the campaign trail). The same Manichean worldview that led her to demonize gun owners, led her to perjury and obstruction of justice in an attempt to settle a score with an attorney she saw as an enemy, top prosecutor Frank Fina.
Fun fact: Kane, during her tumultuous time in office, demanded that subordinates address her as "General."
The "General's" next stop should be "general-population" in one of the state warehouses for naughty girls. Couldn't happen to a more deserving person. Instead, she'll probably get some combination of probation and (gag us) "community service."
Hasn't she serviced the community enough?