An Uzi build is one of the easier ones you can do, thanks to the gun's simplicity. This builder lucked into a bag-o-parts containing an already-modified semi-auto bolt and striker assembly. He chose to build a carbine and then submit for registration as a Short Barreled Rifle. He described his build on Imgur and in Reddit.
I found a seller with a Ziploc bag containing an Uzi parts kit with all the semi-auto components (sear, top cover, bolt assembly + buffer) needed for a complete semi-auto build for just $300. After verifying that I'd only need a receiver and barrel to complete it, I couldn't resist buying it.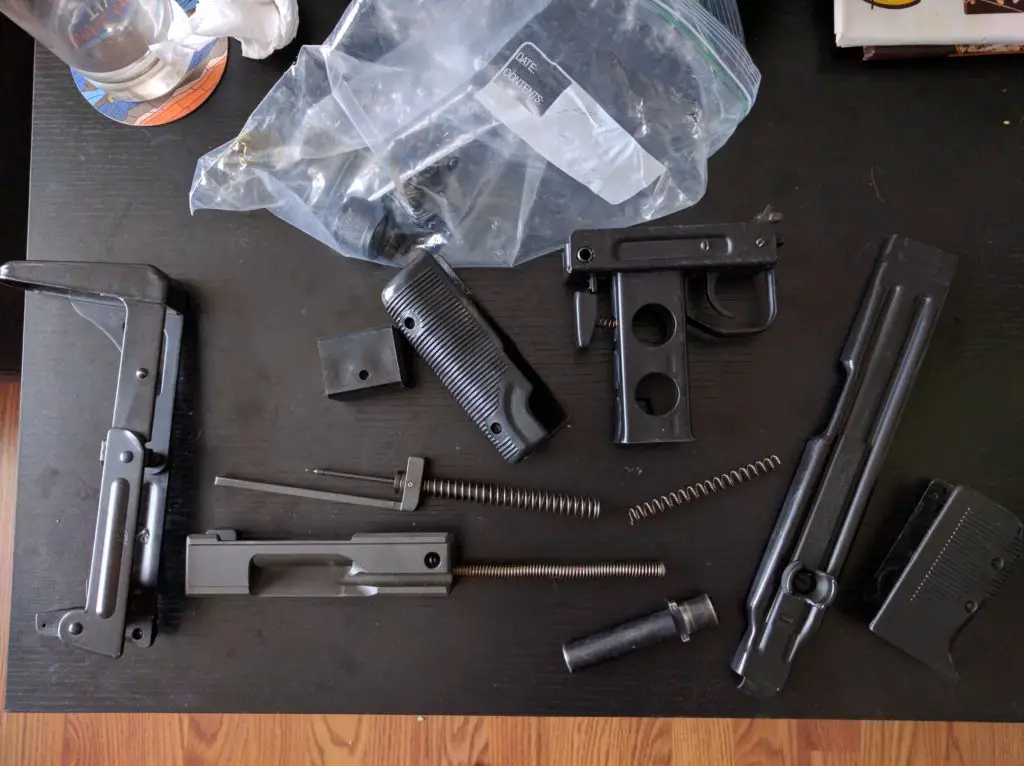 He chose to use an already assembled, Title 1 semi receiver from McKay Enterprises ($239). McKay also sells flats, non-FFL bent but not welded receiver shells, long barrels and other Uzi parts. With the supply of parts kits drying up, they may be tapering off this business.
With only a barrel and receiver to add, he was able to quickly build the gun up. An Uzi is a really simple, blowback operated, low-parts-count weapon even with the added complexity of the semi system.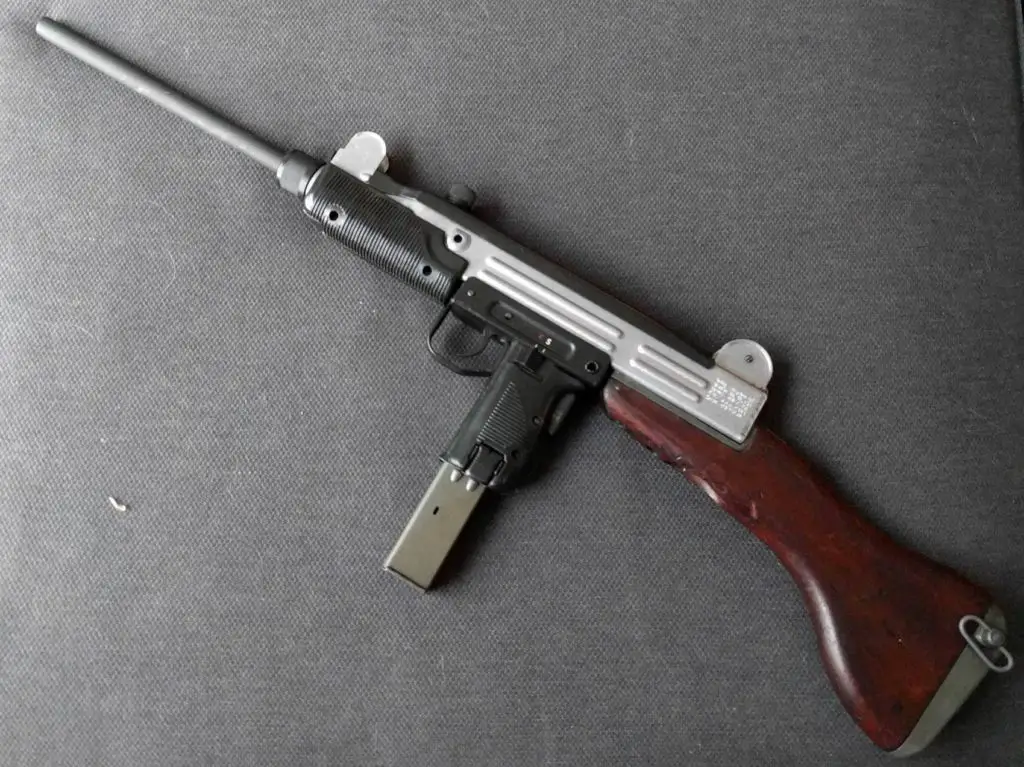 It worked right out of the box, a testament to the simplicity of the design and the quality of the McKay receiver. He then finished the in-the-white receiver with Alumahyde, and redid the stock.
IMI Uzis may have been blued — he says his was — but FN Uzis we've handled were semi- or glossy paint over parkerizing.
On the factory Uzi, the wood stock is detachable This is not legal on a 16″ barreled Title 1 Uzi in the USA, because with the stock removed the whole thing is under 26″, making it an unregistered SBR. Therefore, he permanently fashioned the stock. (The semi version can't be fired without the stock, but the law is the law).
With the alternative folding stock, the carbine with 16″ barrel just breaks 26″ and is Title 1 legal. Here it is with a dummy barrel in it, showing what it'll look like when his SBR application comes back.
The detachable wood stock was used on early Uzis, but by the time of the Six Day War, the folder was more common.
He's got, assuming he buys a short barrel and doesn't turn down his 16-incher, about a grand into the firearm. That's because he got lucky on the parts kit including the semi parts.
A 9mm carbine like this has no real tactical place or purpose any more, but it's a great range toy, evocative of the submachine gun era. And the Uzi is great for a first build or first-but-AR build. You need no special tools, just the skills to assemble the parts.