In 1967, the Air Commandos began to develop a night special operations gunship capability called Project Black Spot. They leveraged the capabilities of primitive imagery intensifiers to create an aircraft that could defeat the darkness and interdict enemy movement in areas where the threat situation was too "hot" for a low-and-slow-flying fixed-wing gunship. While a couple of these areas were obviously the Ho Chi Minh Trail in Laos and Cambodia, the ship was also used to hunt clandesting agent-landing boats off the coasts of South Korea.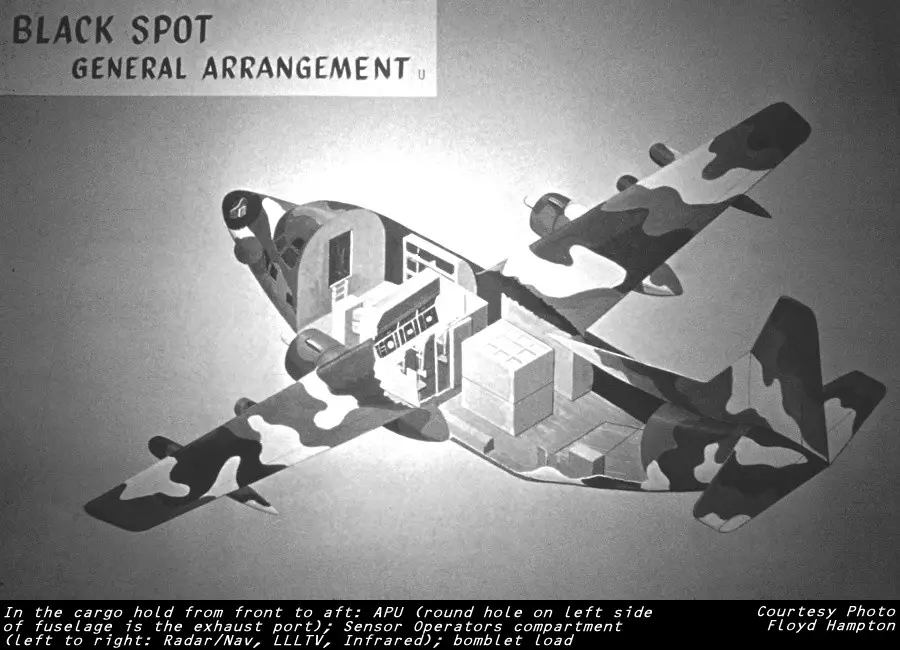 The airframe selected was the Fairchild C-123K Provider, which after modification was called the NC-123 (formal name) or AC-123 (as used by crews). Instead of side-firing guns, the Black Spot birds had cluster bomb unit (CBU) dispensers and carried a war load of over 6,000 1-lb dual-purpose CBUs, of which 24 could be delivered (2 x 12-unit racks) in a single pass. The CBU racks could then be in-flight reloaded by the crew.
Some sources say three airframes were modified, but only two show up in most references: 54-691 and 54-698.
The key to the system was the sensors: X-Band Radar, Doppler terrain-following radar, night-vision Forward Looking Infrared Radar (FLIR), night-vision Low Light Level TV (LLLTV), a Radar Homing and Warning (RHAW) countermeasures device, and a laser range-finder/illuminator.  Some of these systems were new, and some had been developed for strategic bombers, but taken together they greatly improved the situational awareness of the crew.
In a harbinger of what was to come, the the TFR, FLIR and LLLTC were housed in a gimbaling "ball" in the nose.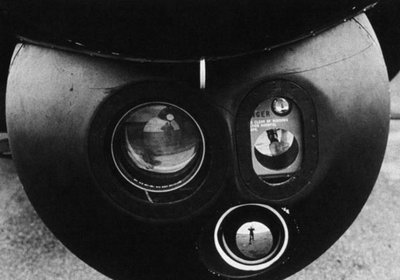 The outcome of the Korean tests is unknown. The Vietnam theater tests were successful, despite the aircraft having gross weight and density altitude limitations. In addition, a limitation of the cluster bomb dispenser required the pilots to fly the plane at 4,800 feet — no more, no less.
At the end of the test, the NC-123s were converted back to ordinary C-123K trash haulers. All of the sensors proven on the NC-123 were used in subsequent gunships.
Not all experimental sensors from this period went forward. Black Crow, for example, was a truck-ignition detector that zeroed in on the ignition "noise" produced by unshielded wires in the typical Otto-cycle gasoline engine's spark-ignition system. It was deadly effective on the trucks of the Ho Chi Minh Trail, but wouldn't work on newer trucks. Black Crow was only installed on -698, but did become standard on the AC-130s for a time.
Proving this technology on large airplanes like transports and bombers was necessary and laid fundamental groundwork for US dominance in low-light sensing systems in present years. It is a matter of some concern that, while we continue to exploit, miniaturize and field these 1960s technologies, the rate of development has slowed, and we're resting on our, sometimes 1960s-vintage, laurels.
Sources
Chinnery, Philip D. Air Commando: Inside The Air Force Special Operations Command. London: Airlife Press, 2008. pp. 210-218. 
Johnson, E.R. American Attack Aircraft Since 1926. Jefferson, NC: McFarland & Company, 2008. pp. 210-211.
Images found here and there on the internet.