Long before FN differentiated their small .22 caliber centerfire pistol round by calling it the 5.7, another 5.7 launched in a big media splash and went nowhere — even though it's father was one of the most distinguished firearms designers of the 20th Century.
The 5.7 Original Gangsta round is often called the 5.7 Spitfire, although its official name was actually the 5.7 MMJ, after the initials of its inventor: Melvin M. Johnson of Johnson Rifle and LMG fame. Johnson began working on a 5.7 x 33 necked version of the US .30 Carbine cartridge in 1961, and introduced the cartridge in his own M1 Carbine version, the 5.7 Spitfire, in 1963. While he always intended the round to be a light, handy, high-velocity carbine round, he did round development in a bolt-action with a custom Sako barrel, achieving MOA accuracy. In the Spitfire carbine, 3″ groups at 100 yards was more standard, but Johnson did make a 2.25″ 5 shot group in 5 seconds from the carbine once, in 1962.
He had initially hoped for 3,000 fps but…
… this raises the pressures over the 40,000 PSI mark (.30 carbine standard) which, as Johnson says, "Is not so good for the M1 carbine extractor."1
Final performance was about 2,800 fps with a 40-grain full metal jacket bullet.
The Spitfire wasn't just a rebarreled carbine. Rakusan noted that…
The carbine itself undergoes considerable change to accept this new cartridge. The barrel is relined and rechambered. The gas port is altered, giving twice the operating gas compression ratio of the original .30 carbine and about 20% more power in the driving spring, this plus cartridge design assuring positive feeding. With the 18″ barrel (Johnson also has a military version with a 12″ barrel) the overall length of the new carving is 35″, 27 1/2″ with the stock folded, 1 1/2″ longer than the requirements of the Federal Firearms Act. This short, handy length is achieved by a folding wire stock which also acts as an optional fore-end grip.
In 1964, Johnson would sell you a Spitfire from his New Haven business address for $130, or convert your M1 Carbine for $73. In addition, a shorty military/NFA version was available which, with the folding stock, was a mere 21″ long folded thanks to a 12″ barrel. In addition to the military Spitfires, some were finely finished sporting arms (NRA image below):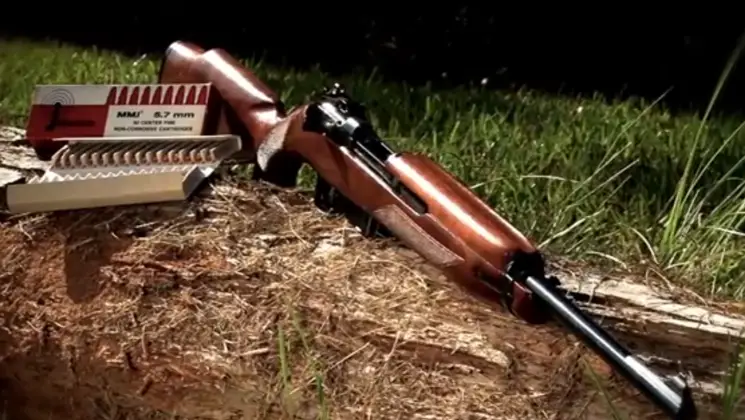 While most modern articles about the 5.7 MMJ and 5.7 Spitfire seem to talk it up as a military gun, the 1964 Shotgun News article stresses sporting applications: "short-range varmint hunting."
Mel Johnson writes that he was impressed by George Lindsay's remarks in "The Hornet's Big Enough," published in the 17th edition of the Gun Digest, which stated, "Even out West, fences are going up. People are closing in– and somebody is sitting on my rock."

For too many varmint hunters the days of wide open ranges are gone, and most of the hunting must be done in semi- populated areas. Here is where the 5.7 spitfire will shine– remember, it was designed primarily as a short-to-medium-range varminter.3
Johnson was still promoting the Spitfire and seeking investors when he passed away of an unexpected heart attack on a business trip to Boston. He was 55 years old, and without him, the light went out of the project, although family tried to continue it. Periodically someone tries to resurrect the project, notably IAI in the early 90s.
The 5.7 Spitfire was tested informally by SF in Vietnam (where some carried carbines because that's what most of their CIDG carried). No one really knows how many Spirfires were made and converted; they're rare today, but seem to draw little collector interest, perhaps because of the wildcat round. Making the ammo is not as onerous as people think, and custom-loaded (and 5.7 Johnson headstamped) ammo is available, at a price. A Spitfire would be a nice addition to a Johnson collection.
Sources
Canfield, Bruce N. (with Robert  L. Lamoureaux and Edward R. Johnson). Johnson Rifles and Machine Guns: The Story of Melvin Maynard Johnson, Jr., and His Guns. Lincoln, RI: Adrew Mowbray Publishers, 2002.
Rakusan, J. 5.7 Spitfire, in Amber, John T. (Ed.). Gun Digest, 1964. Chicago: Follett Publishing Company, 1964. p. 166.
Notes
Rakusan, J. 5.7 Spitfire, in Amber, John T. (Ed.). Gun Digest, 1964. Chicago: Follett Publishing Company, 1964. p. 166.
Ibid. 
Ibid.