This is the movie that made Dutch director Paul Verhoeven a "name" in Hollywood and led to his subsequent career in the American movie industry. (He continues to work in his native Netherlands, too, occasionally returning to wartime stories). It is the story of several young friends and their disparate experiences in World War II Holland, including the brief shooting war of 1940, occupation, resistance, collaboration, exile, and liberation.
As the movie opens the protagonist, Eric Lanshof (Rutger Hauer), and his friends are undergoing the horrifying experience of a fraternity hazing, unaware of the real nightmares that lie right ahead. The friendships forged here are tested in various ways.
Several of the boys join the resistance: some boldly, some timidly. One is turned by threats against a third party — throughout, the Nazi counterintelligence operation is portrayed as ruthless and competent. One is torn by his mixed Dutch/German ancestry. One will be buried in an unmarked grave in the Dutch barrier dunes; another, executed in a horrifying way in a concentration camp. One winds up in the Dutch SS and becomes, for a time, a hero of the new Europe. And one just stays in school until it, too, is forced underground by the Occupation — and manages to keep studying.
Eric himself is not looking to be a hero, which makes him all the more convincing one. At one level, this movie is a gripping (if complicated) adventure story of resistance against an implacable and evil empire. At another, it's an exposition of the techniques and countertechniques of resistance and repression. And overall, it is a great arching human tragedy of chances, choices, circumstances and consequences.
It can be difficult to see here in North America; it was posted to YouTube in sections, but at least one has been taken down by the copyright lawyers determined to score valuable points by keeping their clients' art unseen. (Lawyers. Is there any question but that most of them would flock to the  ranks of the collaborators, were they to face the choices of these film characters?)
Acting and Production
The movie was quite expensive for a continental European production, with the best Dutch talent in front of and behind the talent, and some talented Germans brought in just to creep the audience out — the avuncular CI chief will stick in your mind, as will his gutter-minded assistant.
Rutger Hauer is powerful as Eric. He is perfectly cast as a big Dutchman (after all, he is a good-sized Dutchman). One other actor familiar to Anglosphere audiences is Edward Fox, typecast as usual as a British officer. The other actors, mostly Dutch,
Accuracy and Weapons
Someone worked hard on accuracy for this film. The 1940 Dutch Army is painstakingly equipped with appropriate guns, like Dutch Mannlichers and Browning 1922 pistols.
Resistance guys have Stens, Webleys, and other British hardware. Dutchmen in exile train with Lee-Enfields. This is all more or less correct.
A couple of incidents involve a revolver (possibly a Webley) and a small .25. The Germans are armed appropriately, with German weapons, although they have an MG42 in 1940.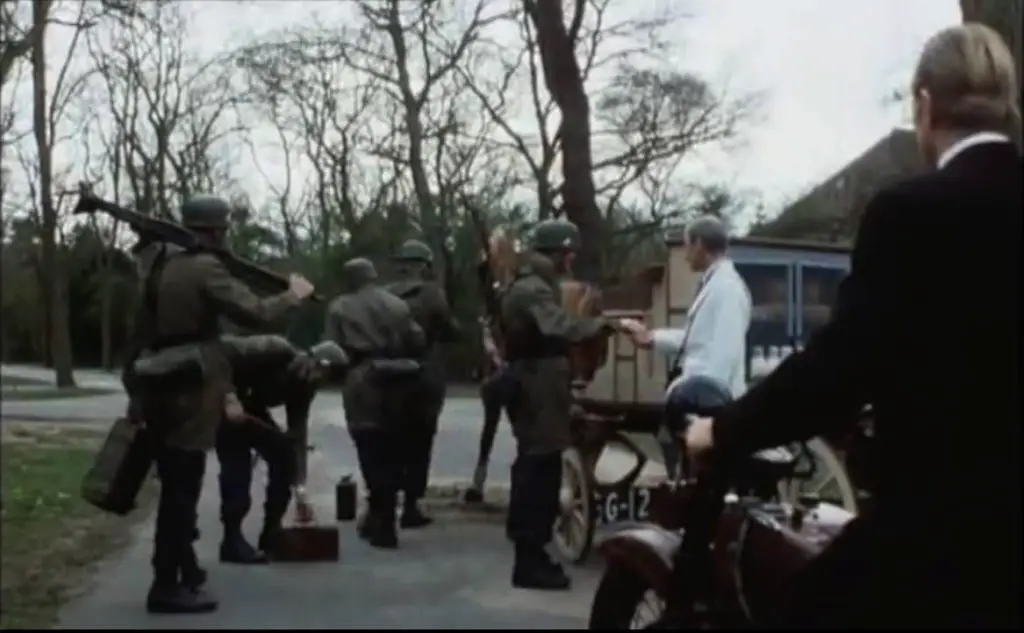 Some of the bigger stuff works, some doesn't. The "British" floatplane that comes to pick up a courier is a postwar DeHavilland Canada product; "German" tanks are Leopards. But a Russian RGD-33 grenade, a nearly forgotten frag grenade that would be just right for the tax in which it's employed.
A lot of small, unexpected little details are accurate; some of the Morse radio calls and prosigns are those actually used: messages begin QRA DE ("any station receiving, this is…") and then lapse into
The security check and duress check signals that the SOE and SIS used in 1940 are simplified, but the radio procedure is close.
Explosions are, unfortunately, Hollywood fireballs (one is excusable, as it is a gasoline FOOM).
Eric's many roles in the war — Resistance man, pilot, aide to Queen Wilhelmina — seem to make him a Dutch Forrest Gump (or Zelig, if you prefer characters crafted by famous Hollywood pervs). But the character is actually based on a real Soldier of Orange, who filled all the roles.
The bottom line
Soldier of Orange is one of the best resistance films made in the last fifty years. (Hmmm… that would be a good list to make, wouldn't it?)
For more information
These sites relate to this particular film. We watched it on a movie channel, where it occasionally shows up.
Amazon.com DVD page (yikes. Expensive DVD).
https://www.amazon.com/Soldier-Orange-Rutger-Hauer/dp/B000X03BBM/
http://www.imdb.com/title/tt0076734/
http://www.imfdb.org/wiki/Soldier_of_Orange
Rotten Tomatoes review page (a rare 100% Fresh rating):
https://www.rottentomatoes.com/m/soldier_of_orange/
https://en.wikipedia.org/wiki/Soldier_of_Orange
History vs. Hollywood Page. (none).
Notes
none