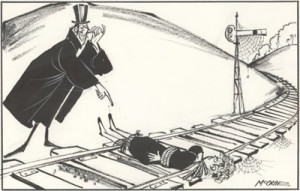 You know when you were a kid, and your friends told you, "Go play on the train tracks"?
They weren't your friends.
A 26-year-old man has died after being struck by an MBTA commuter rail train on Saturday afternoon in Franklin.

Transit Police say the man was trespassing when he was hit by an outbound train on the Forge Park line around 4:20 p.m. Franklin police officers and firefighters also responded to the scene near Fisher Street railroad crossing.

The man has not been identified by police. Foul play is not suspected, police say.
via Man Dies After Being Hit By MBTA Commuter Rail Train « CBS Boston.
Fun facts about trains. In 2014 (the last year for which we have FBI homicide data) 768 people were killed by trains. (Just accept the defaults and click to make the table). But 248 people were victims of homicide by rifle.
Some subset of those rifles were Dread Assault Rifles®, so obviously we need to ban those rifles.