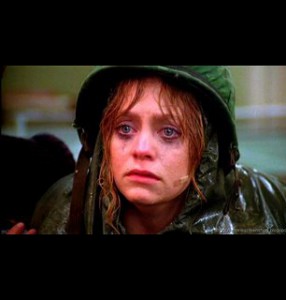 BLUF: A new commander decided he was going to really get his MI company out of the rut they were in, and he was going to start with PT'ing them into the dust.
After two runs, female sniveling was approaching breakdown level. He got accused of humiliating his women officers, and fell all over himself in a Cultural Revolution style self-criticism session.
He considers this to have been a valuable leadership lesson, in communications specifically, and  if he can sustain this level of groveling to his subordinates — particularly the distaff ones — he'll go far in the game of "Army 2.0: My Career is Everything." Fortunately, he's branched MI already, so it's not like he can do much damage to a performing branch of the Army. Let's pick up Captain Clueless's story:
As the new commander of a Military Intelligence Company, I determined to change the culture within my organization. In my estimation, the unit needed to shift more to mental and physical toughness, and move on from a year of reset. To do this, I placed a heavy emphasis on soldiering first, and being an Intelligence professional second.

One of the first actions I took to shake things up was a plan to "smoke" the unit during a Company run. I told the Platoon Leaders and Platoon Sergeants that I would be implementing a Physical Training policy for individuals who fell out of any unit run. Those individuals would be put into the remedial PT program until they completed the same echelon run. I instructed the leaders to pass the word and emphasize the impact of falling out of a Battalion or Brigade run.

When the big day finally came, I took the Company down Battalion Avenue for our first run together. We ran the first mile in seven minutes, and then slowed the run down to allow everyone to catch up. As I looked back on the formation I saw the majority of the formation struggling to keep up, but was pleased that everyone was still pushing.

At the conclusion of the run I addressed the Company. I told them how proud I was that no one quit, and re-emphasized my policy on falling out of runs. I spoke of the importance of physical and mental toughness, and challenged the view that MI professionals needed to be technically proficient more than they needed to be physically tough.

At this point I incorrectly assumed that I had successfully set a new standard for the unit, and that I had adequately articulated my intent.
So he did it again. And what happened?
I ended the PT session with the game of ultimate frisbee, with me on the losing team and my Soldiers seemingly in high spirits after the short run and impromptu sports PT session.

I believed all was right with the world, and it was not until I released the Company that I noticed a talented Platoon Leader visibly upset. I asked her if everything was okay, and thankfully she had the courage to answer.

The Platoon Leader asked me if my intent that morning was "to humiliate every female leader in the Company?" I was floored. She then pointed out that every female Officer and NCO in the Company fell back during the run, and according to my stated policy, would now be part of the remedial PT program.
After an explanation and what certainly sounds like some groveling in response to that ancient all-purpose Leatherman of the manipulative woman's toolkit, to wit, tears, he realized that he couldn't just do a Personal Presidential Apology Tour for Little Lieutenant You Go Grrl; instead he had to publicly abase himself before all the unit women, validating their belief that they are all Unique and Special Snowflakes®.
So he did.
I explained this to the Platoon Leader, but immediately realized it was not enough. I gathered all the female leaders later that morning and apologized to them for my carelessness and shortsightedness. I followed this up during the closeout formation by clearly explaining my intent and end state to the Company, and formally apologized to those who I had set up for failure by running at that pace.
And, of course, he never did that again. Because more important than challenging the unit to elevate its game and raise its standards, is the Unwritten Army Law that one must never, ever, inconvenience or bother the sacred Feels of Lieutenant You Go Grrl and her entire playset. When it comes down to unit readiness or Unique and Special Snowflake® Self-Esteems™, you know what's going to win. Every time.
Update: Four Thoughts
First, leadership of MI troops is a particular challenge because they tend to be intelligent, sarcastic, and profoundly narcissistic. Bradley Manning is not as much of an outlier as you might think. Their training, which often reinforces their belief that they are Incredibly Special, only amplifies the narcissism.
But there is a problem of soldier skills and soldier ethos in these isupport units and the underlying problem is unlikely to be solved by the well-meaning but weak officer's decision to use PT as a threat and a punishment (which is exactly how the prospect of extra PT was perceived by Lieutenant You Go Grrl). No matter where you serve, some of your troops will love PT and do it extensively on their own, and some will hate it and do as little as possible. Even the fitness fanatics may not enjoy running in formation. Generally, that's only fun for the ego leading the pack, not for the rest of the sled dogs. Threatening your Joes and Janes with more PT if you don't like their PT performance just moves soldiers from the "enjoys PT" to the "avoids PT" bin.
Third, one is amazed that Captain Clueless here and Lieutenant You Go Grrl and her peers thought that everyone in the unit didn't know the women couldn't run a seven minute pace. An eight-minute pace on an it-counts two-minute run gets women within a few points of a max 100 PT score. But it is possible they didn't know because the pop culture, the academic feminist movement, and careerist Army women officers are all in deep denial about sexual dimorphism in homo sapiens. 
Finally, there are some that insist that standards are not lowered for women. Read this article and the source with a critical eye.