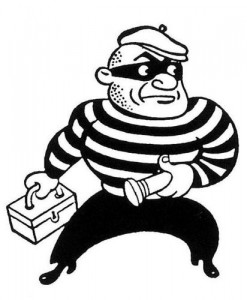 That was the question a Sanford, FL detective was asking when he went back to his Ford Explorer after a softball game and found his back window smashed open — and two guns, his cuff key, body armor and badge gone.
D'oh. The smash-and-grab theft was one of two at the park that day, but the other guy didn't have guns locked in his car (and if he wasn't a cop, would have gotten in trouble if he had… since the guy who armed a criminal is a cop, he faces no consequences more serious office mockery). Nope, what the thieves got from the other victim was a diaper bag. (So much for our master plan of hiding our guns inside a diaper bag).
After shattering the window, someone grabbed the detective's department-issued Sig Sauer pistol, his personally-owned Remington 870 shotgun, body armor, a handcuff key, a stun-gun cartridge, radio microphone and his law-enforcement badge. The items have a combined estimated value of more than $3,400, the report states.
The Orlando Sentinel rounds up other local cop theft victims:
Guns are a popular item among thieves who target law-enforcement officials.

Earlier this month, thieves robbed a retired FBI agent of his credentials and gun while he napped inside his car outside a business in Altamonte Springs. And in a 6-month span last year, there were at least three separate incidents of guns disappearing from law enforcement vehicles in Central Florida.

Two the incidents involved Orange County sheriff's deputies and the other a Winter Park police officer. It's unclear if any of the weapons stolen in those cases were found.
Don't worry about it. They'll turn up in gang murders. Hopefully it's only the gang members who get murdered, which is just Evolution in Action® ("Evolution in Action®" is a registered trademark of Niven and Pournelle).
While it's fun making fun of law enforcement, nothing feels like being ripped off, except perhaps being raped. And the biggest reason we have such a high level of theft, apart from living in a low trust society produced by unassimilated immigration, and racial and ethnic identity politics, is that punishment for the thieves is neither swift, nor sure, nor sufficient. We still think malum in se felony sentences should be simplified to 10-20-Life, with no parole, no probation, no plea bargains. A second arrest while on pretrial release should nullify pretrial release rights for life. Get the pathogens out of the bloodstream, and the patient gets healthy.
Then, there's this little two-liner from the Sentinel:
How often law enforcement vehicles are burglarized isn't known, as agencies rarely alert the public.

Sanford police released information about the incident on Saturday as a public safety notice, saying a statement that residents "should be aware of the possibility of police impersonation."
Good on Sanford for doing the right thing in this case, and really, it's better to get this kind of news out in public with your own spin on it, and look like you give a damn, rather than look like you're covering up.